ILT10C Lux/Light Meter with NIST Traceable Calibration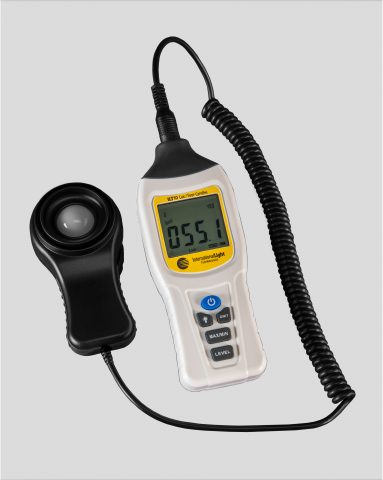 ILT10C Lux/Light Meter with NIST Traceable Calibration
Lux Meter Features
Economical & Easy-to-Use Light Meter
Measures 400-700 nm (Human Eye Visible Range)
Measurement Units: Lux & Foot Candles
Measurement Ranges:
10 - 400,000 Lux
1 - 40,000 Foot Candles (Fc)
Resolution: 0.1 Lux / 0.1 Fc
4 Digit LCD Display
Analog measurement: analog bar-graph indication
Maximum / Minimum Reading Hold Button
Data Hold Button
Over / Under Range Indicator
NIST-Traceable Calibration Included
Hand-Held, Battery Operated Portability
The ILT10C Lux Light Meter is ILT's most economical light measurement system. The ILT10C reads out in either Lux or Foot Candles in the human eye Visible range (400-700 nm) and is designed for use in a wide variety of applications needing a quick, accurate light measurement.
Typical applications include new light fixture installations requiring proof of minimum or maximum light output, confirmation of adequate lighting in factory production areas, in public building stairways and corridors, to meet OSHA lighting compliance, etc.
The ILT10C Lux Light Meter comes with a NIST traceable and ISO 17025 accredited calibration.
ILT10C Lux Meter Specifications
Display: 4 digits LCD display
Wavelength Range: 400-700 nm (Human Eye Visible Range)
Measuring Range: 10 Lux ~ 400,000 Lux, 1 Fc ~ 40,000 Fc
Accuracy: ±10%
Resolution: 0.1 Lux / 0.1 Fc
Sampling Time: 2 times/second
Measurement Units: Lux and Foot Candles (Fc)
Auto Measurement: AUTO
Battery Indication: Low battery indication
Analog Measurement: analog bar-graph indication
MAX Hold: MAX
MIN Hold: MIN
DATA hold: HOLD
Overrange Indication: "OVER" or "UNDER"
Operating Conditions: -20oC~+60oC 10% RH~90% RH
Storage Conditions: -20oC~+60oC 10% RH~75% RH
Auto Power Off: Automatic shut off after 15 minutes of inactivity