ILT770 UV Light Meter Series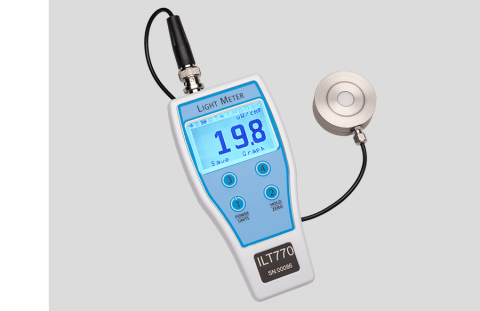 ILT770 UV Meters
Part Number: ILT770-UV-Series
Buy now and get 20% off your purchase. Use Promo Code 20%OFFILT on checkout*
Simple, Affordable Light Meters for UV Measurement & Phototherapy Applications
ILT770 UV Light Meter Features
ISO17025 accredited, NIST traceable calibration for results you can trust
Measures irradiance and dose
Graphical display with data analysis
Affordable
Stores readings that can be downloaded to a PC
Compact, portable ergonomic design
Rechargeable battery
Create reports with downloaded data
Easy-to-use interface
Made in the USA
BNC connector locks sensor in place
Linear over 4 decades of light levels
* Promo offer valid through March 31, 2023, while supplies last.
< Back to All Light Meters, Lux Meters & Radiometers
< Back to All Light Measurement
Designed for UVGI and Phototherapy Light Measurement Applications
Hand-held, Easy-to-Use UV Light Meter Meter That's Packed with Features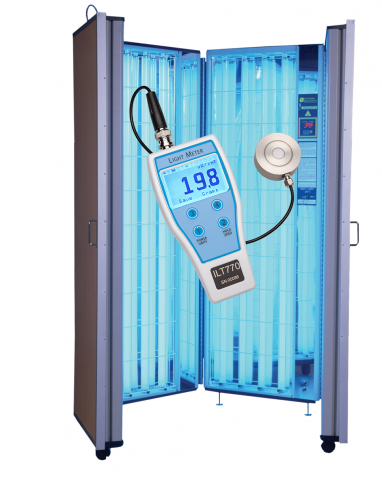 The ILT770 is a portable UV meter with built in data storage, a rechargeable lithium ION battery, and easy to read numerical and graphical display, that can display and save readings for easy system analysis and report generation.  Units of readout include both Irradiance in W/cm2 and dose in J/cm2 with auto ranging (uw/cm2, mW/cm2 uJ/cm2, mJ/cm2, J/cm2 etc).  
The ILT770 UV light meter comes in 5 standard configurations.  Click the below links to view or purchase:

ILT770-UV  - 215-350 nm
ILT770-NB - 249-259 nm
ILT770-NBUVB311 - 275-325 nm
ILT770-UVA-350 - 315-390 nm
ILT770-UVA-1 - 326-401 nm
Each system includes an ILT770 light meter, a UV sensor (for UVC, Narrow band UVC, Narrow band UVB, UVA or UVA-1), NIST traceable – ISO17025 accredited calibration with certificate, storage case, USB cable, PC software for downloading stored readings, and a 1 year warranty.
ILT770 Series Relative Response Curves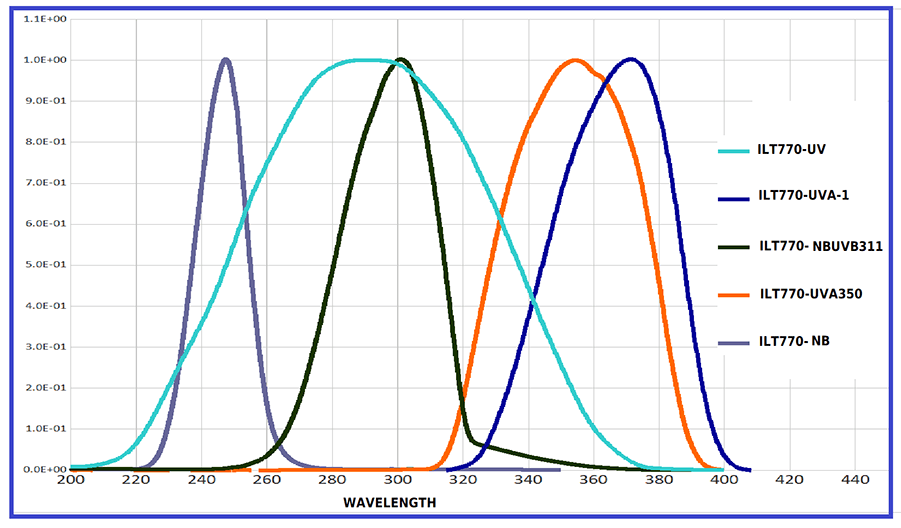 Watch our ILT700 Series OEM video
| | |
| --- | --- |
| Spectral Ranges | |
| ILT770-UV | 215 - 350 nm |
| ILT770-NB | 249 - 259 nm |
| ILT770-NBUVB311 | 275 - 360 nm |
| ILT770-UVA-350 | 315 - 390 nm |
| ILT770-UVA-1 | 326 - 401 nm |
| Meter | |
| Current Range | 1 nA to 165 µA |
| Visualization Graph | Graph - Intensity over Time |
| Read Out | W/cm2 Auto Ranging (nW/cm2, µW/cm2, mW/cm2) |
| Interface | USB 2.0 mini |
| Power Supply | USB Powered, Lithium Ion Battery |
| Charging | 5 V DC, 100/500 mA per USB |
| Ambient Temperature | 0-40 Deg C |
| Linearity Validation | Yes |
| Calibration | NIST Traceable ISO17025 Accredited |
| Software | Light Meter Software For Stored Data Download |
| Dimensions | |
| Meter (LxWxD) | 5.39" x 12.63" x .94" (37mm x 67mm x 24 mm) |
| Display (WxH) | 50 x 32 mm |
| Sensor | 1.65" dia x .59" tall (15mm x 42 mm dia) |
| Weight | .55 lbs (.25 kg) |
Specifications subject to change without notice