We Know Light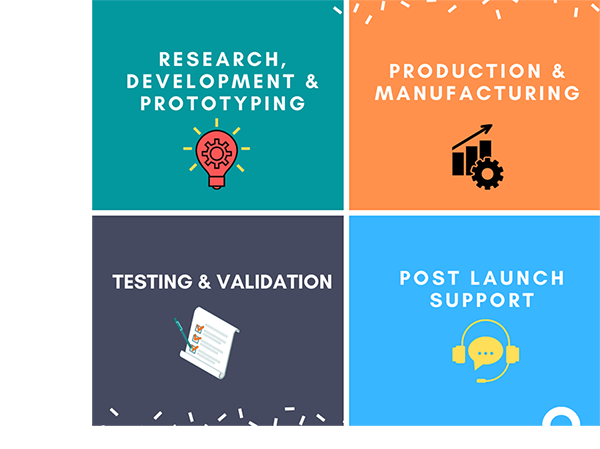 ILT has been designing and developing light measurement systems since 1965.  We are a trusted partner to our OEMs in all facets of industry, and deliver solutions to companies in UV curing, disinfection, phototherapy, laser-UV-blue-IR safety, 3D printing, pulsed light measurement, and much, much more. When you partner with ILT you can focus on your core product line, while benefiting from our decades of experience and proven light measurement technology. ILT will work with you every step of the way from R&D, prototyping, testing & validation, to production and post-launch support to bring you a consistent, end-to-end light measurement and validation system to your solution.

The following are just some of the things we provide our customers looking for a custom, configured, or OEM system.
Research, Development & prototyping

To assure the best solution with a rapid get to market approach, we work with our customers in the early stages including proof of concept, prototype designs.  ILT offers a host of technologies and services for the important development and prototyping phase of your project and we have decades of expertise and a broad knowledge of in house and off shore manufacturing and machining processes including board fabrication, optics designs, custom filtration,  3D printed, machined and molded components, housings, optics and reflectors as well as the the ability to develop in house software and firmware modifications streamlining the R&D  to prototype process.
 
Testing & Validation

ILT knows that prototype testing and field validation is a critical step in any product development lifecycle. We provide iterative development and testing support through light-source characterization services, flexible, NIST-traceable low-cost sensors, calibration support across spectrum and power combinations, and multiple interface options.  Sensors are built on common platforms and technologies ensuring R&D results transfer consistently to QA, production, and post-launch application. 
 
Production & Manufacturing

Partnering with ILT for your OEM light measurement needs enables you to scale-out quickly from the development and testing phases.  We have a robust supply chain and decades of sourcing high-volume components.  We have long-standing relationships with suppliers with redundancy and contingencies built-in.  Our longevity in the industry enables business continuity amidst global uncertainty. Our products are all backed by our advance quality management systems including ISO13483 and ISO9001 and an extensive fully vetted supply chain relationship.  Our products are assembled in the USA, with many components also sourced locally. Our ISO17025 accredited calibration lab is located in our Massachusetts-based production facility.
 
Post Launch Support

Our expertise and support do not end with the launch of your product. ILT has long-standing relationships with OEMs of all types and sizes supporting their post launch, customer support and calibration efforts. We support our OEMs and their customers through sytem integration and IOT data management, software updates, extensive API plug-in capability, annual calibration and maintenance support. When partnering with ILT you are assured consistent and seamless measurement tools from conception to launch and beyond.

All of ILT's standard light measurement offerings can be configured and customized for application-specific needs.  We also offer OEM branding options with the ability to add your own label, naming convention, serialization, start-up screen, and more.  Below are our existing light measurement systems that can be quickly customized for OEM and application specific custom designs.  Click into each one for standard features and specifications.
 
ILT700 Series - Compact, handheld, paired meter/sensor, single cal factor, on-board data storage, IoT, class 1 medical device capable 5 decade measurement range.
ILT1000 - Meter and sensors combined  in a single PCB in small aluminum housing, or customized for system integration. 8 decade range, 4-20 mA output standard.
ILT2400 - Hand held meter with user friendly apps, on full color touch screen display. Has a broad 8 decade range, works with hundreds of possible sensors combinations, smart sensor stores up to 20 cal factors and 8 gb of internal memory for storing and exporting vast amounts of data
ILT2500 -  Flash meter  is based on the ILT2400 light meter with a built in feraday cage for improved low end stability, and offers faster sampling times plus two applications (beacon and flash) for pulsed light.
ILT5000 - Research Radiometer replaces the industry standard ILT1700 with a broader 10 decade measurement range and the ability to measure small signals down to femto amps.  The ILT5000 accept ILT sensors as well as non ILT sensors with voltage output, has a 4-20 mA output and an extensive software package and full API for custom software designs.
All of ILT's standard light/lux/radiometers can be viewed here.
Watch or ILT700 OEM Series Video Below
 
Browse Light Measurement Products By Category:

UVC Disinfection Light Meters
UV-VIS-IR Light Meters, Lux Meters & Radiometers
UV-VIS-IR Spectrometers & Spectroradiometers
Light Measurement Detectors
Light Measurement Input Optics
Light Measurement Optical Filters
Light Measurement Accessories
Spectroradiometer Accessories