ILT750-BILI454 BiliBlanket Light Meter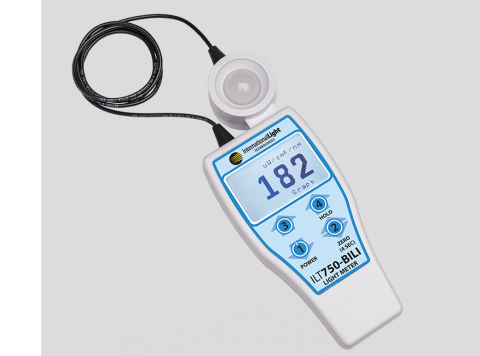 ILT750-BILI454 BiliBlanket Light Meter
Part Number: ILT750-BILI454 US
The Replacement to the Discontinued Ohmeda BiliBlanket II Light Meter
Don't get left in the dark! International Light Technologies has an off the shelf replacement for people using any of the GE phototherapy blue light systems, or looking to replace their discontinued Ohmeda blue light meter.

Features
Reads within a few % of the discontinued Ohmeda meter
Large, easy to read OLED display
Calibration at 454 nm using a GE LED light source
Verify irradiance and average irradiance values over the entire treatment area in less than 1 minute
ISO17025 Accredited and NIST Traceable calibration
Class 1 Medical Device
Select units (µW/cm2/nm or W/cm2)
Easy-to-hold and clean, light weight ergonomic design
Custom filter matching designed
Made in the USA


< Back to All Light Meters, Lux Meters & Radiometers
< Back to All Light Measurement Systems
The Only Direct Replacement for the Ohmeda Bili Light Meters
The ILT750-BILI454 is a direct replacement to the Ohmeda light meter for testing GE traditional and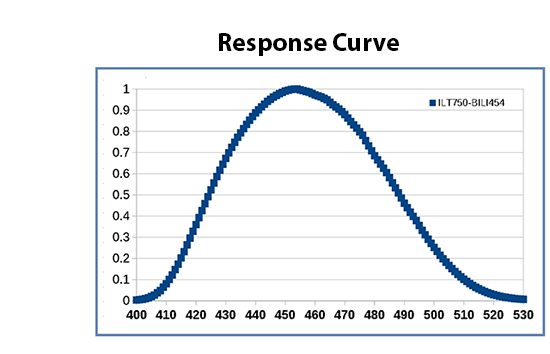 LED blue light sources used for treatment of infant jaundice.  The advanced features of the ILT model eliminates the need to touch a pen and paper or do any math. Simply scan the detector over the blanket or under the light source and let the meter do the math for you.  

Through extensive design and testing the ILT750-BILI454 meter is able to read within a few percent of the discontinued Ohmeda Biliblanket II Blue light meter. The meter can be used not only on the blanket but on all of the GE lighting systems including.
 
GE Giraffe Systems 
GE Lullaby Systems 
GE BiliSoft Systems 
Traditional GE Blue light systems

OEM's and Distributors are welcome. Custom branding available and includes:

    • Custom artwork on all labels
    • Startup / splash screen display 
    • Software / firmware - including company name, part number calibration information and more. 
Watch our video showing the simplicity of the ILT750-BILI vs Ohmeda Biliblanket II
ILT750-BILI454 Device Specifications
| | |
| --- | --- |
| Meter | Current range:  1 nA to 1.65 uA |
| Optical Sensor | 410 - 510 nm |
|   | 454 nm peak |
| Measurement Features: |   |
| Band Irradiance Range | .8 to 7000 µW/cm2/nm |
| Irradiance Range | 30 to 20,000 µW/cm2 |
| Visualization | Intensity over time, Plus Peak |
| Stats | Min, Max, and Average |
| Screen Update | .5 seconds |
| Units | µW/cm2/nm and µW/cm2 |
| Power Supply | 2 AA batteries |
| Mechanical Dimensions (in mm) |   |
| Meter | 160 x 70 x 35  (HxWxD)  |
| Meter Display | 50 x 32 (WxH) |
| Sensor | 65 x 43 x 32 (includes 5mm room for wire to bend) (HxWxD) |
| Meter & Sensor Mounted | 205 x 70 x 35 (HxWxD) |
| Cable | 860 mm (2.8 ft) |
| Weight | 220g (0.5 lb) |
| Mounting | Sensor attaches to top of meter face up or down.  Can also be used detached. |
| Ambient Temperature | 0-40 Deg C |
| Cosine Correction | Yes |
| Linearity Validation | Yes |
| Shipping Weights & Dimensions |   |
| Shipping Box | 15" x 12" |
| Shipping Weight | 3 lbs |