ILT2400 Hand-Held Light Meter / Optometer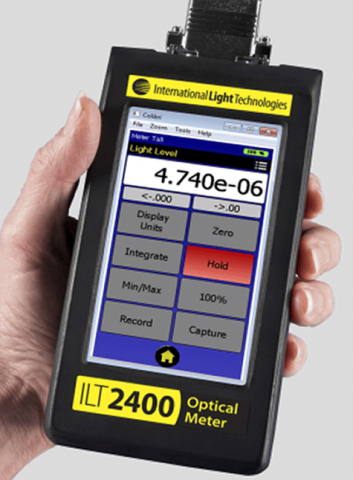 ILT2400 Hand-Held Light Meter / Optometer
Features
Research Quality at a Hand-held Price
8 Decade Dynamic Range of Optical Analysis
Meter & Sensors with NIST Traceable ISO17025 Accredited Calibration
Hand-held, Compact, Ergonomic Design
Brilliant 4.3" Touch Screen Display
90° Screen Rotation for Landscape and Portrait Viewing
ILT's Accuspan: Auto-ranging with Smart Averaging
Built-in Rechargeable Battery Lasts Up to 8 Hours
Backwards Compatible with ILT1700 Sensors
Measurement Speeds Up to 100 μSeconds
Includes DataLight III comprehensive software package for both Mac and PC
Made in the USA
Custom Instrument Configuration & OEM Inquiries Welcome
The ILT2400 is the most advanced hand held light meter and opto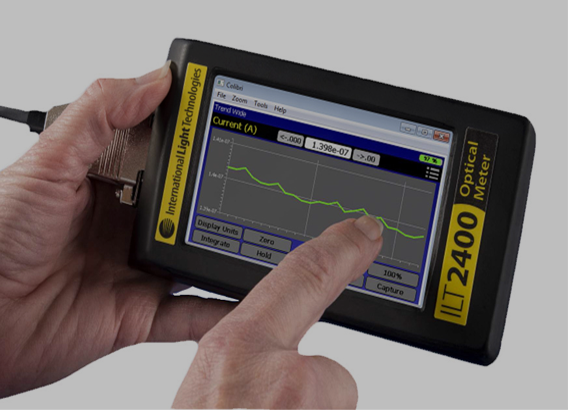 meter on the market today. ILT's Accuspan software automatically sets the averaging while rapidly measuring over 8 decades of light intensities.  The internal software allows customers to capture a peak as brief as 100μS and to store up to 16 readings per second.  The color display works in both landscape and portrait mode.
The ILT2400 supports numerous light measurement applications including Audience Scanning Laser Safety, General Purpose Light Measurements, Research, Sterilization/UVGI, Solar, Photoresist – lithography, Optical Radiation Hazard, Phototherapy, Photo-Degradation, PPF & PPFD Plant Studies, and more.
ILT manufactures the ILT2400 and software in the USA at ILT's Peabody, MA facility which allows ILT to rapidly customize system components to meet the needs of our customers and OEMs.
ILT2400 optical measurement systems include an ILT2400, carrying case, software and customer configured detector/filter/optic and calibration. ILT2400 optical measurement systems allow direct reading in the appropriate empirical units including; lux, foot-candles, candela, lumens, watts, W/cm2, cd/m2, foot-lamberts, nits, etc. The ILT2400 and software are compatible with most Windows 7 and Windows 8 computers.
Watch our ILT2400 Overview video below
 ILT2400 Meter Specifications
Measurement Range: 50pA – 1mA current, 8 decades of light intensity measurements
Screen: 4.3" VGA Capacitive touch screen color display
Bias: 5V Reverse Bias
Ranging and Averaging: Automatic
Internal Memory: 4 GB
Operating Temperature: 0-40o C
USB: Micro for data download
USB: Mini for charging and remote data logging using DataLight II PC software
Size: 1-3/5" H x 3" W x 6" L
Detector/Sensor connector: 15 pin connector
CE certified: No RF noise
---
ILT2400 Software
Home Screen is used to move between applications including:
Meter Tall for Portrait, Meter Wide for Landscape
Trend Tall for Portrait, Trend Wide for Landscape
Cloak for low light environments, Includes large 1 touch sampling button
Light Stack sets up indicator levels: Green for Good, Yellow for Caution, Red for Warning
Time and Date for setting the calendar and clock
Settings for changing parameters such as, Calibration factor selection, Sample time, Background brightness, Bias on/off, etc. (Screen Shot Below)
LightCalc handy calculators such as lux to fc converters
Files provides easy access to saved data
Info lists the firmware and software version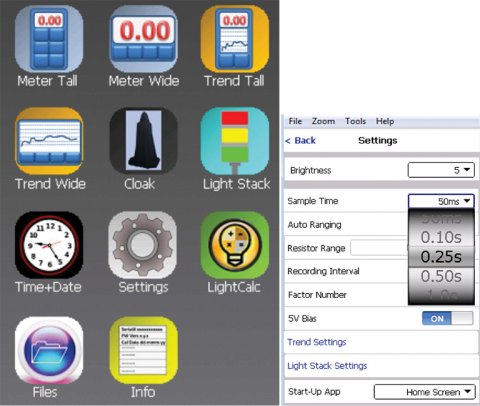 Meter Screen provides a large numerical display which allows customers to easily view the measurement data. While using Meter, customers can also perform many processes including:
Increase or decrease digits of resolution
Display units: Empirical units-Calibration units, Current, % etc.
Zero: Sets the zero level for ambient subtraction or dark zero
Integrate: Provide a summation of the exposure
Hold: Freezes the value in the numerical display
Min/Max: Toggles between Min on, Max on, Min/Max off. Min -display remains fixed until a reading lower than the displayed value is obtained. Max changes when a higher reading is obtained
100%: Sets the value for 100%
Record: Continuous recording of data on/off (Record/Stop Recording)
Capture: Stores a single reading with date time stamp when pressed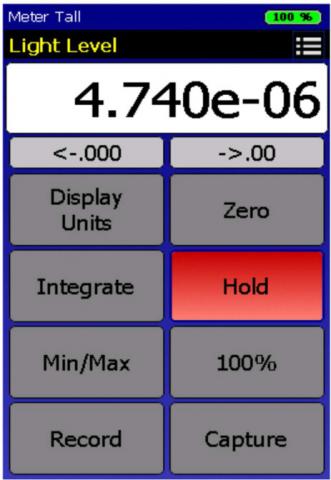 Trend Screen has all the same features included in meter plus a large easy to read graph showing the readings over time. The graph can be displayed in bar or line graph format. Trend Tall is used for portrait mode and Trend wide is used for landscape mode. The Y scale of the graph is the measurement data in the programmed calibrated units, amps for uncalibrated sensors, or in percentage. The X scale is the time interval in seconds. The inclusion of the graph reduces the size of the toggle buttons, but does not eliminate any features.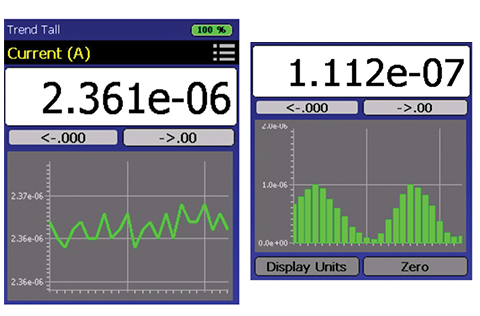 Cloak limits the amount of light added to the environment during test. It was designed to allow taking measurements in a dark environment as easy as possible without compromising the results. Simply touch the oversized sample button and a single reading will be stored into the internal memory.
The ILT2400 includes a micro USB cable that can be use to extract all saved readings with a date time stamp using Cloak, Trend and Meter apps.
The home button at the bottom returns the display to the home screen as shown above.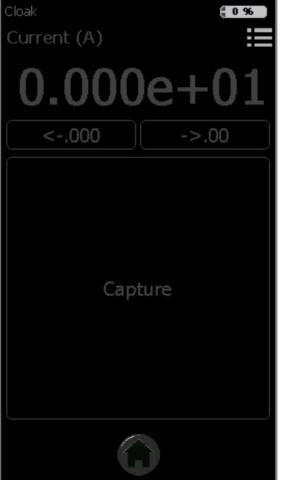 Watch our video on entering the Cal Factor in DataLight III below