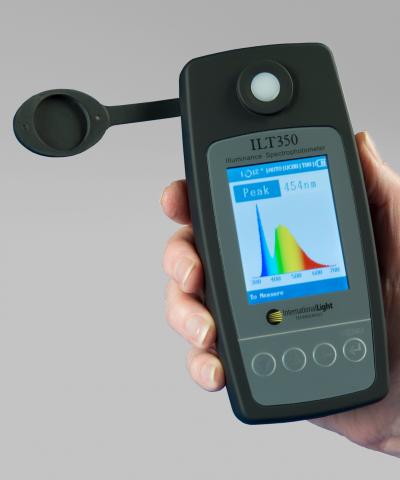 ILT350 Chroma Meter
Part Number: ILT350 Spectroradiometer
Between now and September 30th, customers can take an additional 15% off their purchase of any IL spectroradiometer using promo code SPECS15%!

Features
3.5" full color display
Hand-held, ergonomic, compact design
Measures Illuminance, Irradiance, PPFD, Lux, Foot-Candles, CCT, CRI, CIE1931 color spectrum & more
Measurement Range: 380 - 780 nm
Lux Measurement Range: 20 to 100,000 lux
Band Measurement Ranges:

A. Irradiance Measurement Range: 0.1 W/m2~500 W/m2
B. PPFD (Plant growth/PAR) Measurement Range: 0.3~1500 umol/m2 *s

380 - 780
400 - 500
500 - 600
600 - 700


NIST traceable ISO17025 accredited calibration
Data storage for up to 100 readings
Windows XP, Windows 7 & Windows 8 Compatible Software
Rechargeable battery lasts up to 6 hours
OEM and/or custom instrument configuration inquiries welcome
Recommended replacement for the discontinued WaveGo miniature spectrometer from Ocean Insight


< Back to All Spectrometers
< Back to All Light Meters, Lux Meters & Radiometers
< Back to All Light Measurement Systems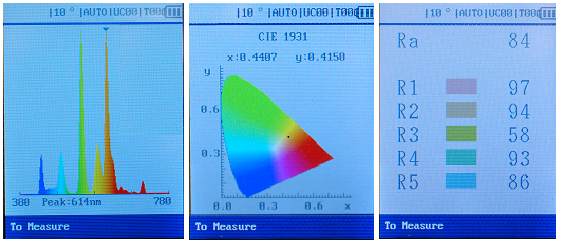 The hand-held ILT350 Chroma Meter is an illuminance spectrophotometer designed for portability, quality and ease of use. The housing design is ergonomic and light weight yet packed with features such as a built in full color display. Extensive data capture and analysis software, rechargeable battery and internal data storage. The menu buttons are intuitive and easy to use.
The built-in 12 mm diameter cosine receptor is protected by a magnetic rubber cap that remains attached to prevent loss or damage. The toggle buttons allows the user to easily scroll up and down to view readouts between lux & foot candles, spectrum, CRI, CCT, W/m2 PPRF, umol/m2 *s and more.
The ILT350 light spectrum meter has three measurement speeds including Fast (0.5 s), Slow (2.5 s) and Auto (0.5 – 27 s) depending on light intensities (20 lux to 100K lux). The spectral resolution is approximately 10 nm with an accuracy of ±3 nm. Relative spectral distribution data is exported in 1 nm increments using the light meter software.
The internal memory can store up to 100 files and export data into Excel/Work formats.
Applications include: 
Monitoring Bilirubin light source used for phototherapy treatments of Jaundice (hyperbilirumenia)
Measure irradiance and spectrum of white light (visible light sources)
Automotive Lighting
Commercial and residential lighting designs and upgrades
Display booth, color and spectrum
Comparison of traditional sources to LEDs
Light efficiency testing
Light safety and conformance to standards for:

Task lighting
Parking lots
Signage 
Light pollution analysis and more
The ILT350 is the recommended replacement to Ocean Insight's WaveGo miniature spectrometer
If you are looking for technical support for your existing WaveGo product, please visit Ocean Insight's tech support page here.
ILT350 Illuminance Spectrophotometer Specifications
Sony CCD Linear Image Detector with 16 bit A/D resolution
Measurement Range: 380-780 nm
Lux Measurement Range: 20 to 100,000 lux
Irradiance Measurement Range: 0.1 W/m2~500 W/m2
Dynamic Range: 20-100,000 lux
USB: Micro for data download
Input optic: 12 mm dia. Cosine Receptor
Temperature: 0-40 Deg C.
Size: 160 x 75 x 43 mm
Weight: 260 g
CE certified: No RF noise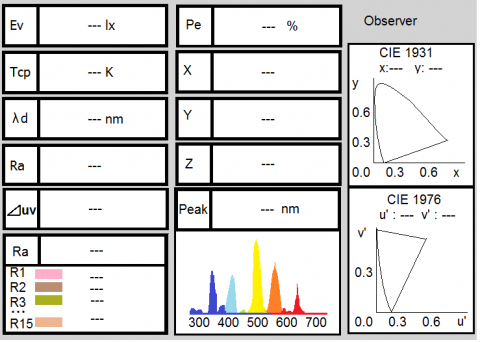 The ILT350 includes ILT's Luxmeter Manager software for easy downloading, saving, printing and report creation.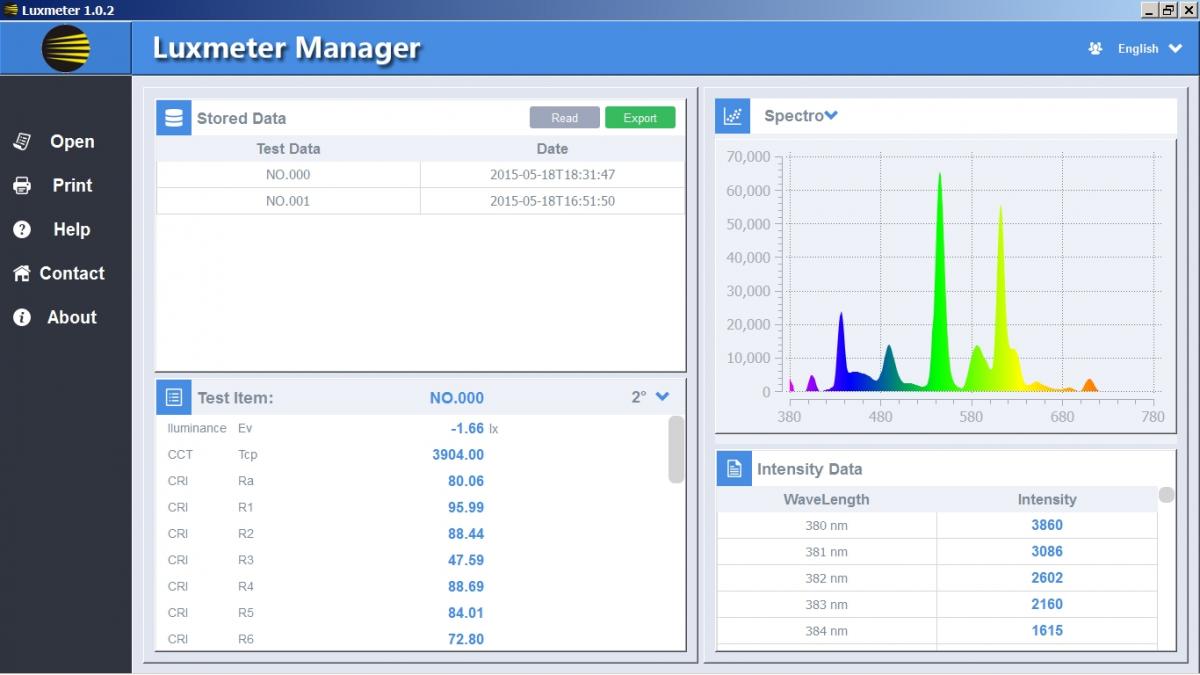 Specifications subject to change without notice