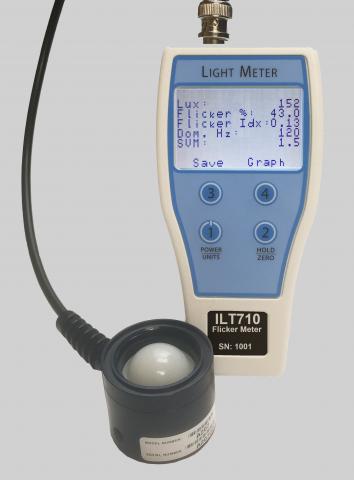 ILT710 Flicker Meter
Features
Simple to use
Affordable
NIST Traceable / ISO17025 accredited Lux measurement/calibration
Stores readings that can be downloaded to a PC
Ergonomic design that's compact and portable
Easy-to-read display
Rechargeable battery
Create reports with downloaded data
Full flicker analysis

Lux
Percent flicker: 0-100% scale, modulation depth for average, peak-to-peak amplitude
SVM: SVM value of 1 means for the waveform, standard observers will be able to
see a stroboscopiceffect 50% of the time. < 1 is less than 50%; >1 is more than 50%
Flicker Index: A ratio of the amount of light energy above the average light level over
the total light energy
Flicker frequency: Expressed in Hz, frequency with which the signal is dominantly
superimposed
Intensity Over Time Graph: Quickly depicts modulation shape and depth
< Back to All Light Measurement Systems
< Back to Photometry Measurement Table
The ILT710 Takes the Headache Out of Flicker Measurement!
What is Flicker?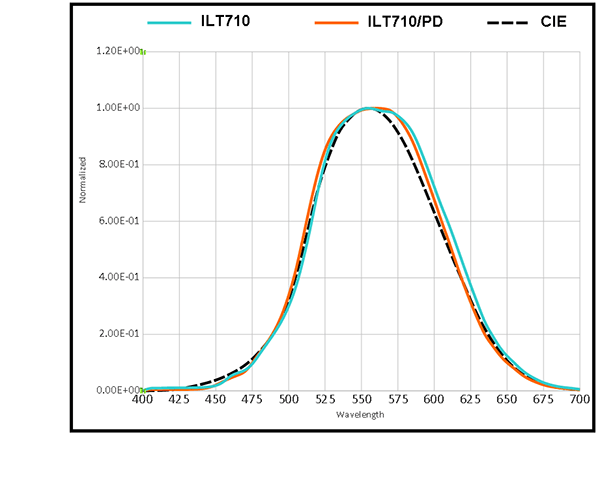 Flicker is a temporal light artifact (TLA) caused by visible and invisible modulation of the light's output.  Unlike incandescent and fluorescent lamps, LED light sources can rapidly turn on and off with no residual dissipation, causing varying levels of flicker.  The level, frequency and percentage of flicker can have different impacts on the safety and health effects for both people and animals exposed to flickering light.  Flicker is extremely problematic for people with certain medical conditions such as migraines, epilepsy, and autism, to name a few.  Flicker can make moving objects appear stationary, creating a workplace hazard, and interfere with videography equipment, creating a visual disruption in filming. 
Measuring Flicker
While flicker % and flicker index time domain measures have been well known for many years, there are new metrics that add frequency domain components that must also be taken into account. The Stroboscopic Effect Visibility Measure (SVM), developed by Philips and CIE, identifies potential perception issues related to detecting the motion of objects. The metric is normalized based on controlled human subject testing with a value of 1 indicating that 50% of observers would perceive objects to be moving much slower than they are actually moving. A value of less than 1 would indicate less than 50% of observers would have the issue and a value of greater than 1 indicates that more than 50% of observers would see the issue. The ILT710 has a 128 x 64 pixel OLED display that clearly provides all the necessary measurements in a single view.
The ILT710's display will also show the change in intensity over time, providing a clear visual representation of the flicker frequency.
Quality and Accuracy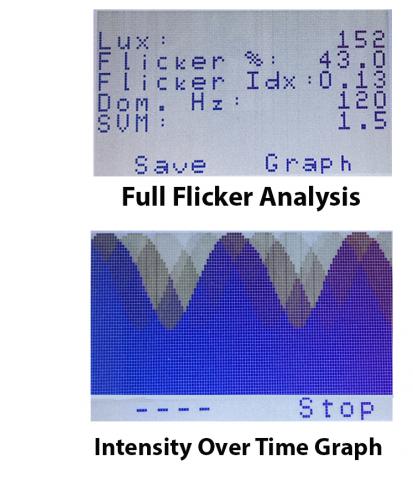 The ILT710 sensor provides a CIE photopic "human eye response" photodiode sitting behind a durable domed polycarbonate cosine correcting diffuser to provide accurate collection of light from all angles. The meter has a proprietary analog and digital signal processing to provide over-sampling at a rate of 50 kHz with true 12 bit resolution over light levels down to 1 lux, maintaining resolultion through all LED dimming levels including high PWM frequencies. The meter also provides ILT's NIST traceable and ISO17025 accredited lux calibration allowing the meter to serve the dual purpose of light-level compliance auditing and flicker measurement in office spaces, hospitals, schools, sports and entertainment arenas, and manufacturing environments, among others.
 
Characteristics of the ILT710 Flicker / Illuminance Meter

The ILT710 is a simple-to-use, low cost, hand-held, portable device.  The meter offers users accurate and reliable measurements with the following characteristics:
High quality flicker measurement instrument for use in product development, field testing and measurement, and on-site audits
Designed for use by non-technical personnel such as lighting designers, LED retrofit sales reps and applications engineers, and facility maintenance personnel
CIE photopic human eye response
Excellent cosine response
Data transfer and power supply via USB
Stand-alone operation with integrated lilo battery
Memory for 1000 measuring points
Graphical display of light intensity over time
Evaluation of TLA to various calculation methods such as flicker%, flicker index, and SVM
50 kHz sampling rate, "instantaneous auto-ranging", 12-bit resolution
Remote head with 3 foot cable allows easy access to work space and overhead lighting, while maintaining a clear view of the display
Tripod mountable using 1/4-20" mount on sensor head
NIST traceable ISO17025 accredited optical calibration
Made in the USA 
Watch our video!
ILT710 Flicker Meter Specifications

| | |
| --- | --- |
| Optical Sensor | Spectral response match CIE 1931 luminosity curve |
| Signal Frequency Range | Flicker Reporting Range |
| Sampling Rate | 6 kHz time-domain sampling (oversampled at 50 KHz) |
| Measurement Features: | |
| Measurement Time | 100 mS |
| Lux, Illuminance Range | 1 to 15,000 lux |
| Uncertainties of Measurement | |
| Lux | +/- 4.328% |
| Flicker % | +/- 5% reading (over 100 lux) |
| Flicker Index | +/- 5% (over 100 lux) |
| Range for Temporal Light Artifacts: | |
| Flicker TLA | 10 Hz to 3000 Hz |
| SVM TLA | 80 Hz to 2000 Hz, over 100 lux (per IEC TR 63158) |
| Time Domain | Percent Flicker, Flicker Index |
| Frequency Domain | Dominant Flicker Frequency, SVM (CIE) |
| Visualization | Intensity over time |
| Interface | USB 2.0 mini |
| Power Supply | USB powered, lithium-ion battery |
| Charging | 5V DC, 100/500 mA per USB |
| Mechanical Dimensions: | |
| Meter | 5.39" x 12.63" x .94" (37 mm X 67 mm X 24 mm) L x W x D |
| Sensor | 1.65" dia x 1.46" tall (42 mm dia X 37 mm tall) |
| Weight | .55 lbs (.25 kg) |
| Mounting | 1/4-20" tripod |
| Ambient Temperature | 0-40 Deg C |