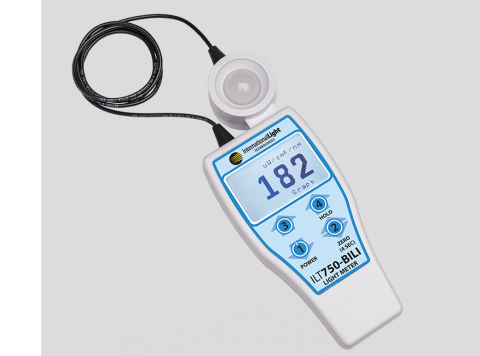 ILT750 Bili Light Meter
ILT750 Bili Light Meter For Verifying Light Sources Used In Neonatal Jaundice Treatment Systems

The ILT750 Bili Light Meter is the ultimate light measurement solution for your neonatal jaundice treatment system.  With the ILT750 bilirubin light meter you no longer need to manually record and calculate multiple measurements to get your irradiance value. Instead simply scan the ILT750 detector over the blanket or under the light source and let the meter do the math for you.  
 
Bilirubin Light Meter Features
 
Dual units with broad sensitivity range:  .08 to 8000 µW/cm2/nm, 3.0 to 300,000 µW/cm2
Easy to use device
5-digit display resolution
Peak response at 470 nm to match bilirubin action spectrum
ISO17025 Accredited and NIST Traceable calibration
Class 1 Medical Device
Cosine corrected sensor for accurate spatial response
Band Irradiance (µW/cm2/nm) or Irradiance (W/cm2) 
Works with traditional sources as well as LED
Works on bili blankets, pads or overhead lamps
Easy to clean housing
Compact, easy-to-hold, ergonomic design
Uses AA batteries
Made in USA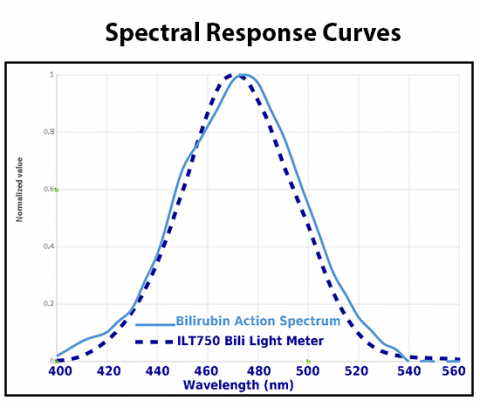 < Browse All Light Meters, Lux Meters & Radiometers
Become the technology leader in patient care with the latest advances in light measurement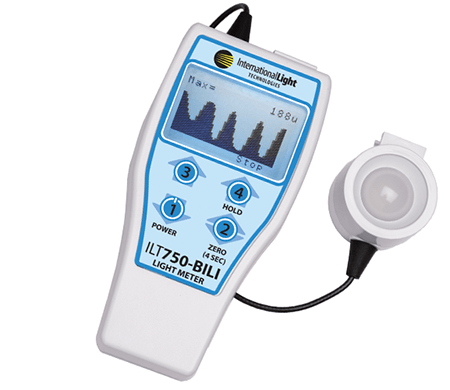 ILT has developed a new light meter/radiometer specifically for measuring light sources used in the treatment of hyperbilirubinemia in newborns. This meter is packed full of standard features and capabilities, along with numerous customizable options, all in an easy-to-use, Class 1 medical device.  The ILT750 has been completely re-imagined to make measuring bili light sources truly simple and universal.  Whether  you're looking to add a light meter to your neonatal jaundice treatment system, or want to update the offering you have, the ILT750 will work for you.

The unique features and capabilities of the ILT750 bili light meter include:
Versatile detector head design -  The versatile design of the ILT750's detector head enables you to use it attached or detached, in either the face up or face down position.  This allows you to always see the meter's control buttons and digital display no matter what type of bili system you're measuring
No math required - Other meters require you to take and record individual measurements from specific areas on a pad or light.  The ILT750 will automatically calculate readings while you seamlessly run the detector over the blanket or under the light source.  The meter will automatically give you the Min/Max and Average.  No calculating required!
Measures in mere seconds - Scan a large blanket, pad or light in just a few seconds.  The ILT750 doesn't require individual measurements across the source. 
Cross functional consistency - Read-out in both µW/cm2 and µW/cm2/nm to allow for comparison across all manufacturer device specs 
Simple to use - The ILT750 is a compact, light weight, simple to use device.  Intuitive user interface gives you results at the touch of a button
Easy to clean - The ILT750 was designed to be in a healthcare environment.  The simple plastic housing is easy to clean.  What's more is you no longer have to lug around calculators where germs can easily hide
Certified & Accredited -  The ILT750 comes with an ISO17025 accredited and NIST traceable calibration.  ILT is an ISO9001 certified and ISO13485 accredited manufacturing facility.  The ILT750 gives you the confidence that your customers are getting accurate data and readings they can trust
The ILT750 is designed with the OEM and distributor in mind.  Whether you want to re-brand, resell, or customize a solution for your system, ILT has been a trusted partner to organizations of all types and sizes for over 55 years.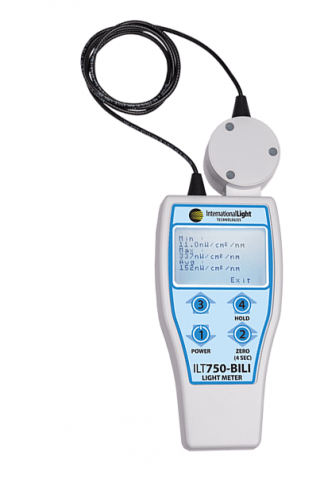 Customization options include:
OEM label
Startup / splash screen display
Software / firmware - include your company name, make and model, serial number, cal date, cal due date, and more.
Measurement speed
Digits of resolution
Units of calibration
Custom filtration design
Inquire for additional hardware and software customization
Watch our video showing the ILT750 against its competitors
Our Bili (Blue) Light Meter Measures Light Sources Including:
Bililux
Lullaby LED Phototherapy
Giraffe Blue Spot
Bilisoft
Wallaby
Bili-hut
BILIBLANKET
BILIPAD
NeoBLUE
Bili light
Bili Bassinet
Bili Lite pad
NanoBlu
ILT750 Device Specifications
Meter
Current range:  1 nA to 1.65 uA
Optical Sensor
420 - 520 nm
 
470 nm peak
Measurement Features:
Band Irradiance Range
.08 to 8000 µW/cm2/nm
Irradiance Range
3 to 300,000 µW/cm2
Visualization
Intensity over time, Plus Peak
Stats
Min, Max, and Average
Screen Update
.5 seconds
Units
µW/cm2/nm and µW/cm2
Power Supply
2 AA batteries
Mechanical Dimensions (in mm)
Meter
160 x 70 x 35  (HxWxD) 
Meter Display
50 x 32 (WxH)
Sensor
65 x 43 x 32 (includes 5mm room for wire to bend) (HxWxD)
Meter & Sensor Mounted
205 x 70 x 35 (HxWxD)
Cable
860 mm (2.8 ft)
Weight
220g (0.5 lb)
Mounting
Sensor attaches to top of meter face up or down.  Can also be used detached.
Ambient Temperature
0-40 Deg C
Cosine Correction
Yes
Linearity Validation
Yes
Shipping Weight & Dimensions
Shipping Box
15" x 12"
Shipping Weight
3 lbs