ILT5000 Research/Lab Radiometer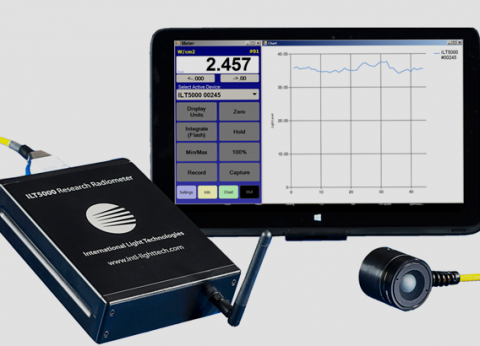 ILT5000 Research/Lab Radiometer
Radiometer Features:
10 Decade dynamic range of optical analysis
4 - 20 mA output
Sample rate up to 100 Hz, programmable
Auto-range, Auto-dark, Auto-sample with user control options
Built-in wireless transmitter**
Built-in rechargeable battery pack
"Set it & Forget it" remote data logging
Continuous multi-system monitoring
Backward compatible with the ILT1700 SED detector/filter/optics
Labview compatible
NIST Traceable / ISO17025 accredited calibration and certificate
Includes DataLight III comprehensive software package for both Mac and PC
Can be configured for custom and OEM applications. Contact us for details.
** Built-in Wi-Fi for connectivity to customer-provided 802.11b/g network with WEP/WPA/WPA2 SSID + password authentication
The ILT5000 radiometer is the ILT1700 for the 21st Century!  Improvements on the industry standard ILT1700 include rapid optical measurements (1-100hz), a broader dynamic range (100fA to 1mA), Datalight III for PC and Mac, plus built-in wireless, data storage, and rechargeable batteries!
The ILT5000 is backwards compatible with the ILT1700 sensor configurations, as well as all of ILT's sensor accessories including filters, optics, integrating spheres and ISO 17025/NIST traceable calibrations.

Watch Video
ILT manufactures the ILT5000 and DataLight III radiometer in the USA at our Peabody, MA facility which allows us to rapidly customize system components to meet the needs of our customers and OEMs.
ILT5000 optical measurement systems typically consist of the ILT5000 light meter, a sensor, filter, optic and calibration to allow direct reading in the appropriate empirical units including lux, foot-candles, candela, lumens, watts, W/cm2, cd/m2, foot-lamberts, nits, etc.
Measurement systems: The ILT5000 meter requires a sensor to measure light. Sensors are available to measure from 185 nm out to 40 micron and are supported with a vast array of accessory including bandpass filter, cosine receptors, integrating sphere, and numerous types of calibration.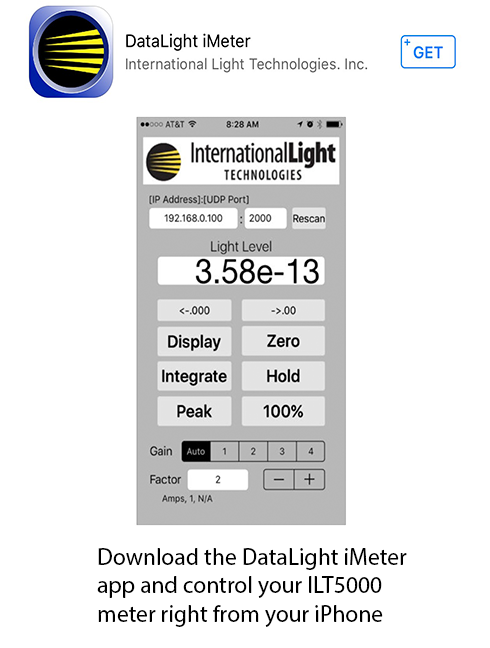 Measurement Range: Over 10 Decades 100 fA - 1 mA
   - (1 n/Wcm2 to 10 W/cm2)
Datalogging Memory:  Can store 16,380 total light level readings or 8,190 light level with real time stamp
(At one reading per minute, this equates to 11.3 days (real time stamp off) or 5.6 days of logging with time stamp on)
Auto-Ranging
Built-in Wi-Fi
Operating Temperature: -40 to 85° C
   - (Calibrated Irradiance: 0-50° C)
USB: USB2, Including Power, for Single and Multiple Systems
USB Current Draw: 500 mA max., 250 mA typical
Size: 1-3/5" H x 5" W x 7" L
Input Connector: D-Sub and SMA
CE Certified: No rf noise
Calibration: NIST Traceable/ISO 17025
Custom & OEM Inquiries Welcome


Comes with ILT's DataLight III Software included
DataLight is all about supplying fast, reliable light measurement data to you computer for analysis. Our extensive light measurement software package is available for Windows PC, Tablet and MAC computers.
DataLight III includes our "set it and forget it" remote internal data storage app., an improved All-in-One meters app for control and transmission of data using a mini USB cable or wireless data transmission, as well as a full API and command line interface for user programming and customization.
Refer to the Documents and Downloads Tab for software files, technical guides and application notes.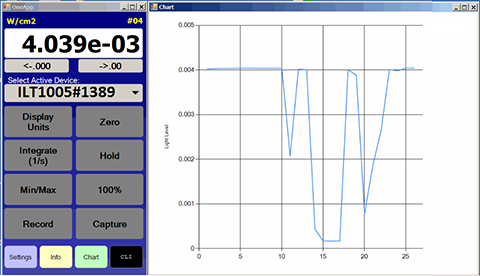 Watch the ILT5000 DataLight III Cal Factor Video below