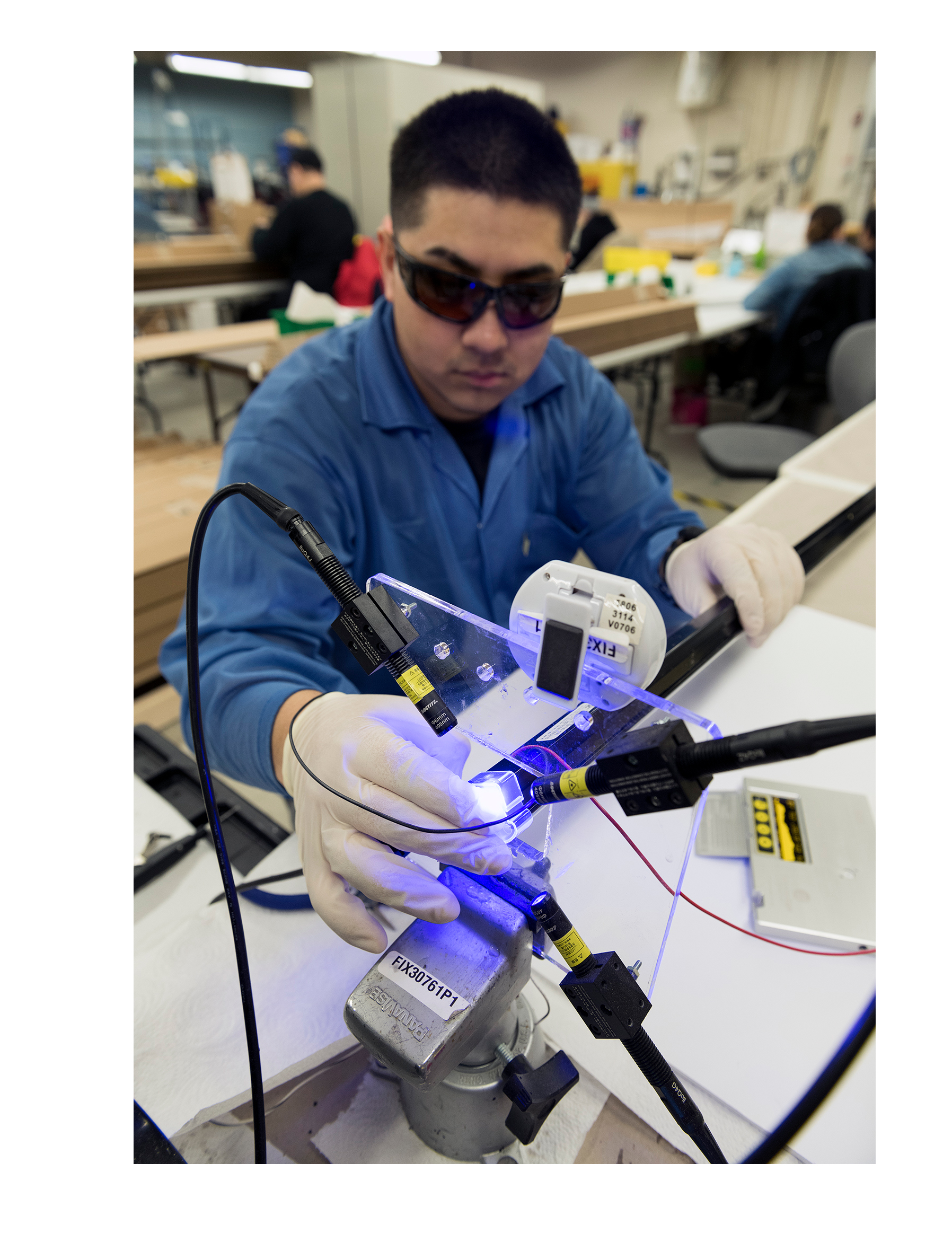 A UV meter is also often referred to as a radiometer, optometer or light meter. It is a tool capable of measuring the absolute (calibrated) amount of light power within a certain portion of the electromagnetic spectrum, called wavelengths.
There are a variety of UV curing light measurement systems on the market that were designed specifically to monitor the light output from UV sources used for curing. Consequently each manufacturer has unique designs that yield different results. Some were optimized for cost and may lack performance and quality. This may include linearity and traceable/repeatable calibration, for example. Some were designed for research/lab/product development with high price points, making them too expensive for end-user production environments. Most systems were designed based on customer feedback with specific curing applications and/or materials in mind.
 
There are many designs of both photoinitiators and light sources in use, making designing a measurement system to work universally across platforms challenging. Add to this the fact that there is no industry standard stating which wavelengths you should measure, or how the spectrum should be weighted, or at which wavelength the system should be calibrated. In short, light measurement system designs vary greatly by manufacturer, leaving many unanswered questions for end-users in selecting the right measurement system for their application.
 
So how do you select the best light meter for UV curing when the parameters can vary so greatly?
In order to select the correct UV Light meter for your application, you need to understand what features of the meter are most important to ensuring a proper cure.
 
Measurement range:  Min reading to Max reading
Avoid noisy readings: if the system lacks sensitivity at lower intensities, the readings can be very noisy even with a user zero is applied. System will see greater variation in results when working down close to the noise floor, or in worst case provide no readings or very larger errors in their readings.

Avoid Saturation: if a system is too sensitive it can saturate and miss the peak readings. This can lead to very large errors in both the peak and total integration. 
 
ISO17025 Accredited and NIST traceable calibration
When comparing results of multiple systems or setting up a system based on suppliers recommended settings, it is important to have a calibration that is accurate from system to system. ISO17025 requires annual audits of the calibration facility and assure the highest quality of calibration.
 
Data storage
The ability to store and recall previous readings on the measurement system allows for rapid and accurate trouble shooting without the use of a PC. This saves time and money.
 
Graphical display
Graphical displays of the data are best used for trouble shooting- allowing quick evaluation of lamp to lamp repeatability, uniformity of the output, reflector & lamp performance and other features that are important in assuring a proper cure.

Heat stability
Over heating a UV measurement systems can cause short term and long term degradation/variation. In the short term, the sensor can drift when experiencing large variations in temperature (heating up during a measurement can cause the readings to increase or decrease quickly) Over time, over heating internal components can shorten the life of sensitive electronic, filters and optics. A UV measurement system with a highly reflective surface and heat dissipation greatly reduces this risk.
 
Profiling
Profiling is a graphical representation of the irradiance over time. It is especially useful for troubleshooting multi-lamp systems as it enables problem detection of an individual lamp/reflector assembly by running a single test on all lamps simultaneously, but displaying the results of each lamp/reflector assembly separately. The alternative is testing each lamp individually, running the meter underneath each time. It provides a quick and easy way to visually see how stable the sources is are over time, determine the best warm up period, and complete troubleshooting tasks. Some systems not only store a baseline, but also allow data analysis. This may include comparing the saved base line to the current measurement as shown below. Some may require the data to be saved and exported to a spreadsheet to view the profile, or use a proprietary interface. Some suppliers charge a premium to add profiling, while some include it at no cost.

ILT's ILT800 CureRight Series is the one meter that does it all!
Data storage, temperature, and profiling are all features that come with the ILT800 Radiometer at no additional cost.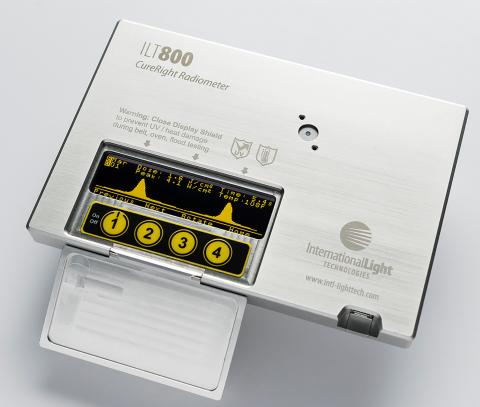 Spectral Filtration 

The ILT800 spectral filtration is designed to match the photoinitiators' response to UV light, which is very wavelength selective. The ILT800 is available in five standard filtration options, with customization available. The spectral range for each model is shown below. 

Watch Our ILT800 Radiometer Product Video Demo

About International Light Technologies

International Light Technologies has been developing and manufacturing light measurement systems for over fifty years. Our extensive portfolio of light meters meet a variety of UV light measurement applications, including UV curing. All of our light measurement systems can be tailored to meet a specific requirement or application. We maintain an ISO17025 accredited calibration lab, and all of our meters come with an ISO17025 calibration certificate.
To learn more about ILT's light measurement products, visit our website at www.intl-lighttech.com, or call us at 978-818-6180.

---
Browse Light Measurement Products By Category:

UV-VIS-IR Light Meters, Lux Meters & Radiometers
UV-VIS-IR Spectrometers & Spectroradiometers
Custom OEM Light Meters
Light Measurement Detectors
Light Measurement Input Optics
Light Measurement Optical Filters
Light Measurement Accessories
Spectroradiometer Accessories