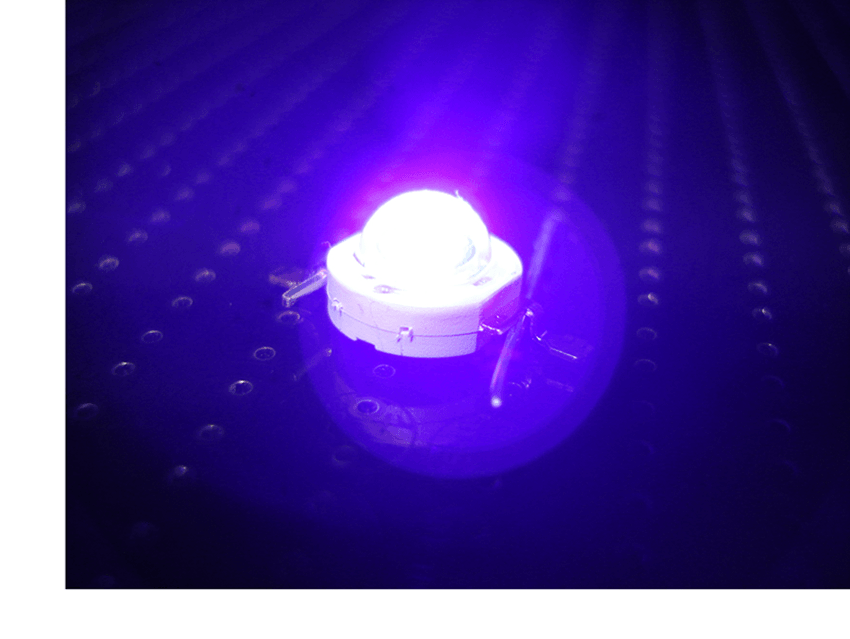 UV-C LEDs for UVGI / Disinfection 
In order to support  disinfection efforts for COVID 19, omicron variant, and other UVGI requirements we are currently stocking UV LED's for 275 nm in a variety of packages for design and development as well as one complete light source (UV LED module with heat sink, power supply, cooling fan and power cord).  
Our UVC LEDs are rated as 275 nm (270 - 280 nm) wavelength and they are available in few different power levels and styles. Choose from single, chip-on-board, strip, to complete light source module using the specification chart below.  Volume pricing is available for all items noted in the chart below. Longer strip lengths with higher outputs are also available. Lead time will vary by product ranging from 1-6 weeks depending on the item selected and volume required.

LED's have been increasingly used in applications where UV lamps (mercury, xenon, amalgam, excimer) have operated for decades.  Improvements in UV-LED flux density, stability and life hours have made UV LEDs a viable solution for replacing traditional UV light sources such as mercury arc lamps, arch lamps, hot and cold cathode lamps, and grid lamps.  UV LEDs are more environmentally friendly as they do not contain harmful mercury, do not produce ozone, and consume less energy.  Use of UV-C LEDs is rapidly growing in applications such as germicidal (UVGI) for air, surface and water purification.

Note: Other wavelength LED's are also available including 310 nm, 365 nm and 405 nm (UVA and UVB). Minimum buy and lead times will vary, but typically start at 25 pcs and 2-3 weeks.  Please contact customer service with your wavelength and quantity to receive pricing and lead times.
Image

(click for larger image)

Part #

Click for Specs or to Buy

Type
Peak Wave-
length nm
Radiant
Flux
Voltage

Constant
Current

Dimensions LxWxH
(mm)

Min
Order
Price
Each
Data Sheet
Request Volume Price or Additional Information

E275-3
Bare chip
275
3 - 6 mW
5 - 7 V
40-50
mA
3.45 x 3.45 x 1.3
(+/- 0.2)
Pks of
5
$15.73
Contact Us

E275-3-S
Chip on star board
275
3 - 6 mW
5 - 7 V
40-50
mA
20 x 20 x 3.2
Pks of
5
$16.85
Data Sheet
Contact Us

ILT-PWRTYLED .3W
LED Driver*
N/A
N/A
N/A
N/A
N/A
1
$21.91
N/A
Contact Us

E275-10
Bare chip
275
10 - 18 mW
6 - 7 V
100-150 mA
3.45 x 3.45 x 1.3
(+/- 0.2)
Pks of
5
$38.20
Contact Us

E275-10-S
Chip on star board
275
10 - 18 mW
6 - 7 V
100-150 mA
20 x 20 x 2.9
Pks of
5
$42.14
Data Sheet
Contact Us

 

 

E275-60-Strip

UVC LED Strip 60 x 20 mm

275
20 - 30 mW
12 V
200 mA
60 x 20 x 3.8
1
$77.52
Contact Us

 

 

ILT-PWR-12600P5
LED Driver**
N/A
N/A
N/A
N/A
N/A
1
23.59
N/A
Contact Us

 

E275-80-Module
20 LED UVC Module
275
80 - 100 mW
10 - 15 V
600 mA
78 x 68 x 68
1
$448.28
Contact Us
* The ILT-PWRTYLED.3W driver is compatible with the E-275-3 and E-275-3-S 3-6 mW LEDs only.
** The ILT-PWR-12600 driver is compatible with the E275-60 Strip only.  Powers up to 2 strips. 
UV LED Applications
International Light Technologies offers UVC LEDs for a variety of applications and uses. Our UV LEDs are effective against eliminating harmful bacteria, fungi, and viruses such as COVID-19. Below are some of the most common applications our products can be used in:
Germicidal (UVGI) purification
Air Purification
Surface Sterilization
Water Disinfection
Hospital Sanitization
Get in touch with us today to discuss your requirements so we can provide you with a consultation best suited to your needs.
Browse Light Sources By Category:

UVA and UVB LEDs
VIS-IR, Miniature and Precision Lamps
Tungsten Halogen & Gas Filled Lamps
Neon Lamps
Reflector Lamp Assemblies
Through Hole LEDs
Surface Mount LEDs
Lamp Holders
Line Filament Lamps
Replacement / Custom Lamps
 
---