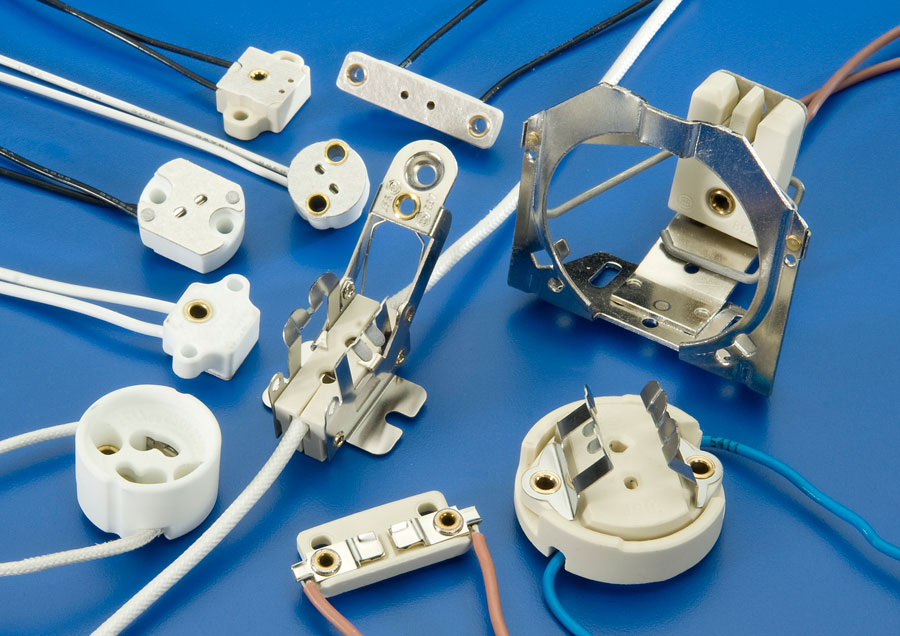 In order for any system to operate at maximum efficiency all of the parts must be in good working order and reliable. For this reason International Light Technologies offers a range of lamp holders to complement the lamps we offer. Browse our selection using the table below. Many of our lamp holders can be purchased right in our on-line store. Can't find what you're looking for? Contact us to speak with an expert.
Lampholders are an essential part of a lighting system and the wrong choice can lead to lost power and lamps not working effectively. All lamps are listed with a rated voltage and wattage and it is essential the means provided to get the power to the lamp from the power source is a good and effective one. Under-powering or over-powering a lamp can have a large impact on the life of the lamp as well as its spectral output.

In this section you will see some of the more common lampholders used with our lamps along with readily available options that we stock for immediate delivery. These options include different wire lengths and threaded mounting holes

The lampholders' maximum ratings are listed so you will know if your lamp can be safely installed in each lampholder. Please note that the maximum temperatures listed apply both to the wire used and also the ceramic upon which the lamp sits. The temperature at the ceramic will be much higher than along the wire.

Halogen lamps normally operate at temperatures ranging between 250°C and 350°C. Consequently, depending on lamp burning position, Halogen lampholders are sometimes subjected to temperatures of 200°C. Special holders are necessary to endure these elevated temperatures.

Lampholders of ceramic construction are recommended for use with halogen lamps rated at 50 watts and above.

Heat resistant phenolic plastic lampholders are acceptable for use with halogen lamps rated at 35 watts and below.

Since lead wires are also subjected to extreme heat, silicone or teflon insulation is recommended for a minimum length of 125 millimeters from the lampholder. This length of wire is normally supplied with the lampholder.

Also listed in the Lampholders section are the popular ILT Reflector Holders (Part Numbers H707 and H708). These Reflector Holders can be combined with any compatible lampholder to give a reflector lamp more stability. They are made from plated alloy steel. They can not be accessed by using lamp Base Type because they do not have a base.