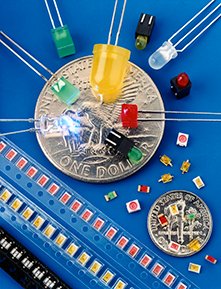 Surface Mount LEDs, also known as SMD LEDs, are compact light-emitting diodes designed for direct mounting onto circuit boards or other surfaces. They offer efficient and versatile lighting solutions for a wide range of applications, including electronics, automotive lighting, signage, backlighting, portable devices, and more. Their small size, energy efficiency, and ability to be easily integrated into various products make them a popular choice for modern lighting and display technologies.

Shop our diverse selection of surface mount LEDs from International Light, designed to meet various needs and applications:
Gull Wing
Rectangular Lens
Round Lens
Surface Mount with Resistor & White
Bi Color
Infrared
Right Angle-Side Lighting
Illuminate your projects with our high-quality surface mount LEDs, suitable for a wide array of applications, such as:
Electronics and Circuit Boards: Indicators, status lights, and displays on electronic devices.
Backlighting: Illuminating screens, keyboards, and displays in various devices.
Automotive Lighting: Used in headlights, taillights, interior lighting, and indicators.
Signage: LED panels and message boards for advertising and information display.
Illuminated Controls: Visibility in push buttons, switches, and keypads.
Traffic Signals: Enhancing visibility in traffic lights and pedestrian signals.
Portable Lighting: Illumination in flashlights and handheld lamps.
Wearable Technology: Integrated into smartwatches and fitness trackers.
Medical Devices: Used for illumination, indicators, and diagnostics.
Gaming Peripherals: Illuminated keyboards, mice, and controllers.
Outdoor Lighting: For fixtures, streetlights, and landscape illumination.
Shop our online catalog below. Simply click on the Part Numbers in the table to access detailed Specifications and Pricing information for our surface mount LEDs.
 Learn more by visiting our Application Notes page.  For reference drawings of our LEDs, click the PDF link below.