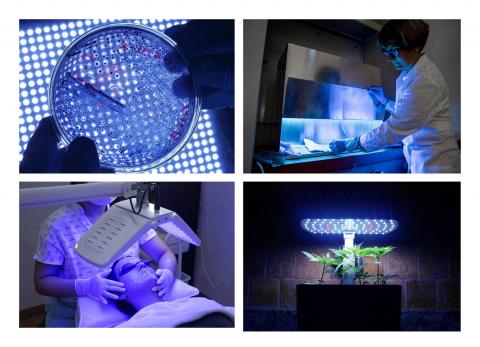 ILT offers a selection of LEDs in the UV-A and UV-B spectrum.  Increasingly manufacturers are swapping out technologies such as mercury, amalgam, sodium, fluorescent and other sources of ultraviolet radiation for LEDs. LEDs offer a host of benefits over these older technologies including a smaller form factor for more design flexibility, longer life span, better energy efficiency, and more environmentally friendly; eliminating the use of mercury and other hazardous materials.  
 
Ultraviolet radiation spans the spectrum from about 200 nm to 400 nm.  UVB includes radiation in the wavelengths from about 280 nm to 315 nm.  UVB radiation is commonly used in phototherapy treatments for skin conditions and tanning beds, in plant growth, for cancer treatments, and for photochemical reactions.
 
UVA radiation includes radiation in the wavelengths from about 315 nm to 405 nm.  UVA radiation is used in many of the same applications as UVB including phtototherapy and plant growth. UVA light is also commonly used in UV curing applications such as 3D printing, photolithography/photoresist, photostability, and other photochemical reactions.
 
ILT has been an expert in ultraviolet light since 1965.  Do you have a UV LED-based project that needs expertise?  ILT can assist with design, development, procurement, and manufacturing.  Contact our LED Innovations group for a consultation today.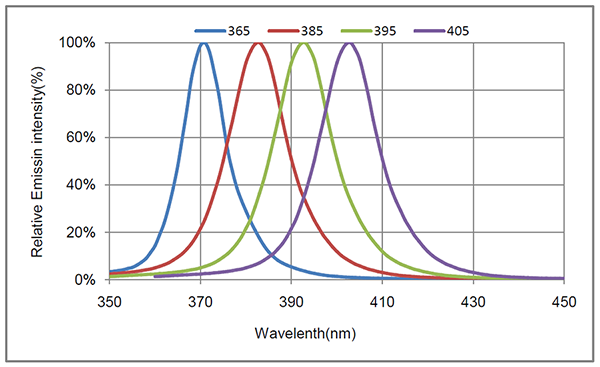 Note:  Other wavelengths available upon request. Minimum buy and lead times will vary, but typically start at 25 pcs and 2-3 weeks.  To shop our germicidal LEDs, please visit our UVC LEDs page.  Please contact customer service with your wavelength and quantity to receive pricing and lead times.
* The ILT-PWRTYLED.3W driver is compatible with the E-1075, E310-3-S, E310-8, and E310-8-S LEDs only.
** The ILT-PWR-12600 driver is compatible with the E310-15-STRIP only. Powers up to 2 strips.

 
---