ILT2400 3D Printer/UVA LED Measurements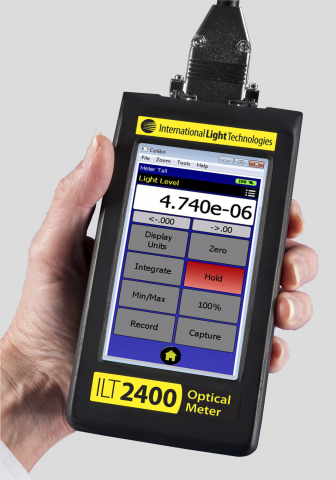 ILT2400, XSD005UVF 3D Printer/UVA LED Measurements
Part Number: ILT2400, XSD005UVF with Low Profile Sensor US
3D Printing, UV Curing & UV LED Measurement System
Research functionality at a hand-held price
8 decade dynamic range of optical analysis
Measurement speeds up to 1000 µSeconds
Meter & sensors with NIST traceable ISO17025 accredited calibration
Hand-held, compact, ergonomic design
Brilliant 4.3" touch screen dispay
90 degree screen rotation for landscape and portrait viewing
ILT's Accuspan: Auto-ranging with Smart Averaging
Built-in rechargeable battery lasts up to 8 hours
Backwards compatible with ILT1700 sensors
Made in the USA
Custom & OEM inquiries welcome!

< Back to LED Testing & Measurement Table
The UV-VIS LED Measurement System with Flat Response
A low-profile, flat response UV LED measurement system designed to simplify taking calibrated measurements of UV LEDs.  The proprietary sensor/filter/optic combination was designed by ILT's engineering team to provide a near flat response over 350 - 410 nm.  This flattened/uniform response allows measurement and comparison of a variety of UV LED wavelengths without the added difficulty of modifying the readout to account for changes in sensor sensitivity.  This systemm can also be used to measure traditional UV sources as well.
Measurement Range:  5e-8 to 8e-1 W/cm2 (7e-8 to 1 W/cm2 with 7mm aperture) 
Spectral Range:  275 - 450 nm
Dimensions:  15 mm x 42 mm dia.
Order part number:  ILT2400, XSD005UVF, (XSD005UVFT7 with 7 mm aperture)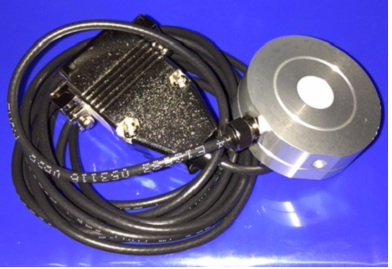 XSD005UVF and XSD005UVFT7 are low profile sensors with internally mounted filters and optics.  No filter/optic swapping is possible with the XSD models.  (Scanned calibration from 250 - 450 nm / every 1, 2, or 5 nm are also available for a fee).
 
Application Note:  Most UV filters have a bell shaped curve with a fairly narrow peak.  To improve the accuracy of our UVLED measurement system, ILT combined our highly stable GaAsp sensor with a flattening filter and quartz diffuser to offer a more uniform response in the key regions used for UV curing.  (Note:  for UVC measurements in the 215 - 300 nm range, ILT also ffers our ILT2400, XSD270 low profile sensor)
For the latest specifications, documentation, data sheets and software downloads for the ILT2400, please visit the product page here.