ILT950-NIR Spectroradiometer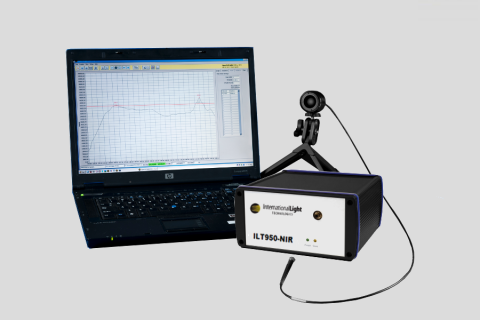 ILT950-NIR Spectroradiometer
Features
NIR range 900 1750 nm
NIST-Traceable, ISO 17025 Accredited
System includes:

600

µ

m fiber cable
Cosine correcting diffuser
Tripod
ILT's SpectriLight software

Can be coupled with ILT950 spectrometer to allow broadband measurements from 250 - 1700 nm (requires bifurcated patch cord.)
Cost-Effective, Fully-Ingegrated Spectroradiometer with ISO17025 Accreditation
The ILT950-NIR compact air-cooled NIR spectrometer uses a 256 pixel linear InGaAs array, and offers both a high-sensitivity and low-noise mode for measurements in the near infrared range, out to 1700 nm (1.7 micron). The ILT950-NIR allows for economical measurements by comparison to many TE cooled spectrometers, yet still offers exceptional performance. With a sample speed of only 1.06 ms/scan, and integration times as fast as 10 µs, the ILT950-NIR offers fast, accurate results.
The ILT950-NIR can be combined with ILT's UV-VIS spectrometers by attaching a bifurcated fiber cable to both units, with only one shared input optic. This allows for simultaneous, broad-spectrum measurements with minimal set up time. Results are displayed for both systems in one graph, using ILT's easy-to-use SpectriLight software.

Applications:
Laser measurement
Research and development
Transmission measurements
LED testing
IR lamp testing
Symmetrical Czerny-Turner: 50 mm focal length
Wavelength Range: 900 - 1750 nm
Grating: 200 lines/mm**
Slit: 50

µ

m**
Resolution: 6-7 nm
Stray Light: < 1%
Signal/Noise HS: 2000:1
Integration Time HS: 10

µ

s - 750 ms
Signal/Noise LN: 6000:1
Integration time LN: 10

µ

s - 8 seconds
Detector: InGaAs linear array, 256 pixels, 50

µ

m x 500

µ

m
AD Converter: 16 bit, 500kHz
Interface: USB 2.0 high speed
Sample Speed with On-Board Averaging: 1.06 ms/scan
Data Transfer Speed: 1.56 ms/scan (USB2)
Power Supply: USB power
Dimensions: 175 x 165 x 85 mm
Weight: 2.2 Kg
**Additional slit sizes and gratings are available. Changing the slit and grating can allow for smaller resolution, a reduction i the wavelength range and an increase in sensitivity. Need help configuring your ILT950 system? Click here to have an ILT light measurement expert contact you.