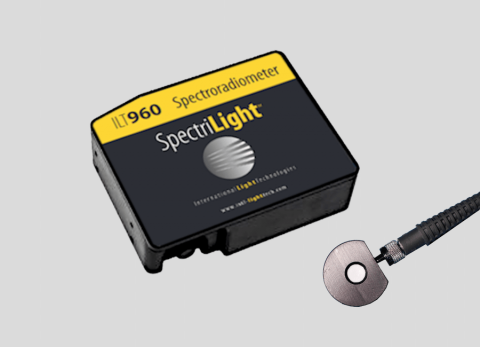 ILT960UV-RAA4 Portable Compact UV Spectrometer
Part Number: ILT960UV-RAA4 US
From Now Until December 31, 2023 Take An Extra 15% Off ILT Spectrometers Using Promo Code SPECS15%

ILT960UV-RAA4 Portable UV Spectrometer Features
Spectral Range:
NIST-Traceable, ISO 17025 Accredited Calibration Included
Interchangeable input optics include:

RAA4 Right angle micro probe (included in ILT950UV-RAA4)
RAMP 12 -Rigid 12" fiber with mini right angle optic
INS50 -2" integrating sphere with 7 mm port
INS125 -5" Integrating sphere with 3 ports (20 and 40 mm dia)

Typical spectroradiometer applications include:

UVGI Disinfection validation
Characterization of UV LED's and Source
Characterization of UV Curing Systems
Solar UV measurements
UV LED and small source (< 40 mm dia) total spectral flux
Radiometry Measurements
Absorbance/Transmittance


< Back to all UVGI Systems
< Back to all Spectrometers
< Back to all Light Measurement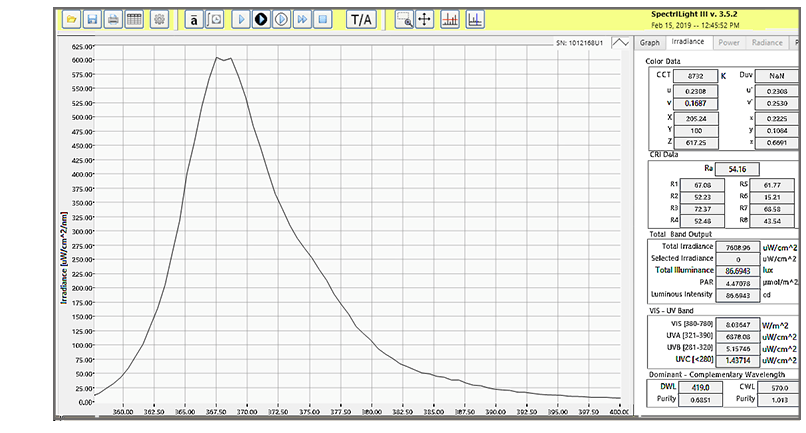 The ILT960 is a compact, portable, UV spectrometer with increased  broadband UV sensitivity  offering the ability to measure UVC light levels as small as .4 uW/cm2/nm as well as graph the spectrum and light level from 200-500 nm.   The ILT960-RAA includes everything needed to take measurements including spectrometer, rugged carrying case, 1 meter fiber optic light guide, RAA4 right angle cosine correcting input optic, calibration with certificate and an extensive complimentary software software package called SpectrILight III.  (DLL's for SpectrILight III are sold separately) 


Additional input optics are available for both irradiance and total flux including, longer light guides, a rigid 12 inch fiber light guide with a  small right angle adapter (PN RAMP12) for hard to reach or high heat applications, and both 2 and 5 inch integrating spheres.


The new ILT960UV combined with ILT's powerful SpectrILight III software, including a baseline overlay comparison, Irradiance Select, Peak find and more, makes the ILT960UV an extremely versatile device for in the lab or in the field.
Watch our demo video of the ILT960 and SpectriLight III software
Not sure which UVGI system is right for you?  View our side-by-side comparison

ILT960-RAA4  vs ILT2400-UVGI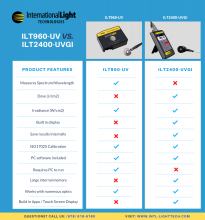 click for larger image
 
---
 SpectrILight III Software
SpectrILight™ III is a LabView™ based software package for Windows that allows you to acquire spectral and color data. Analysis of the data is now calculated instantly
within the same program - no exporting required!
The latest version of SpectrILight™ III has additional calculations for metamerism, and 2 and 10 degree observer. The new Overlay feature allows the user to compare the base reading to current readings. Wavelength range, integration time, scan average and other controls can be easily set through pop up windows, menus and tool bars. Absolute Irradiance and chromaticity are calculated instantly.
SpectrILight™ III is LabView™ based software and can be easily customized for specific OEM applications. For API applications, Multiple DLL's are available. Please contact us for more information.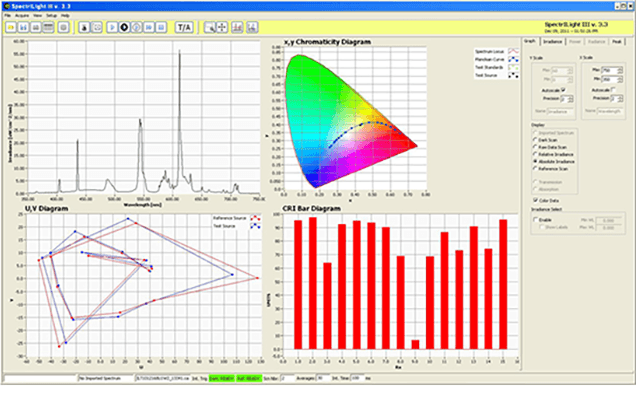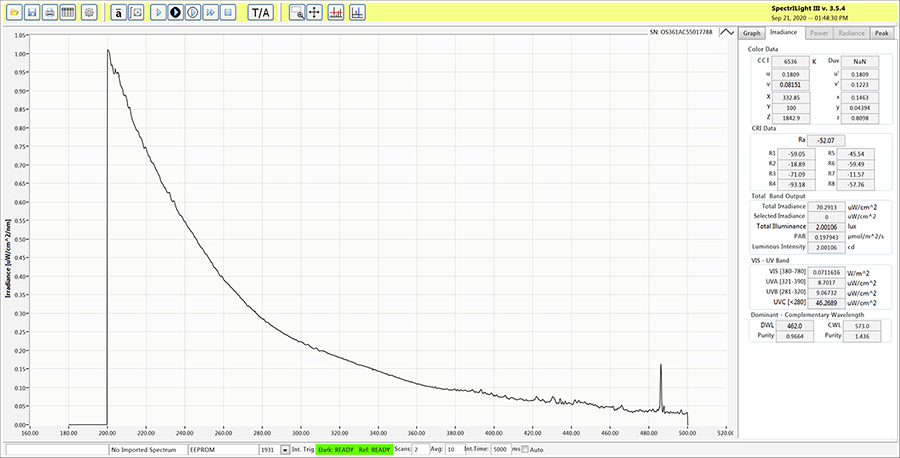 Requires Windows XP Pro or Windows 7 Pro Editions (Pentium II 300 MHz or better), Windows 8 and Windows 10.  Note: Software will not work with Windows limited  "Home" editions.


To learn more about SpectrILight software, please click on the following Technical Information links below: SpectriLight III Spectral Analysis Software Datasheet and SpectriLight III Spectral Analysis Software Manual.
 
Interested in the ILT960 Spectroradiometer and want to know if it will work for your application? Please tell our applications engineers more about your application - click to fill out our detailed Spectroradiometer Inquiry Form
Model
ILT960UV
Detector
CMOS Linear Image Sensor
Focal Length
(R1-R2) 60/60 mm
Grating
1200g/mm
Blaze
200 nm
Wavelength
180-500 nm
Slit
50 um
Resolution
</= .9 nm
Dark Noise
36 (upper limit)
SNR
330
Dynamic Range
3450
Stray Light
< 0.2%
Wavelength Accuracy
+/- 0.21 nm
Dynamic Dar Correction
Yes
Non-Linearity Calibration
Yes
Wavelength Calibration
Yes
Trigger Compatible
Yes
Synchronization Compatible
Yes
ADC
16 Bits, 2.5 MHz
Operating Temp
0 - 50 Deg C
Interface
USB 2.0 UART
Typical Sensitivity Range
>/= .9 uW/cm2 to .9 W/cm2
Radiometric Accuracy
200 - 250 nm: +/- 15%*
250 - 450 nm: +/-10%*
450- 950 nm: +/- 5%
Calibration
NIST Traceable, ISO17025 Accredited Calibration**
Dimensions
35.4 H x 86 W x 110mm L
Power
300 mA @ 5VDC (supply voltage 4.75 - 5.25)
* Requires Dual Source Calibration