ILT560 Miniature Spectrometer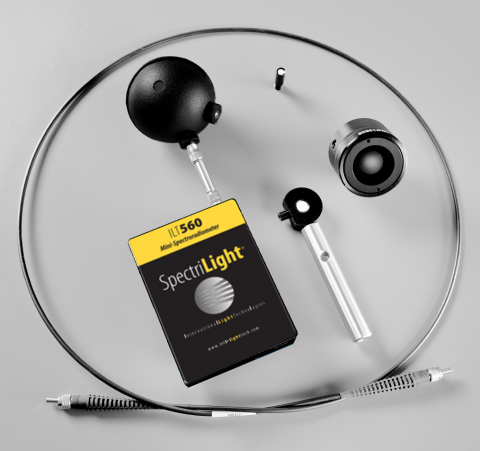 ILT560 Miniature Spectrometer
Part Number: ILT560 Miniature Spectrometer US
Between now and September 30th, customers can take an additional 15% off their purchase of any IL spectroradiometer using promo code SPECS15%!

Miniature, Portable Spectrometer Series
Range: 350 nm to 900 nm Standard (250-900 nm requires RAA4 and dual source calibration upgrade)
NIST-Traceable Calibration Included
Typical Applications Include:

Plant Growth/PAR/Plant Photobiology
Characterization of UV Curing Systems
Photostability Testing
Reflectance
Absorbance/Transmittance
LED Illumination and Color Analysis
Radiometery and Photometry Measurements
Accelerated Weathering
Fluorescence


< Back to All Light Measurement Systems
< Back to All Spectrometers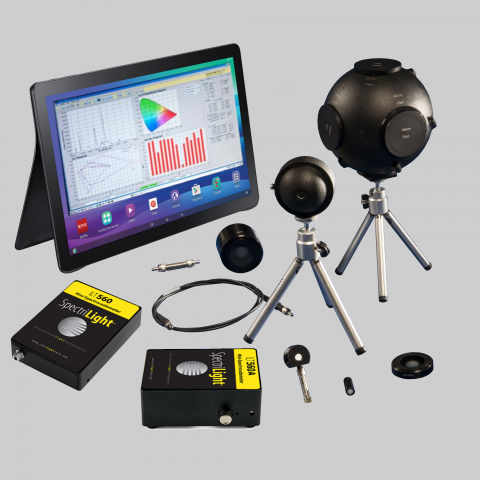 For Budget-Conscious Customers
ILT is pleased to offer ILT560 SpectroradiometerThe ILT560 Spectroradiometer comes standard with a SMA905 receptor allowing it to be used a variety of fiber patch cords including both flexible and rigid models.
Available Input Optics
Customers can select from a variety of input optics including ILT's:
RAA4 Right angle adapter
RAA5 mini right angle adapter
W/A2 Cosine correcting diffuser
W5 Mini diffuser
R2 Radiance Optic
R3 Spot Radiance Optic
INS50 2", 5" and 10" integrating spheres
INS125 5" integrating sphere
INS125 10" integrating sphere
Each input optic requires its own unique calibration.  Multiple calibrations can be performed on a single spectrometer, allowing measurements of total flux (W, lm), irradiance (W/cm2), radiance (W/sr/cm2), luminance (cd/m2), and illuminance (lux) with the appropriate input optic as noted above.
All systems include ILT's comprehensive software package, SpectriLight II, to allow calculations such as CCT

Optional Spectroradiometer Accessories

Click on image to go to Spectroradiometer Accesories page
 
Three integrating spheres:  2", 5", 10"
Two luminance optics:  spot luminance and +/- 2 Deg FOV
Three versions of cosine receptors; mini, standard, right angle
Four fiber optic cables; bundled 2 m L, 600 um 1 m long, 200 um .5 m Long, Bifurcated
Validation lamp and power supply for integrating spheres, reference measurements
Reflectance reference - white
Spot finding light source for luminance optics
Optical Bench post
SpectrILight III Software
SpectrILight III Software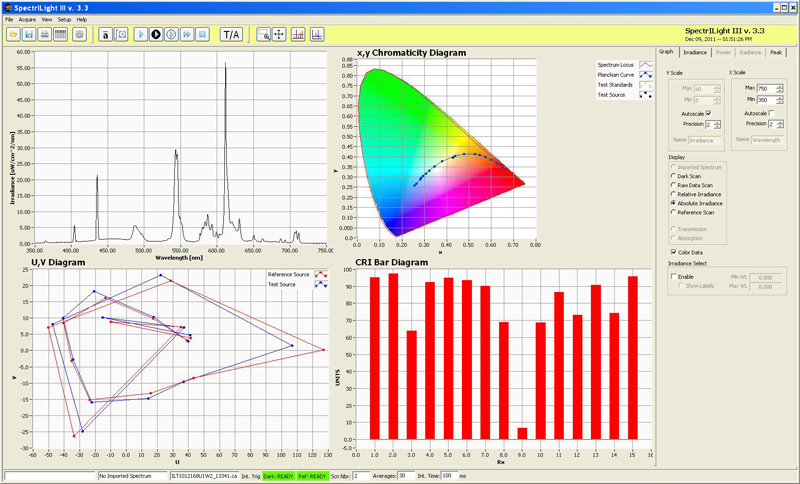 SpectrILight™ III is a LabView™ based software package for Windows that allows you to acquire spectral and color data. Analysis of the data is now calculated instantly within the same program - no exporting required!

The latest version of SpectrILight™ III has additional calculations for metamerism, and 2 and 10 degree observer. The new Overlay feature allows the user to compare the base reading to current readings. Wavelength range, integration time, scan average and other controls can be easily set through pop up windows, menus and tool bars. Absolute Irradiance and chromaticity are calculated instantly.
SpectrILight™ III is LabView™ based software and can be easily customized for specific OEM applications. For API applications, Multiple DLL's are available. Please contact us for more information.

Requires Windows XP Pro or Windows 7 Pro Editions (Pentium II 300 MHz or better), Windows 8 and Windows 10.  Note: Software will not work with Windows limited  "Home" editions.
Technical Specifications
| | |
| --- | --- |
| | ILT560A Broadband |
| Spectral Range | 350 - 900 nm standard* |
| Stray Light | <0.1% @600, 435 nm |
| AD Converter | 16 bit, 2MHz |
| Signal/Noise | 600:1 |
| Integration Time | .5 ms - 10 seconds |
| Interface | USB 2.0 |
| Power Supply | USB power |
| Dimensions (mm) | 91 x 60 x 34.5 |
| Temperature Range | 5 - 35 degrees C |
| CCD | 2048 |
| Resolution | 1 nm |
| Slit | 25 micron |
| Software | Win XP, Win7, Win 8, Win 10 |
* ILT560A Broadband 250-900 nm requires RAA4 and dual source calibration upgrade