ILT2500-UVGI-X Hand-Held Flash Meter for Measuring Pulsed Germicidal Light Sources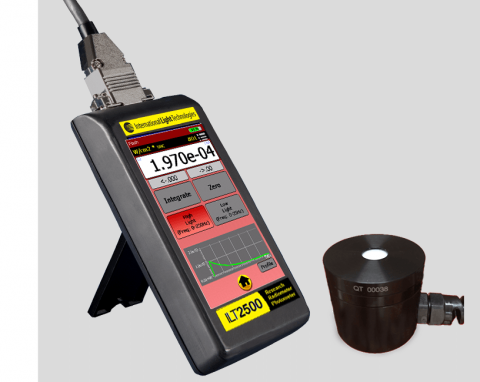 ILT2500-UVGI-X UVC Flash Meter
Part Number: ILT2500-UVGI-X US
For Measuring Xenon, UVC LED and Other Pulsed Light Sources for UVGI Applications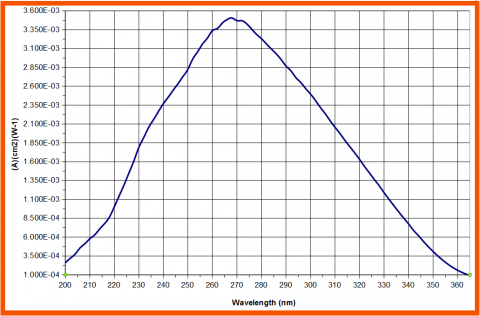 System Benefits
265-270 nm Peak for UVGI
Able to measure Xenon Pulsed UV light sources
Irradiance Range: 5e-7 to 2 W/cm2 
Dose Range: 5e-7 to millions of J/cm2
ISO17025 accredited NIST traceable calibration
Built in apps for pulsed and continuous sources 
 

Complete System Includes 
ILT2500 light meter  
SED270/QTSiC sensor with scanned Calibration
Calibration certificate 
USB Mini and Micro cable for use with PC software, data downloads and device charging 
DataLight III comprehensive software package for Mac and PC
Rugged carrying case 
Browse All Configured UVC Systems
Browse  All Light Measurement Systems

Validate Your Pulsed-Light UV Disinfectant System And Ensure Proper Dose
The ILT2500-UVGI-X UVC Flash Light Measurement System has everything you need to start validating the light output from your anti-microbial / germicidal / UVC disinfection system.  It's not enough to trust the manufacturer's specifications.  You must verify that the system you're entrusting the health and well being of your co-workers and patients to is doing what it says - deactivating germs and killing pathogens.
The ILT2500-UVGI-X is specifically designed to measure pulsing light sources such as xenon lamps and pulsed UVC LEDs. The unit comes with an integrated kick-stand, allowing stationary positioning of the meter while in use.  The detector is attached with 7' cable to help reduce the risk of tester exposure.  The versatility of the ILT2500 Flash meter is ideal for measuring a wide variety of systems in lab or in-situ settings.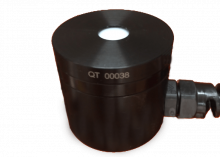 Detector: SED270/QT
Typical Measurement Range:  5e-7 to 2 W/cm2
High Light (3µA to 1 mA)  .001 to 2 W/cm2
Low Light (300 nA to 3 µA)   1µW/cm2 to 1 mW/cm2
Spectral Range: 215 – 350 nm
Dimensions: 60 mm x 42 mm diameter
Calibration: includes NIST Traceable, ISO17025 Accredited PIR single point calibration.
Note:  ILT2500 can be used with a variety of sensors for testing from UV light from 185- 400 nm both pulsed or steady state. The ILT2500 is not just for high powered Xenon applications. It offers increased sensitivity and stability for low light applications as compared toe the ILT770 and ILT2400 light meters. Please contact our sales team if you need help with selection.


Not sure which system is right for you?  View our side-by-side comparison

ILT2500-UVGI-X vs ILT770-UV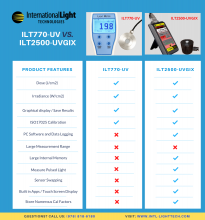 click for larger image