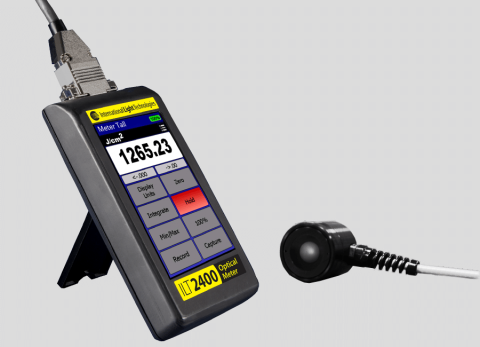 ILT2400 UVGI For Measuring UVC Germicidal/Disinfecting Light Sources
Part Number: ILT2400-UVGI US
UVGI Anti-Microbial / Disinfection UV Light Meter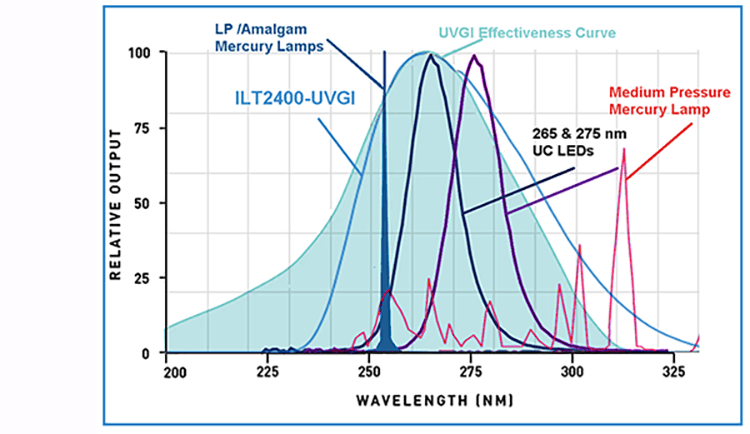 System Benefits:
Measures germicidal UV from 240 - 310 nm with UVGI optimized sensor
Works with LEDs, Amalgam, Low and Medium Pressure Mercury Lamps (non-pulsing sources only)
Irradiance Range: 10 nW/cm2  to 500 µW/cm2
Dose Range: 10 nJ/cm2 to millions of mJ/cm2 
ISO17025 accredited NIST traceable calibration
Portable, hand-held system
Easy-to-use, app based interface with large touch screen
Made in the USA
 
Complete UVGI System Includes:
ILT2400 light meter 
SED240/WBS320/W, UVGI Filtered Detector 
Scanned multi-wavelength Calibration with certificate
USB Mini and Micro cable for use with PC software, data downloads and device charging
DataLight III comprehensive software package for Mac and PC
Rugged carrying case
Browse All Configured UVC Measurement Systems
Browse  All Light Measurement Systems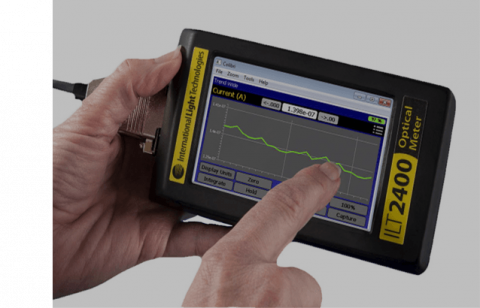 The ILT2400-UVGI Germicidal/Disinfection Light Measurement System has everything you need to start validating the light output from your anti-microbial / germicidal / UV disinfection system.  It's not enough to trust the manufacturer's specifications.  You must verify that the system you're entrusting the health and well being of your patients to is doing what it says - deactivating germs and killing pathogens.


The ILT2400-UVGI is specifically configured and calibrated to cover the area of the UV-C spectrum where most pathogens, including the COVID-19 virus, are inactivated (See graph above).  Regardless of the light source your system uses, with the touch of a button the ILT2400-UVGI will do the following:
Verify the fluence and fluence rate of light being emitted
Validate the amount of light being emitted
Confirm the amount of light reaching a surface
The ILT2400-UVGI is a feature-packed hand held UV meter that allows on screen verification as well as datalogging of the light intensity of numerous type of UV sources for any disinfection application including surface, air and water regardless of the lamp type.  The unit comes with an integrated kick-stand, allowing stationary positioning of the meter while in use.  The detector is attached with  7' cable to help reduce the risk of tester exposure.  The versatility of the ILT2400 is ideal for measuring a wide variety of systems in lab or in-situ settings.

ILT2400 can be used with a variety of sensors for testing from UV light from 185- 400 nm. We have sensors for both broad band and narrow band application covering a range from nW/cm2 to W/cm2 with numerous diodes including solar blind vacuum phototube sensors, GaN and SiC sensors. Please contact our sales team if you need help with selection.
 
Not sure which UVGI measurement system is right for you?  View our side-by-side comparisons.

ILT2400-UVGI vs ILT960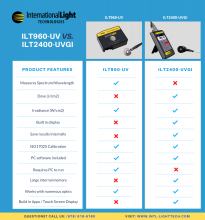 click for larger image

ILT2400-UVGI vs ILT2400-NB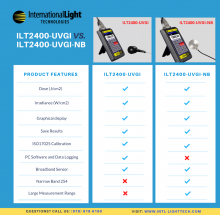 click for larger image
About Ultraviolet Germicidal Irradiation
Also referred to as UVGI, it is a disinfection method that uses short-wavelength ultraviolet (UV-C) light to kill or inactivate microorganisms by destroying nucleic acids and disrupting their DNA, leaving them unable to perform vital cellular functions.  The ILT2400-UVGI light meter is a complete measurement system includes the ILT2400 Meter,  an attenuated UV sensor to allow measurements up to 100 mW/cm2, and a scanned UV calibration for narrow band  sources such as Excimer, LED, and LP mercury lamps. This detector has a weighted response and designed to measure the germicidal effectiveness of broad spectrum UV sources in accordance with the requirements within the IES Luckiesh and DIN standards for most UV sources.
 ILT2400 Meter Specifications
Measurement Range: 50pA – 1mA current, 8 decades of light intensity measurements
Screen: 4.3" VGA Capacitive touch screen color display
Bias: 5V Reverse Bias
Ranging and Averaging: Automatic
Internal Memory: 4 GB
Operating Temperature: 0-40o C
USB: Micro for data download
USB: Mini for charging and remote data logging using DataLight II PC software
Size: 1-3/5" H x 3" W x 6" L
Detector/Sensor connector: 15 pin connector
CE certified: No RF noise
---
ILT2400 Software
Home Screen is used to move between applications including:
Meter Tall for Portrait, Meter Wide for Landscape
Trend Tall for Portrait, Trend Wide for Landscape
Cloak for low light environments, Includes large 1 touch sampling button
Light Stack sets up indicator levels: Green for Good, Yellow for Caution, Red for Warning
Time and Date for setting the calendar and clock
Settings for changing parameters such as, Calibration factor selection, Sample time, Background brightness, Bias on/off, etc. (Screen Shot Below)
LightCalc handy calculators such as lux to fc converters
Files provides easy access to saved data
Info lists the firmware and software version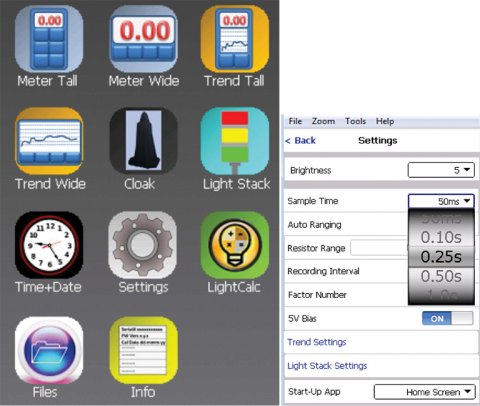 Meter Screen provides a large numerical display which allows customers to easily view the measurement data. While using Meter, customers can also perform many processes including:
Increase or decrease digits of resolution
Display units: Empirical units-Calibration units, Current, % etc.
Zero: Sets the zero level for ambient subtraction or dark zero
Integrate: Provide a summation of the exposure
Hold: Freezes the value in the numerical display
Min/Max: Toggles between Min on, Max on, Min/Max off. Min -display remains fixed until a reading lower than the displayed value is obtained. Max changes when a higher reading is obtained
100%: Sets the value for 100%
Record: Continuous recording of data on/off (Record/Stop Recording)
Capture: Stores a single reading with date time stamp when pressed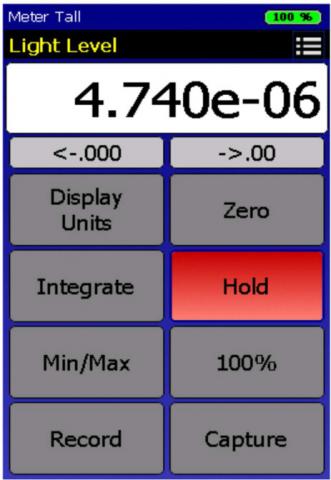 Trend Screen has all the same features included in meter plus a large easy to read graph showing the readings over time. The graph can be displayed in bar or line graph format. Trend Tall is used for portrait mode and Trend wide is used for landscape mode. The Y scale of the graph is the measurement data in the programmed calibrated units, amps for uncalibrated sensors, or in percentage. The X scale is the time interval in seconds. The inclusion of the graph reduces the size of the toggle buttons, but does not eliminate any features.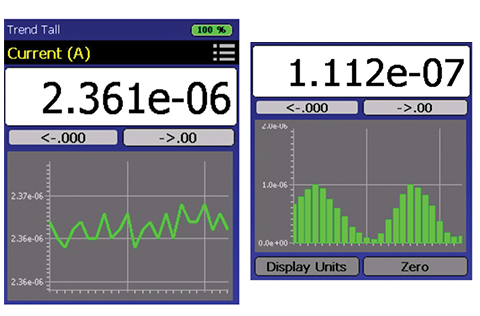 Cloak limits the amount of light added to the environment during test. It was designed to allow taking measurements in a dark environment as easy as possible without compromising the results. Simply touch the oversized sample button and a single reading will be stored into the internal memory.
The ILT2400 includes a micro USB cable that can be use to extract all saved readings with a date time stamp using Cloak, Trend and Meter apps.
The home button at the bottom returns the display to the home screen as shown above.