ILT770-UV Complete System For Measuring UV LEDs and Narrow-Band Light Sources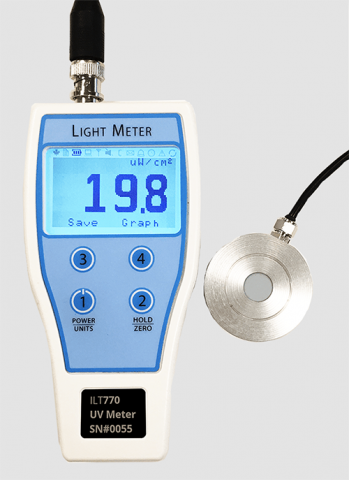 ILT770-UV UVC Light Meter for UV LED and Narrow-Band Sources
Part Number: ILT770-UV US
Narrow Band UV Anti-Microbial / Disinfection UV Light Meter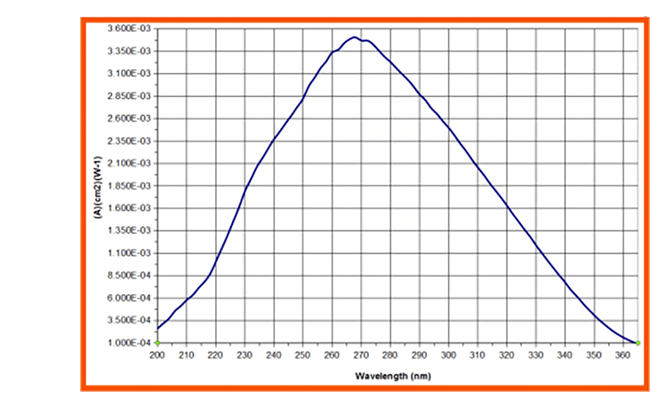 System Benefits:
Measures UVC light from  215 – 350 nm
Peak in the UVGI 265-270 nm range
Irradiance Range: 0.006 mW/cm2 to 400 mW/cm2  
Dose Range: 0.006 mJ/cm2 to 999 KJ/cm2   
ISO17025 accredited, NIST traceable calibration for results you can trust 
Portable, hand-held system  
Easy-to-use interface 
Made in the USA 
Complete System Includes: 
ILT770 light meter 
Durable SiC Detector in a low profile housing
Calibration certificate  
USB cable for use data downloads and device charging  
Rugged carrying case
Browse All Configured UVC Systems
Browse  All Light Measurement Systems

Simplifying UV-C Light Measurement
 
The ILT770-UV light intensity meter and measurement system as everything you need to start validating the light output of your UVC LED's and other narrow-band UVC light sources. The  ILT770-UV is specifically configured and calibrated to 270 nm where most pathogens, including the COVID-19 virus, are deactivated (See graph above).  With the touch of a button the ILT770 will do the following:
Confirm the amount of light reaching a surface 
Calculate the dose in J/cm2 
Graph the output over time 
Validate the Min max and average irradiance (mW/cm2)  
Save the results for exporting to your PC 
 
Validating your UVC disinfection system does not need to be a complex task.  The ILT770 simplifies light measurement by automatically selecting the input range (auto-ranging) so the user does not need to manually dial it in.  Easily toggle between irradiance and dose readings with a single button. The graphical interface not only displays the uniformity of the light over time, but also calculates the min, max and average.  The detector is attached with 3' cable, reducing the risk of user exposure. The Sensors low profile housing makes lamp access easy.
Disinfection Applications

The ILT770-UV is perfect for validation UV disinfection systems for:
Elevators cabs
Escalator and moving walkway handrails
UV disinfection chambers
Air purification systems
Water purification systems
Remote deployed room disinfection systems
Hand-held germicidal lamp disinfection systems

 
Not sure which system is right for you?  View our side-by-side comparison of the ILT770-UV and the ILT770-NB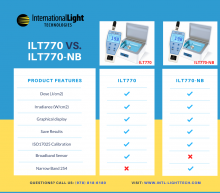 click for larger image

View side-by-side of the ILT770-UV and the ILT2500-UVGI-X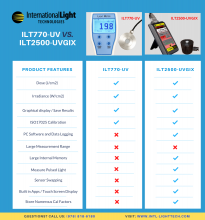 click for larger image
About ILT

ILT is an USA-based company.  We have been designing light measurement systems since 1965.  All of our meters are built and calibrated on-site at our Peabody, Massachusetts head quarters.  We are an ISO9001 certified facility and our calibration lab is ISO17025 accredited.  All of our meters come with an ISO17025 accredited calibration certificate and are NIST traceable.  
 
About Ultraviolet Germicidal Irradiation
 
Also referred to as UVGI, it is a disinfection method that uses short-wavelength ultraviolet (UV-C) light to kill or inactivate microorganisms by destroying nucleic acids and disrupting their DNA, leaving them unable to perform vital cellular functions.  The ILT770-UV will allow users to verify the output of their lamps is effectively irradiating the exposed areas.