Cosmetic Display Custom LED Lighting Retrofit Solution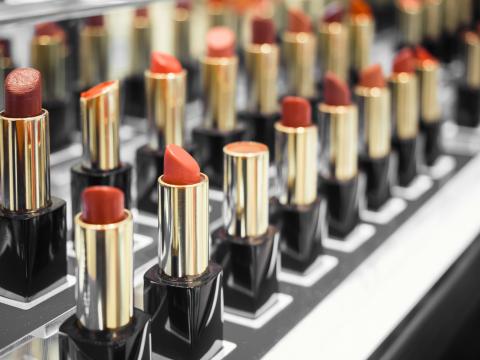 Cosmetic Display Custom LED Lighting Retrofit Solution
Part Number: Cosmetic Display Custom LED Lighting Retrofit Solution
Application – Cosmetic Display Lighting
End-user – Large US Drugstore Chain
Partner – National Lighting Services Company
Custom Solution Overview
Objective – Improve illumination of cosmetic display cases while saving energy, but at a low-cost.
Incumbent Technology – Thousands of F48T8 fluorescent fixture from Madix. Honey-comb reflector used. Power consumption of greater than 44W, 4100K. Units are 4' in length with AC power daisy-chained through fixtures.
Problem – Position of existing fluorescent tube along with the egg crate reflector results in poor light distribution – Most of the light emits straight down, even out away from the display case and is not angled toward the case. Lighting against the case is poor.
Challenge – Retrofit existing fixture with LEDs to improve overall display lighting performance, but at a low cost that is easy for field installation.
Solution – Implement a custom optical design consisting of a LED/Reflector assembly positioned inside the fixture to result in maximum display illumination, minimize glare, is easy to install and cost-effective.
Osram Duris S5 LEDs are used based on very high efficacy (>160 lumens/watt) and high color quality.
Total power consumption reduced from >44W to <16W.
LED strip is mounted in a recessed cavity in reflector, positioned to provide a high level of light distribution across the face of the display with little light loss. Glare is minimized based on reflector design and position of LEDs.
Installation consists of replacing the existing ballast with a 24VDC LED power supply, connecting power supply to LED strip, previously mounted to reflector, then positioning new clear protective lens and reflector within fixture. Total install time should be less than 5 minutes per fixture.
Cost – Minimized by selecting an off-the-shelf power supply, designing a simple bent aluminum reflector and implementing a high quality, low-cost LED strip. A high-quality LED power supply is used to insure efficiency and longevity.
---
Unparalleled Customer Support
ILT understands that custom LED lighting retrofit solutions is a new technology for many potential customers. hat is why we provide unparalleled customer support on all new and retrofit LED open case lighting system inquiries, from initial conversation thru final installation.
Contact us to discuss your custom project and requirements. Our team stands ready to assist you with design and installation, and work with the light fixture installer of your choice to make sure that the product delivers to your expectations.
Other Custom Projects
Custom Refrigerator Shelf Light
Custom Grocery LED Lighting Fixture Retrofit Solution
Installation Stories
Browse LED Lighting By Category
General Lighting and Retrofits