ILT Lends Its Expertise to Light Up the IUOE - Local 30 Headquarters Facade Sign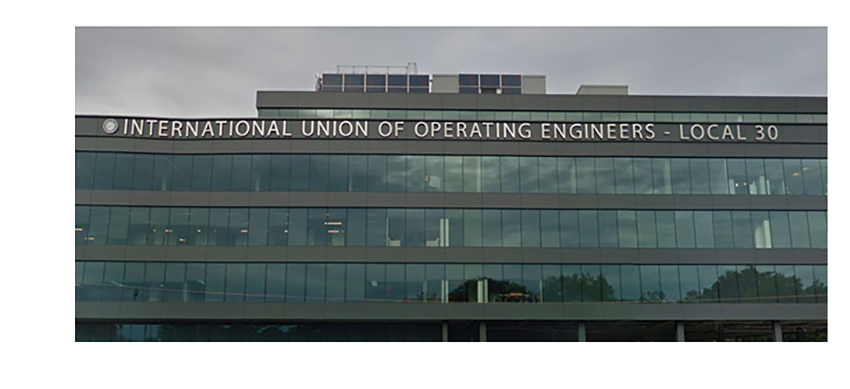 The International Union of Operating Engineers- Local 30 is a labor union for facilities engineers and maintenance workers, covering the the New York and Connecticut regions. 
 
Their headquarters, visible from the busy expressway running into the Queens borough of New York City, was marked by un-illuminated, brushed stainless-steel channel letters running along the top of their building.   When the union wanted to illuminate their building sign, they contacted Spectra Fabrications, the company who made the existing letters.
 
Spectra Fabrications specializes in non-illuminated, architectural signs and vinyl graphics.  Spectra contacted ILT to discuss options to not only light the sign, but develop any customized mounting that might be needed.  In addition to manufacturing LED lighting products for signs, ILT has extensive experience and capabilities developing customized lighting solutions for customers of all types and sizes.  Working with Spectra Fabrication on this project was right up our alley!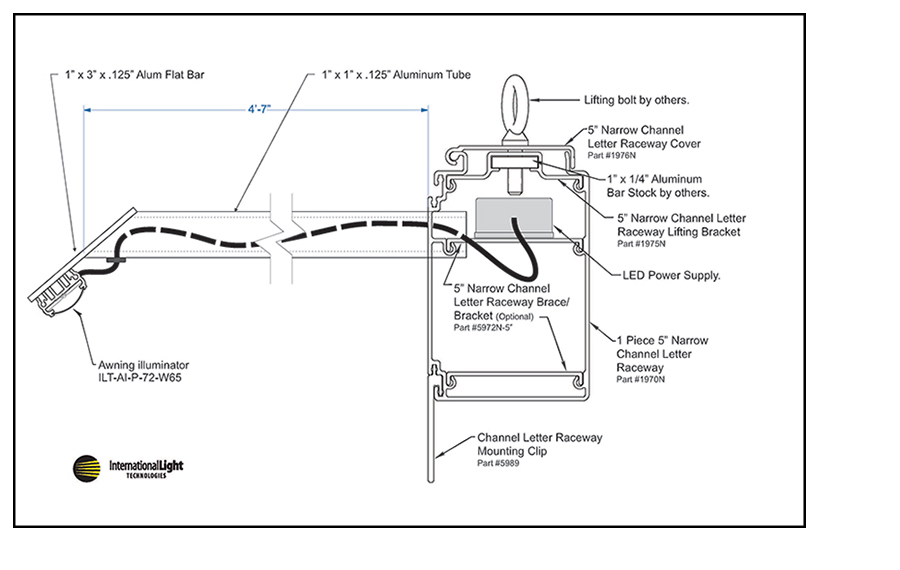 "I've been in the signage business for over 25 years", said Joe Reis, ILT's director of LED Signage Innovations.  "There were several approaches we discussed, but we realized quickly that shining light onto the existing facade sign was the most economical way to go."  The challenge was selecting the right product to light the sign, and determine how it would be mounted on the building.
"ILT offers a number of options for this type of application, but our LED Awning Illuminator was the perfect match for form, fit, and function for this job", said Reis.  Next Joe had to design a fixture that would project the LED lights out far enough from the front of the building, and hold them at the precise 40o angle to properly light the entire sign.  The second consideration would be ease of installation.  Once again Joe drew on his years of experience designing and illuminating signs to develop a customized solution for this project.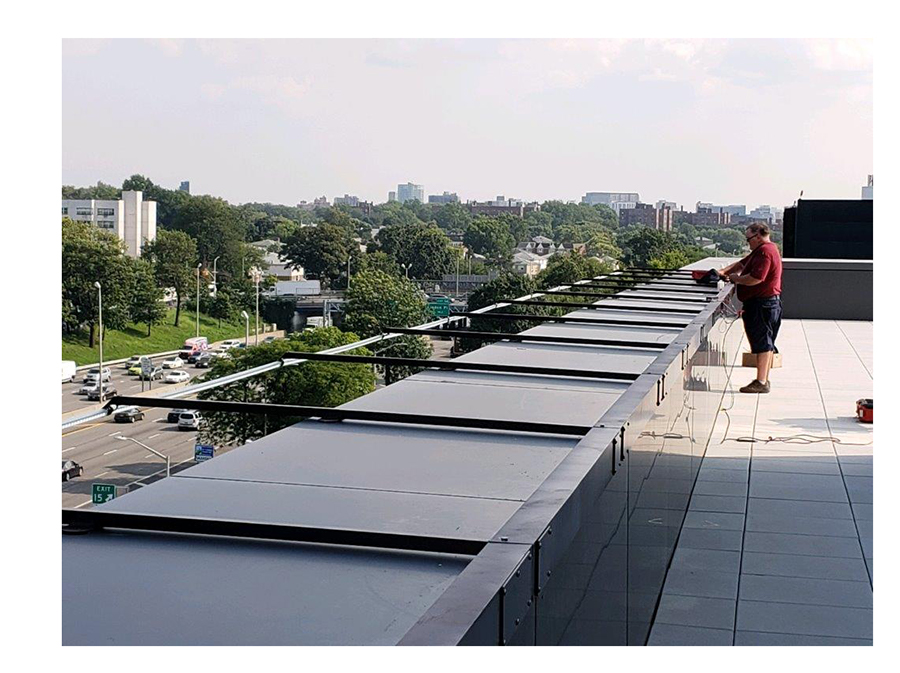 Once the fixture design was complete and approved, Joe worked with Neokraft Signs, a long-time partner of ILT's, to build and install the fixture.  The fixture consisted of twenty-four LED Awning Illuminators.  Each Awning Illuminator is 70" in length, outputing just over 3,000 lumens each.  A raceway was constructed to house the power supplies (one for each Illuminator), and for the extender bars to be welded to.  The entire system, built and installed in sections, is approximately 140 feet end-to-end, and took Neokraft just a few hours to install.  
The result was a solution that enabled the union to keep their existing fascade sign, a style that complimented their building, while adding the visibility that was missing during the evening hours. Additionally the fixture is made with energy efficient LEDs, and is durably constructed to ensure its performance even in harsh weather conditions.   For Spectra Fabrications, they were able to deliver positive results to their client by partnering with ILT.
To read more success stories of customers using ILT's signage products, click here!
Fixture Installed and Illuminated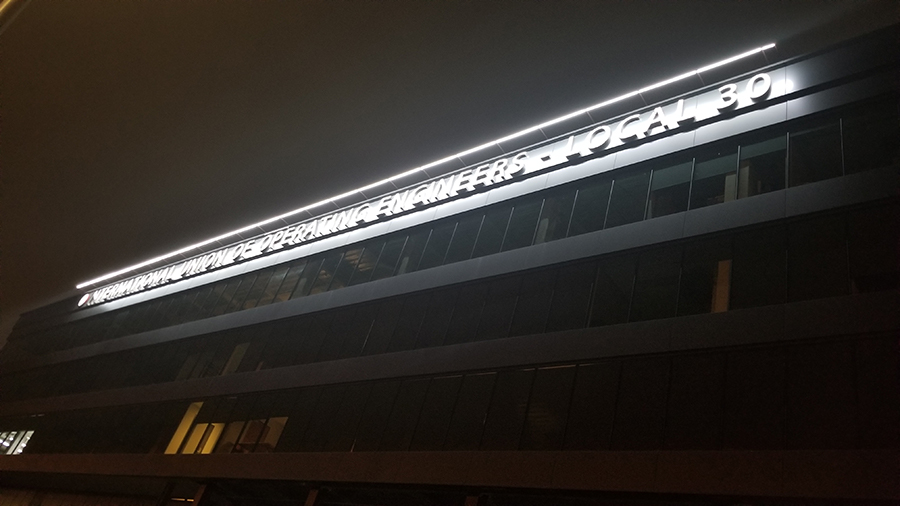 ---
About International Light Technologies
International Light Technologies has been engineering and manufacturing specialized lighting and light measurement systems for over 50 years.  Our LED Signage Innovations Division develops cutting-edge signage lighting products designed to be energy efficient and long lasting.  In addition to a comprehensive portfolio of lighting products, ILT specializes in developing custom solutions for a variety of lighting applications.  Whether it be consulting or full development, our team of engineers possess the tools and experience to tackle the most complex projects.
If you would like more information on our LED Signage portfolio, visit our Signage section here.  If you have a custom project, or would like more information on what ILT signage products are right for your job, contact us today!