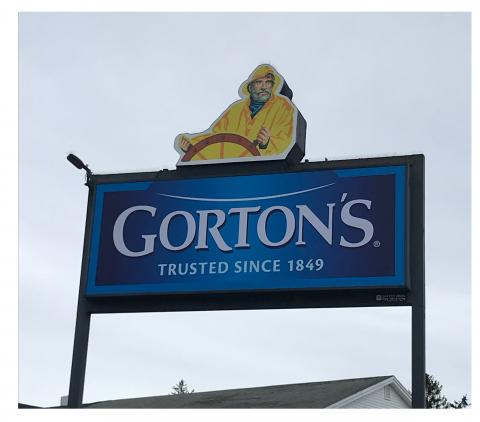 Iconic Gorton's Fisherman Sign Retroffited with ILT LED Sign Modules Resulting in Savings of Over 9 Million Watts and $1,300 in Annual Energy Savings.
 
Gloucester, Massachusetts is known as one of the oldest operating fishing ports in the country, and Gorton's of Gloucester has been a staple in the community for over a century and a half. When their pylon sign, a local landmark in and of itself, needed refacing, and it's inefficient flourescent tubes retrofitted to something more modern, Batten Brothers turned to the ILT K2 LED sign module and rail system from International Light Technologies to take on the task.
The original sign was illuminated with high output T12 fluorsescent lamps that consumed over 4,600 watts of electricity every hour it was lit!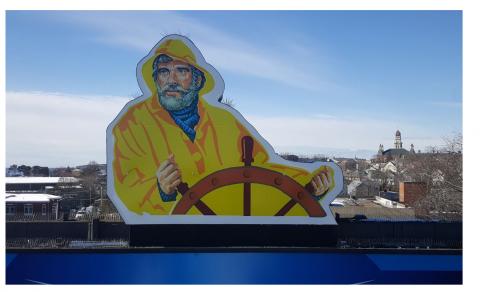 The newly refaced sign consists of a 10' x 25' double faced cabinet containing the company name and tagline. Atop that are two, 11' single faced back to back cabinets in the shape of the iconic Gorton's Fisherman.
The company lit the new sign with ILT's LED K2 Summit Series Retrofit Kit, bringing total consumption down to 1,000 watts per hour. This results in a savings of over 3,600 watts per hour the sign is lit!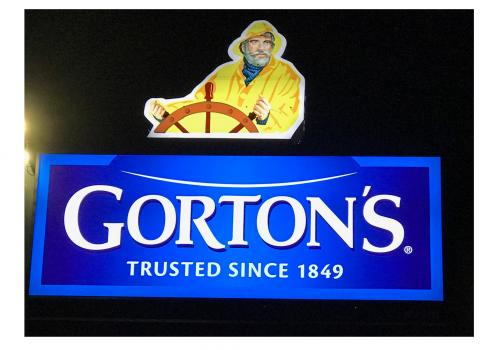 The Gorton's sign is lit from 4:00 pm to 11:00 pm every night. In addition to an updated look, the new sign reduces the power consumption over 25,000 watts per night, for a total savings of over 9 million watts per year. The new Gorton's sign is set to save the company over $1,300 in energy costs annually, and that doesn't include the savings in service calls for maintenance!
Read more success stories of customers using ILT's signage products here!
---
International Light Technologies has been engineering and manufacturing specialized lighting and light measurement systems for over 50 years.  Our LED Signage Innovations Division develops cutting-edge signage lighting products designed to be energy efficient and long lasting.  In addition to a comprehensive portfolio of lighting products, ILT specializes in developing custom solutions for a variety of lighting applications.  Whether it be consulting or full development, our team of engineers possess the tools and experience to tackle the most complex projects.
If you would like more information on our LED Signage portfolio, visit our Signage section here.  If you have a custom project, or would like more information on what ILT signage products are right for your job, contact us today!