Custom Grocery LED Lighting Fixture Retrofit Solution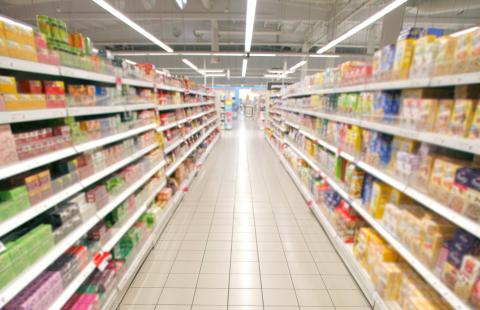 Custom Grocery LED Lighting Fixture Retrofit Solution
Part Number: Custom Grocery LED Lighting Fixture Retrofit Solution
Project Overview
End-User – Large Grocery Chain in Northeast US
Partner – CT based ESCO
Application – General Aisle Lighting

Grocery Store LED Aisle Lighting Solutions
International Light Technologies has a history of delivering custom lighting solutions for a wide variety of applications.   In the summer of 2016 ILT was approached by one of its partners to develop such a solution for a large grocery chain. The partner was contracted by a large regional grocery chain to update their aisle lighting.  The chain operates about 80 locations primarily in the northeast.  
 
The grocery store was looking to upgrade their aisle lighting for three main reasons.
 
    1. Lower their energy consumption utilizing 'green' technology
    2. Reduce maintenance time and expense
    3. Increase the light distribution on the shelves
The grocery store has high-end suspended linear slot fixtures from Zumtobel in 4' lengths, with some sections daisy-chaining three 4' fixtures together on one ballast. The fixtures utilized T5 fluorescent lamps with output approximately 8800 lumens per 4' section.  It consumed about 120 watts of power, for an efficacy of 73 lumens per watt.  Rated life on the T5 lamp is about 45,000 hours.  The chain opted to retrofit the fixtures because it was more cost effective and required less labor than replacing them. The challenge for ILT was to develop a retrofit that beat the performance of the highly-efficient T5 lamp, while increasing the light distribution from a narrow fixture with a hard cutoff.  Additionally the retrofit solution needed to install quickly and easily to maximize the project's payback.
The first challenge was achieving a light output equivalent to the T5 lamps while improving the efficiency of the fixture. ILT designed and developed a custom LED strip for the retrofit kit.
The next challenge was designing the optics. The customer wanted to increase the illumination to the shelves. With the fixtures mounted down the center of the 6 foot-wide aisle, a custom reflector would need to be designed. The fixtures were mounted at a height of 13', with a distance of 7' from the top shelf.
The result was a custom aluminum extrusion retrofit kit with LED strip.

ILT Retrofit Specifications

The retrofitted fixtures deliver 4,275 lumens per 4' section, and consume 35 watts.  The retrofit requires 3 times less power than the incumbent fluorescent fixtures.  The custom reflector met the design requirements for lighting on both the aisle floor and product shelves.  The retrofit design allowed the customer to maintain the original aesthetic of the fixture, which was an important aspect for them.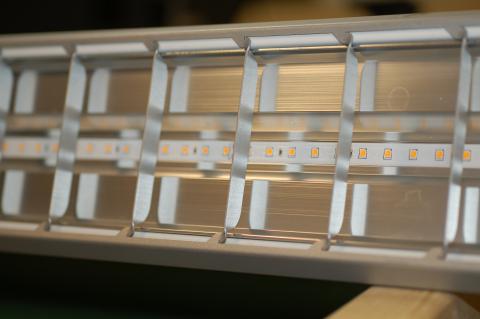 Installation Photos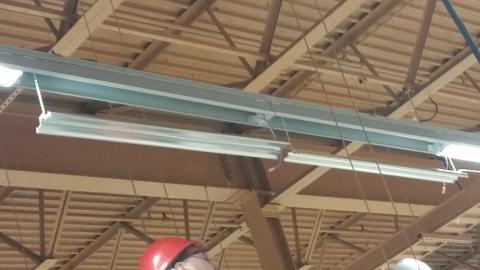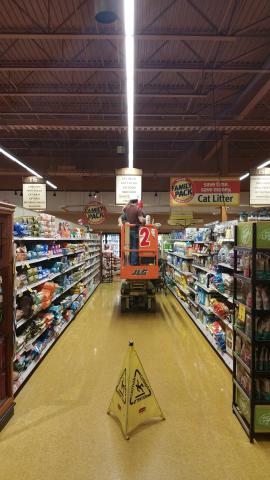 ---

Other Custom Projects
Custom Refrigerator Shelf Light
Custom Cosmetics Display Lighting
Installation Stories
Browse LED Lighting By Category
General Lighting and Retrofits