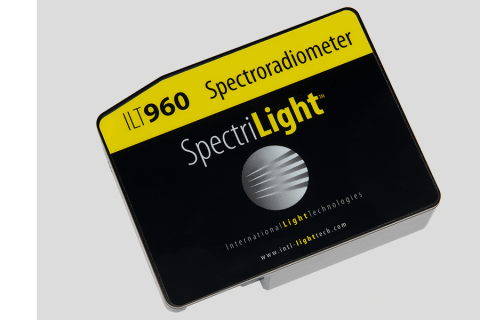 At International Light Technologies, we have been manufacturing high-performance spectrometers for over 50 years. Our products are trusted by big brands such as Intel, Johnson & Johnson, and HP.

Our team works in a variety of industries including healthcare, manufacturing, military, aerospace, and more (for a full list, click here).

Why Choose ILT Spectrometers
Our portable spectrometers are ISO17025 accredited and NIST Traceable. They include integrating spheres, cosine correcting diffusers, fiber patch cords and our complimentary Spectrilight III software that easily and accurately displays both the light spectrum and calibrated light intensity readings.

Featured Spectrometers
Below is a list of our features Spectrometers we offer to our customers:
ILT960-UV Spectroradiometer: The ILT960-UV is a compact, portable mini spectrometer used to measure both the light's amplitude and wavelength, and provide calibrated spectral irradiance, or power measurements. UVC- UVA, UVA- VIS and full range UV-VIS calibrations available.

ILT560 ‐ The ILT560 is designed for budget‐conscious customers and comes standard with a SMA905 receptor which allows it to be used for a variety of fiber patch cords and input optics for radiance, total flux/power and irradiance as well as full spectral analysis and calculations for Lux, CRI, CCT and more.

ILT960-NIR - The ILT960-NIR compact air-cooled NIR spectrometer uses a 256 pixel linear InGaAs array, and offers both a high-sensitivity and low-noise mode for measurements in the near infrared range, out to 1700 nm (1.7 micron). The ILT960-NIR allows for economical measurements by comparison to many TE cooled spectrometers, yet still offers exceptional performance.

ILT350 Chroma Meter - The 3.5" full color display ILT350 Chroma Meter is a hand-held illuminance spectrophotometer designed for quality and ease of use. It features an ergonomic design and is light weight yet packed with features. Extensive data capture and analysis software (no exporting required!), rechargeable battery and internal data storage. The internal memory can store up to 100 files and export data into Excel/Work formats. It features three measurement speeds and can be used for monitoring Bilirubin light source in phototherapy treatments of jaundice.

Custom Solutions
If you are an OEM and are looking for a custom spectrometer solution, our staff works in small and large volumes to create a custom light measurement option best suited for you in a variety of configurations. Be sure to get in touch with us so we can discuss various options.

Try Before You Buy
If you are interested in trying our spectrometers before you buy, you may inquire about our rental opportunities here.