ILT1700 Research Radiometer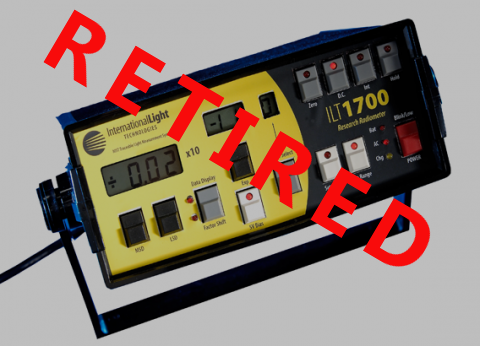 The ILT1700 has been retired. Please view its replacement, the ILT5000.
Features
Unmatched Linearity Over a 10 Billion to 1 Wide Dynamic Range

10 Decade Measurement Range
0.1% Linearity
20-Plus Years of Industry-Leading Accuracy, Reliability and Versatility

NIST Traceable Calibration with Certificate
2 Readings/Second Standard (selectable 4 or 8 readings/second enhancement is available)
Large Selection of Application-Specific and General Purpose Detectors Available
AC or DC power (external or battery). Built-in NiCad battery charger
Built-in USB 2.0 and RS232-C Outputs for Datalogging
Made in the USA
Custom & OEM Inquiries Welcome!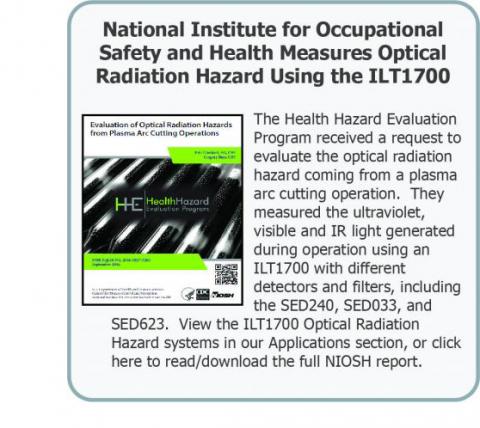 The ILT1700 Research Radiometer / Photometer / Optometer is the most versatile current measurement instrument in the world. Designed specifically to measure photo detector current, the ILT1700 maintains unmatched linearity over a 10 billion to 1 dynamic range. The Model ILT1700 (formerly IL1700, IL-1700) has one of the world's largest selections of application-specific and general purpose pre-configured detectors available to complete your system, and the ILT1700 can store up to 10 calibration factors in memory for use with multiple detectors or individual configurations.
ILT1700 meter/detector light measurement applications include germicidal & UV disinfection, flash measurement (photometry), LED Test & Measurement, UV hazard, plant photobiology, photoresist, UV curing, laser and photostability.
Visit our application pages to view system-specific configurations.
ILT1700 Radiometer / Photometer / Optometer Specifications
Measurement Range: 0.2 picoAmps to 200 milliAmps (Optical units will depend on sensor selection). Minimum display resolution is 0.01x10-11 Amps.
Linearity: ±0.1%, ±1 digit on the top 8 decades of measurement range and ±0.2%, ±1 digit on the bottom 2 decades
Refresh Rate: 2 readings/second (options for 4 or 8 readings/second available)
Power: 90-130/180-240 VAC, 50-60 Hz, 8-15 VDC external or 6 internal "C" cell NiCad rechargeable batteries
Size: 5.3 inches x 8.7 inches x 9.4 inches (90 mm x 220 mm x 240 mm)
Weight: 5.1 pounds (2.3 kg)