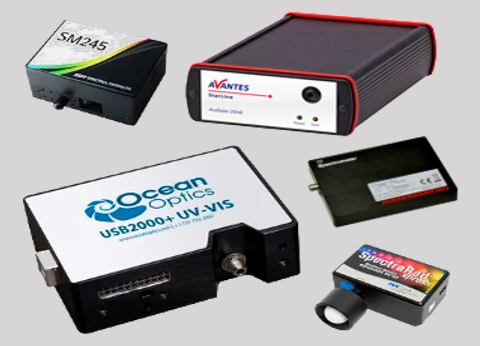 Order calibration of your non-ILT spectrometer on or before September 30, 2023 and receive 15% off!

ILT offers ISO17025 accredited light meter calibrations of non-ILT branded spectrometers, spectroradiometers, and spectrophotometers.  Our calibration software /database maintains calibration records since the 1990s, enabling ILT to:
 
Notify our customers when system calibration is due
Provide an accurate history of all prior service
Provide support during a calibration audit
Show trends in performance (stability or degradation)
ILT offers spectrometer calibrations over the range of 200 - 1700 nm.  (Calibration to 2500 nm is possible and requires engineering review prior to quoting).  If the spectrometer software provided allows ILT to import the new calibration files, ILT will use the customer provided software to update the calibration file in use.  (A computer may need to be provided by the customer).  In cases where the software is not accessible, ILT will provide all of the data needed to allow the customer to correct the readings using excel, and/or to adjust the internal calibration factor after return from calibration at ILT.
Each spectrometer calibration is unique to the exact configuration used during calibration.  Any changes to optics including fibers, input optics, integrating spheres, etc., will impact the accuracy of the reading.  ILT recommends every unique configuration should have its own calibration.
ILT offers spectral calibration for total flux / power (Watts/nm), Irradiance (W/m2/nm), and radiance (W/cm2/sr/nm).  Photometric calculations such as lumens, lux and cd/m2 are derived from the irradiance calibration and the software's applied photometric calculations.  CCT, CRI, DUV and all other software calculations require additional software testing and must be quoted separately from calibration.

Below is a list of commonly calibrated meters.  Use the drop down to jump to the manufacturer/brand of your meter.  If you do not see your meter listed, or would like to speak with one of our specialists, you can email us at [email protected], or call us at 978-818-6180 x118.  Use the buttons above to request a quote, or if you would like to fill out an RMA to send your meter in.  If you need a quote prior to servicing please select "Yes" for the question "Quote needed prior to servicing."
ALLIED SCIENTIFIC
Allied Scientific SRI2000
ASENSETEK
Asensetek Passport
AVANTES
Avantes Micro
Avantes Mini
BAY SPEC
Bay Spec Super Gamut
BWTEK
BWTEK Exemplar
EVERFINE
Everfine 200 BW
GAMMA SCIENTIFIC
Gamma Scientific GS-1150
GIGAHERTZ-OPTIK
Gigahertz-Optik BTS256-E
Gigahertz-Optik MSC15
GL OPTIC
GL Optic Spectis 1.0
HAMAMATSU
Hamamatsu C12666MA
Hamamatsu C12880MA
HORIBA
Horiba VS7000
IBSEN PHOTONICS
Ibsen Photonics
JOBIN YVON
Jobin Yvon
KONICA MINOLTA
Konica Minolta CL-70F
LISUN GROUP
Lisun Group LMS-6000
OCEAN OPTICS
Ocean Optics STS
Ocean Optics USB2000
Ocean Optics USB4000
Ocean Optics FLAME
Ocean Optics MAYA
Ocean Optics VANTANA
Ocean Optics TORUS
RAINBOW LIGHT
Rainbow Light CS 16
SPECTRAL PRODUCTS
Spectral Products SM200
Spectral Products SM400
Spectral Products SM304
Spectral Products SM301
Spectral Products SM242
Spectral Products SM245
Spectral Products SM642
STELLARNET
StellarNet UV VIS
StellarNet Educational
StellarNet Near Infrared
THOR LABS
Thor Labs OSA 202C
Thor Labs CCS100
Thor Labs CCS175
Thor Labs CCS200
Thor Labs OSA 207C
Browse All ILT Calibration Services:
Browse Non-ILT Meter Calibrations: