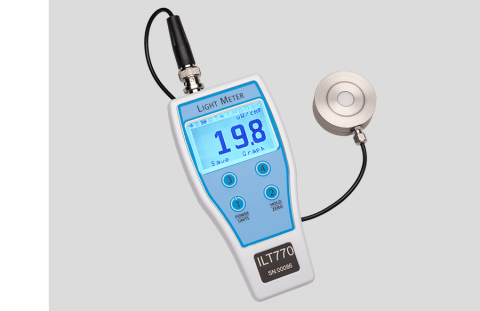 ILT770-NBUVB311 Complete System For Measuring 310-313 nm Narrow Band UVB Phototherapy Light Sources
Part Number: ILT770-NBUVB311
Buy now and get 20% off your purchase. Use Promo Code 20%OFFILT on checkout*

UVB Phototherapy light meter for testing narrow band UVB sources with peak in the 310-313 nm range used for treatment of vitiligo, psoriasis, eczema, and scalp psoriasis
In more recent years Narrow-band UVB has also been used to treat skin conditions including: Parapsoriasis, Cutaneous T-cell Lymphoma, Mycosis Fungoides, Lichen Planus, Pityriasis Lichenoides, Pityriasis Rosea, various types of Eczema, Polymorphous light eruption, Folliculitis, indolent Ulcers, and Prurigo.
System Benefits
Measures UVB from Philips TL-01 and other with Narrow Band UVB lamps or LEDs with peaks in the 310-313 nm range
Irradiance Range: 0.1 mW/cm2 to 199.9 mW/cm2
Dose Range: 0.1 mJ/cm2 to 999 KJ/cm2
ISO17025 accredited, NIST traceable calibration for results you can trust
Portable, hand-held system
Easy-to-use interface
Made in the USA
Calibration for other wavelengths or lamp peaks in the UVB also available
Complete System Includes
ILT770 light meter
Compact detector with UVB filtration
Calibration certification for 311 nm
USB cable for use data downloads and device charging
Rugged carrying case

* Promo offer valid through March 31, 2023, while supplies last.
< Back to All ILT770 UV Phototherapy Meters
< Back to All Light Measurement Systems
< Back to Phototherapy Light Measurement Table
Simplifying Phototherapy Light Measurements
The ILT770-NVUVB311 intensity meter and measurement system as everything you need to start validating the light output from your phototherapy lamps. It's not enough to trust the manufacturer's specifications. You must verify that the system you're entrusting the health and well being of your patients to is doing what it says - and applying the correct UV exposure levels during treatment.
 
The ILT770-NBUVB311 is specifically configured and calibrated to 311 nm.  The meter's narrow band filter is specifically designed to measure UVB systems, such as Philips TL-10 lamps and UVB LED's. Regardless of the light source your system uses, with the touch of a button the ILT770 will do the following:
 
Confirm the amount of light reaching a patients skin
Calculate the dose in J/cm2
Graph the output over time
Validate the Min max and average irradiance (mW/cm2)
Save the results for exporting to your PC

ILT770-NBUVB311 Response Curve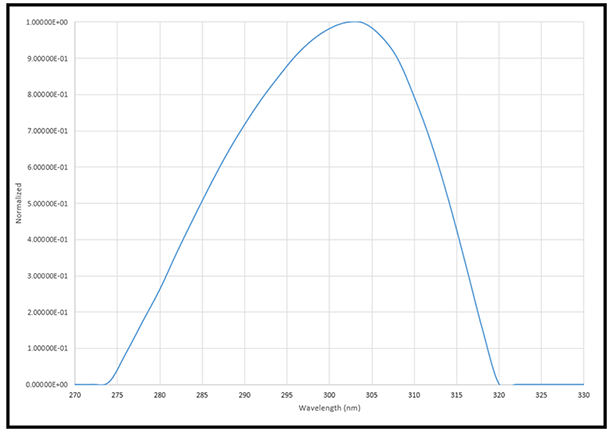 Validating your phototherpay light source does not need to be a complex task. The ILT770 simplifies light measurement by automatically selecting the input range (auto-ranging) so the user does not need to manually dial it in. Easily toggle between irradiance and dose readings with a single button. The graphical interface not only displays the uniformity of the light over time, but also calculates the min, max and average. The detector is attached with 3' cable, reducing the risk of user exposure. The Sensors low profile housing makes lamp access easy.

ILT is a USA-based company that has been designing light measurement systems since 1965.  All of our meters are built and calibrated on-site at our Peabody, Massachusetts headquarters.  We are an ISO9001 certified facility and our calibration lab is ISO17025 accredited.  All of our meters come with an ISO17025 accredited calibration certificate and are NIST traceable.