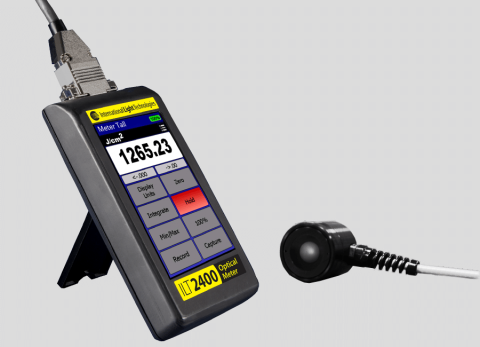 ILT2400-UVC For Measuring Mercury, Excimer and UVC-LED Light Sources
Part Number: ILT2400-UVC US
265 nm Peak Sensor With Built-in UVC Bandpass Filter and Scanned Calibration At Each Wavelength
System Benefits
Measures germicidal UVC from 230 - 280 nm
Irradiance Range: 100 nW/cm2 to 1 W/cm2
Dose Range: 100 nJ/cm2 to millions of mJ/cm2
ISO17025 accredited NIST traceable calibration
Portable, hand-held system
Easy-to-use, app based interface with large touch screen
Made in the USA
Complete System Includes

ILT2400 light meter
SED270C/W SiC Detector Scanned UVC Calibration with certificate
USB Mini and Micro cable for use with PC software, data downloads and device charging
DataLight III comprehensive software package for Mac and PC
Rugged carrying case
< Browse All Configured UVC Systems
Easily Validate the UVC  Irradiance and Dose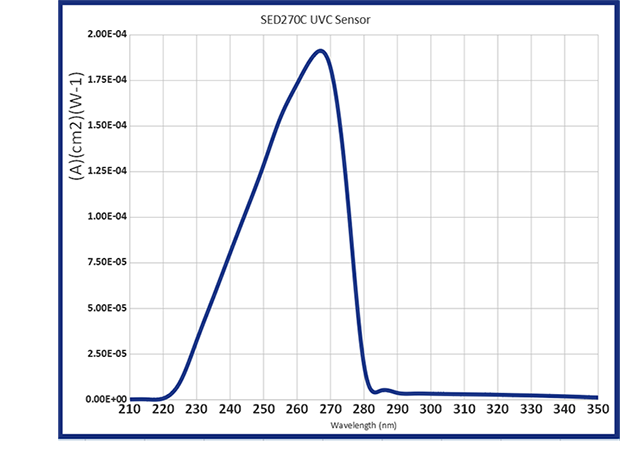 The ILT2400-UVC Light Measurement System has everything you need to start validating the light output from your UV light source.
It's not enough to trust the manufacturer's specifications.  You must verify that the system you're entrusting the health and well being of your patients to is doing what it says - deactivating germs and killing pathogens.
The ILT2400-UVC  is specifically configured and calibrated at 265 nm to measure the UVC levels where most pathogens, including the COVID-19 virus, are inactivated (See graph above).  With the touch of a button the ILT2400-UVC will do the following:
Verify the fluence and fluence rate of light being emitted 
Validate the amount of light being emitted 
Confirm the amount of light reaching a surface 
 
The ILT2400-UVC is a feature-packed hand held UVC meter/radiometer that allows on screen verification as well as datalogging of the light intensity of numerous type of UV sources for any disinfection application including surface, air and water regardless of the lamp type.  The unit comes with an integrated kick-stand, allowing stationary positioning of the meter while in use.  The detector is attached with  7' cable to help reduce the risk of tester exposure.  The versatility of the ILT2400 is ideal for measuring a wide variety of systems in lab or in-situ settings.
 
 
About Ultraviolet Germicidal Irradiation
 
Also referred to as UVGI, it is a disinfection method that uses short-wavelength ultraviolet (UV-C) light to kill or inactivate microorganisms by destroying nucleic acids and disrupting their DNA, leaving them unable to perform vital cellular functions.  The ILT2400-UVC light meter is a complete measurement system that includes the ILT2400 Meter, SiC sensor with UVC filter, a quartz diffuser and scanned UV calibration. 

ILT2400 can be used with a variety of sensors for UVC. The Sic diodes come in a variety of sensor designs. SED270C cuts off at 280 nm to remove UVB from the measurement. The SED270BC measures 230-320 nm including UVB and the SED270 measures 210-350 nm. Please contact our sales team if you need help with selection.