Application & Technical Notes
---
Below is technical and application information on ILT's Reflector & Reflector Lamp Assemblies. Many of our assemblies can be purchased right from our e-store. To speak with one of our lamp experts, inquire about a customized lamp, or to ask about a sample, contact us today.
---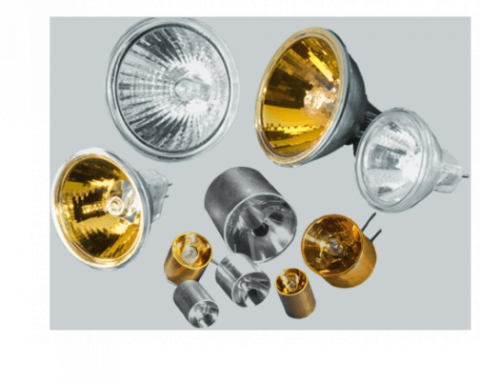 ILT offers a variety of reflector sizes, types and finishes ranging from MR3 (9.5 mm Dia.) to MR16 (50 mm Dia.) Reflector assemblies are an excellent choice when lighting applications require directional control of emitted light. The use of a reflector can increase light output two to five times.
Reflector Types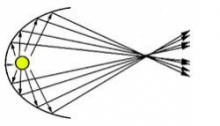 Ellipsoidal reflectors collect the lamp output (UV, VIS and IR Light)and focus it forward into an intense pattern at a specified distance. Ellipsoidal reflectors are available in sizes MR3-MR16.
Dichroic reflectors allow most of the IR light (above 700 nm) to pass through the reflector and use the visible portion of the light to form the beam. Dichroic reflectors are available in MR11 and MR16 sizes. These lamps are recommended for fiber optic illumination, machine vision, and other optical systems requiring high output.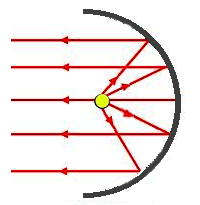 Parabolic reflectors will project the light into a parallel beam. Parabolic reflectors are available in sizes MR3 to MR8. These assemblies produce a small, uniform, high intensity light spot and are ideal for use in fiber optic illumination and gas sensing applications. Unlike the dichroic reflector, the aluminum reflector projects all light forward, including the UV and the infrared portions.
Machined Aluminum reflector assemblies are available in standard sizes ranging from 9.5mm to 25mm diameter (MR3-MR8). These assemblies produce a small, uniform, high intensity light spot and are ideal for use in fiber optic illumination and gas sensing applications. Aluminum reflectors project all light forward including the UV and the infrared portions. Machined aluminum reflectors are available in parabolic and ellipsoidal models. Larger/custom sizes are available up to 76 mm diameter.
Threaded Machined Aluminum reflectors can be combined with a threaded holder to allow easy manipulation of the light beam and focal distance, or the lamp can be permanently bonded to the reflector to create a pre-focused spot based on customer requirements.
Reflector Coatings

Most ILT reflectors and reflector assemblies can be coated in aluminum, gold or silver.  Coatings are typically used to increase the IR output of a reflector assembly.

Aluminum
Aluminum reflectors in sizes MR3 - MR8 are typically machined and require no coatings.  Some MR11 and MR16 Dichroic lamps may be available with aluminum coating to allow the light above 700 nm to be included in the beam.  Aluminum coating is less expensive than silver and gold and slightly less effective in many regions of the IR.

Silver
Silver coating is often used to increase the NIR output in the 700 - 1100 nm range.  Silver is more expensive than aluminum but offers a slight improvement in the NIR region.  Silver often requires a second coating to prevent tarnish.

Gold
Gold provides for increased emission in the infrared.  Applications of gold coated reflectors include open field IR gas detection, local infrared heating, and remote testing of flame detectors.  Gold offers the best performance for NIR/IR reflection, but also has the highest cost.
Lamp Information
Our T-3/4 NDIR, T-1 NDIR and T- 1 3/4 Xenon Visible and Infrared lamps are often combined with our machined aluminum reflectors for applications requiring wide spectrum emission such as gas sensing and detection.  The lamps are made with a rugged, compact CC-6 or C-6 filament that concentrates infrared energy into a small point.  The thin glass envelope results in minimum infrared absorption.  Peak energy of these lamps occurs at 1.4 microns and extends beyond 4.0 microns.  The visible/infrared lamps have been designed for long life, and can be supplied with wire leads or a bi-pin base. 

Custom designs are available for most of our MR3 - MR16 lamp assemblies.  Customization includes coating, lamp modifications (i.e., higher or lower powered lamp), focusing during assembly to create spot size or working distance, and more.  If you cannot find a solution in our Reflectors and Reflector lamp assemblies product page, please contact us for technical support.
---
More related resources