Vertical CaseLight LED Cooler/Freezer Lights (Retrofit)
Vertical CaseLight LED Cooler Lights/Freezer Lights (Retrofit)
Part Number: CaseLight LED Cooler Lights
Features:
Fast ROI - 18-20 months - Even faster with rebates!
Cost savings up to $63.00 / Door / Year vs. traditional fluorescent display case lighting
(CaseLight LED vs Fluorescent Tube PLUS Reduced Compressor Load)
High color rendering index (CRI)
Unparalled customer support from specification through installation
Optimized light distribution throughout display case
Ideal for grocery and convenience store installations
Rugged Construction - No exposed lenses to crack or break - Durable aluminum extrusion construction protects LEDs
Available in standard and custom lengths (OEM Inquiries Welcome)
5 year warranty
Manufactured in USA
Free Sample available to qualified potential customers in USA (Subject to ILT Approval) - Inquire to learn more.
Ideal for replacing fluorescent lights in a variety of cooler display cases, refrigerated display cases, freezer display cases, reach-in display cases, vertical display cases, heated food display cases
Select SKUs below are available to purchase in our webstore
LED Refrigerated Display Case Lighting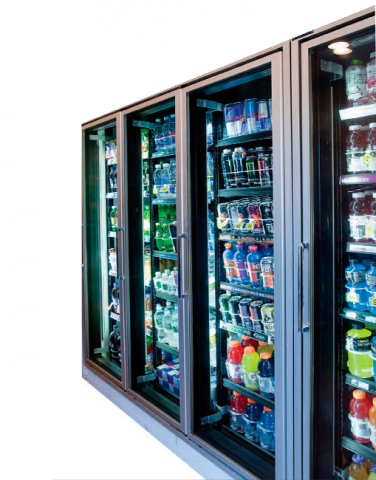 LED Cooler Refrigerator Case Lights for commercial display cases replace fluorescent fixtures in cooler, refrigerated, freezer food and beverage display cases.

Produced by ILT, a US-Based Manufacturer with 50 YEARS of Lighting Experience. Flexible CaseLight modules can be retrofitted into many different commercial cooler case configurations in both Grocery and Convenience Stores.

Convenience and Grocery store managers know they need to replace traditional fluorescent lighting in their refrigerated display cases with LED-based lighting modules. Why? Because of LED lighting's many advantages - reduced energy consumption, extremely low maintenance, and environmental friendliness.

ILT can deliver a total cost-effective LED replacement lighting solution with a Fast ROI of just 18-20 months.
Cool Money
There's another interesting, but rarely quoted, energy savings fact in grocery stores.  The DOE estimates that every $1 of energy savings in a grocery store is equivalent to increasing sales revenue by $59! (Source:  Energy Star).   So when fluorescent lights are replaced with LED Lights in grocery store cooler cases, each cooler door is increasing annual sales revenue the equivalent of $3,717!

ILT CaseLight LED Cooler/Freezer Light Display Case modules for refrigerated, freezer and heated display cases are constructed of aluminum extrusion with two rows of high efficiency LEDs set at an angle to provide the most effective distribution of light. And CaseLight optics are optimized for installation in both Grocery Store and Convenience Store display cases, providing ideal lighting for products located anywhere in the display case.

A 5 foot CaseLight LED Cooler Light display case module consumes less than 20W of input power, enabling up to 3 center units to be powered by a single 60W power supply.

Finally, don't overlook the importance of installation flexibility when evaluating LED cooler/freezer case modules, especially in retrofit situations. Store locations can have multiple cooler case designs from multiple generations of display case models and from several different cooler case door manufacturers. ILT LED CaseLight modules have been successfully retrofitted in a wide variety of cooler cases making them a retrofitter's best friend!

 
Efficiency:  Center unit - 1600 lumens @ less than 20W of power
Color Temperature:   3500K, 4000K and 5000K
Lengths: 60" Standard; Available in 48" and 70"; Custom Lengths Also Available (OEM Inquiries Welcome)
Configurations: Center (2 rows of LEDs), Left & Right (1 row each)
CRI: 85 or greater; R9 of ~40
Maximum Measured Source Temperature (Tc): <45C (LED Rating – 78.1C)
Power Supply: 60W, 24VDC, >88% efficiency, Power Factor >0.90
Certifications:  UL, NSF
Dimensions:  1.17" thick X 2.18" wide
Finish: Brite clear anodize (polished aluminum)
Warranty: 5 year
Mechanical Drawing: CaseLight LED Cooler Light Center and Corner Modules: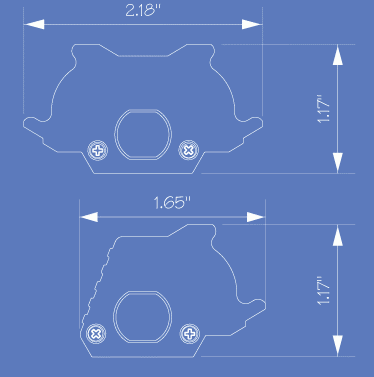 | | | | |
| --- | --- | --- | --- |
| Luminaire Input Votage (to power supply) | Luminaire Input Current | Luminaire Watts | Power Factor |
| 120VAC | 185 mA | 20W | 0.99 |
| Luminous Flux (lumens) | Corr. Color Temp (K) | Luminaire Efficacy (LPW) |   |
| 1750 | 5238 | 81 |   |
Ordering Information
You can build the appropriate part number by using the following example. For a 60" long, Brite anodize finish, white light, 3500K color temp., Center unit CaseLight LED Cooler Light Display Case Module – part number is ILT60-BAO-W35CE.
Lengths
* ILT48-48"
ILT60-60"
ILT70-70"
Color Temp.
W35 - 3500K
W40 - 4000K
W50 - 5000K
Configuration
CE - Center Unit
RE - Right Unit
LE - Left Unit
Finishes
BAO (Brite Aluminum Anodized, custom optic)