E310-15-STRIP UVB LED STRIP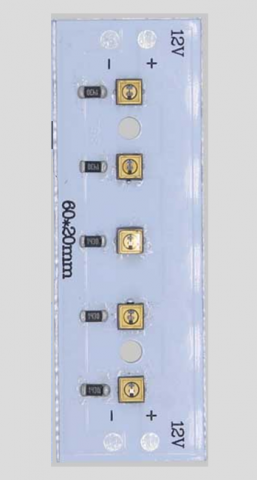 E310-15-STRIP UV-B LED Strip PCBA for Phototherapy / Horticulture/ Photochemistry Applications
Part Number: E310-15-STRIP
Features
Aluminum base heat sink
Targeted: Narrow-band wavelength without unwanted spectrum
Energy saving: Compared with the traditional lamps, the energy-saving is up to 80%
Environmental protection: non-metal gas or harmful substances emitting technologies
Ceramic substrate with improved thermal transfer for heat management
Instant start, High frequency switching
PCBA on Aluminum Metal Core Printed Circuit Boards (MCPCB)
Contains 5pcs UV-B LED, Mounted, 1 string and 12V line voltage; current 200-300mA
Dimensions: 60x 20 x 3.8 mm (+/- 0.2 mm) (L x W x H)
Life of more than 10,000 hours
Compatible with the ILT-PWR-12600P5 Power Supply
< View our UVC LEDs
< Back to All UVA & UVB LEDs
< Back to All LED Lighting Innovations
Typical Spectrum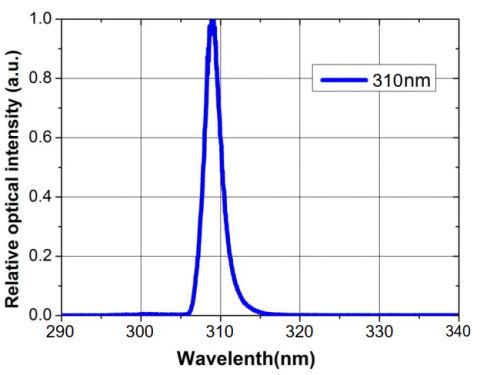 Irradiance (mW/cm2)
| | |
| --- | --- |
| Distance | mW/cm2 |
| 25 mm | 351.024 |
| 50 mm | 107.273 |
| 100 mm | 28.4925 |
| 200 mm | 7.22302 |
| 500 mm | 1.17069 |
Relative Radiant Flux vs Forward Current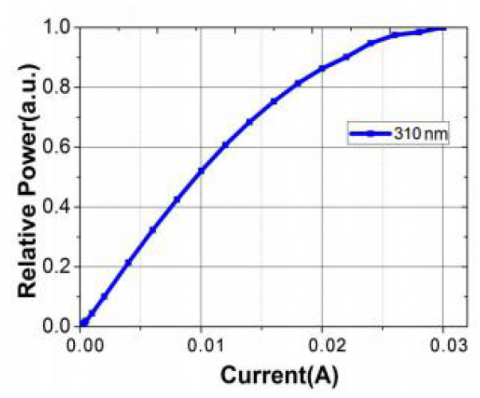 Forward Current vs Forward Voltage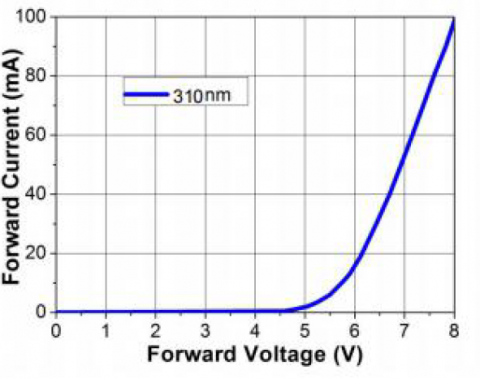 Definition: E310-15-STRIP contains 5 PCS E310-3 LED, mounted
Package: Ceramic SMD3535
Peak Wavelength: 310 nm
Radiant Flux: 25.0 – 40.0 mW
Forward Voltage: 12.0 V Typical
Spectrum Half Width: 10 nm
View Angle: 120
Rating: T=25°C, IF Max=300mA
Life Hours: 10,000
1. Optical output power's measurement tolerance: ±10%
2. Voltage's measurement tolerance: ±0.1V
3. Dominant wavelength's measurement tolerance: ±1nm
4. Do not touch the LED, contact will deposit oils that effect the normal operation/life.
5. Power: Reversing polarity may damage the device, confirm the positive and negative
6. Strictly operate in accordance with electrical parameters, higher voltage will cause damage/degradation.
7. Optical Hazard Risk: Avoid exposure to skin and eyes.
8. Heat Sink Required.
9. Power supply is not included.