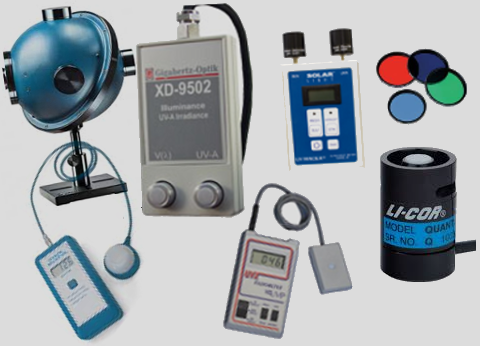 ILT offers ISO17025 accredited light meter calibration services for radiometers, photometers, optometers, light meters, UV-VIS-NIR-IR light measurement systems, power meters, bilirubin light meters, and more across a broad range of meter manufacturers.  Our calibration software/database maintains all calibration records dating back to the 1990s, enabling ILT to:
 
Notify our customers when system calibration is due
Provide an accurate history of all prior service
Provide support during a calibration audit
Show trends in performance (stability or degradation)
 
ILT offers calibrations of light measurement systems as well as detectors, sensors, and diodes over the range of 200 nm - 2500 nm. (Above 1600 nm requires engineering review prior to quoting).
Calibration options include standard (single point calibration at one intensity), scanned calibrations (sensitivity by wavelength for sensors emitting current), linearity testing (three or more intensities), spatial response verification, filter transmission testing, and more.  (Note:  Non-ILT meter calibration does not include internal manipulation of the meter's stored calibration.  A scaling factor (multiplier) is provided for non-ILT meter calibrations, along with a certificate of calibration.  For devices that allow programming, a new calibration factor, ILT supplies the data required for the end user to adjust the readings/internally stored calibration factors.)
ILT offers calibration for power/total flux, irradiance / illuminance, intensity and radiance for direct readings in Watts, Lumens, Lux, W/sr, Candela, and cd/m2.  Not all sensor combinations are possible, however, depending upon the spectrum/band pass, filter, weighting, peak wavelength, and dynamic range of the system configuration.  In cases where one meter can be used with many sensor/filter/optic combinations, calibration of that meter may not be possible.
ILT requires all orders be sent with an Return Materials Authorization (RMA) form prior to sending in your instrumentation.  Price quotes can be obtained by selecting "Yes" on the "Quote Needed Prior to Service" box on the RMA form; by emailing us at [email protected], or by telephone at (978) 818-6180 x118.   Please note that your RMA will act as your purchase order.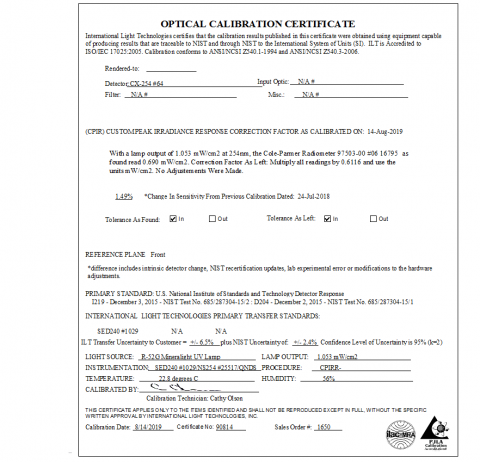 What you will receive with your calibration:
Calibration correction factor with 'as found' and 'as left' results
Calibration certificate - a hard copy of our certificate will be sent with your meter.  Our certificate is ISO17025 accredited and NIST traceable.  (Click the thumbnail to the right to see an example of a calibration certificate)
Reminder when your yearly calibration is due
Below is a list of meter brands that ILT commonly calibrates.  Use the drop down to jump to a specific brand/manufacturer.  If you do not see your specific meter listed, contact us at [email protected] or by calling us at 978-818-6180 x118.  Request an RMA using the link above, or by clicking on the meter you'd like calibrated.  If you need a quote prior to service, select "Yes" for Quote Needed Prior to Servicing question.
APOGEE
Apogee PAR Sensors MQ-500
DAAVLIN
Daavlin
DYMAX
Dymax
EVERFINE
Everfine
EXFOS
Exfos
GE
GE BiliBlanket Light Meter II
GIGAHERTZ-OPTIK
Gigahertz-Optik P9710-1               
Gigahertz-Optik XD-9509
GOLDILUX
Goldilux
HAGNER
Hagner Luminance Meter
JELIGHT
Jelight JP9710
Jelight JX11
KIPP & ZONEN
Kipp & Zonen PAR Sensors
LI-COR
LiCor LI-190R Quantum Sensor
NATUS
Natus NeoBlue
OLYMPIC
Olmpic Bili Meter
OMEGA
Omega
OPSYTEC DR. GROBEL
Opsytec Dr. Grobel Tracker Series
Opsytec Dr. Grobel RM Series
SDEC
SDEC Par Sensor JYP 1000
SEA-BIRD SCIENTIFIC
Sea-Bird Scientific Par Sensors
SKY INSTRUMENTS
Sky Instruments
SOLAR LIGHT
Solar Light
SUN SYSTEMS
Sun Systems PAR Sensor
UV LIGHT TECHNOLOGY LTD
UV Light Technology Limited
UV PROCESS SUPPLY
UV Process Supply
Browse All ILT Calibration Services:
Browse Non-ILT Meter Calibrations: