Core Competencies - Systems
Design  -  Engineering  -  Manufacturing  -  Consulting  -  Customer Satisfaction
International Light Technologies has been an expert in light measurement systems for over 50 years.  In addition to developing industry-leading solutions, ILT also offers customized light measurement solutions for specialized applications.  
Our Capabilities
---
ILT can help to design a fully customized light measurement solution that will meet your unique application requirements, encompassing all the features and benefits you and  your customers need to insure accurate light levels are being applied.  We offer a comprehensive array of customizable products and services to meet your development and production needs.  
We offer:
Co-engineering
Product customization
Prototypes
New product development
Private label

software - PC and internal system software
splash screen / start-up screen
labels
housings / engravings
Our technical consulting team will help with selection and customization to create a complete light measurement solution.  We offer hundreds of off-the-shelf, standard components that can be combined, modified, and calibrated (ISO17025 accredited / NIST traceable) in-house to meet the specific needs of your unique application.  Support is offered via email, text, web conference, and phone, as well as on-site visits
 
Our engineering team includes mechanical, electrical and optical engineers as well as an in-house calibration and light measurement lab.  We offer assistance with:
Component selection and modification
Custom housings
Custom integrating spheres
Optical component design (apertures, lenses, diffusers)
Filter design
OEM modifications
Custom software development (both PC and internal system software)
System integration
Complete system design covering UV to IR measurements (185 to 40 um)
International Light Technologies became the first US manufacturer of light measurement instrumentation including meters, sensors, and optics, when we first opened our shop in 1965.  A lot has changed since then but manufacturing the highest quality lighting and light measurement devices is still our top priority.  ILT manufacturing practices conform to ISO 9001:2015 guidelines, ensuring the highest quality.  Our manufacturing capabilities include:
Rapid prototyping
Assembly
Laser engraving
Machining
Quality control
Electrical testing 
Calibration
ILT offers calibration for a vast array of light measurement products including light meters / lux meters, UV measurement systems, optometers, power meters,
spectrometers, spectroradiometers, integrating spheres, sensors, detectors and more.  To learn more about our ISO17025 accredited and NIST traceable calibration, please visit our Calibration Page.
Testing
Our in-house lab is ISO17025 accredited and NIST traceable.  We offer lamp testing as well as calibration and certification for spectral distribution and light output.  For more in depth information on our light source testing and calibration, please visit our Light Source Calibration and Cuvette and Filter / OD Testing sections of our Calibration Page.
ILT works with customers of all types and sizes to deliver them state-of-the-art light measurement solutions.  We take great pride in delivering prompt and courteous customer support from technical consulting, troubleshooting to custom engineered solutions.  Below is just a sampling of the companies we've worked with.  You can read what just some of our customers had to say at on our Customer Success Stories Page.  To learn how ILT can help you with your customized solution, contact us here, or by email at [email protected], or by phone at 978-818-6180 x118.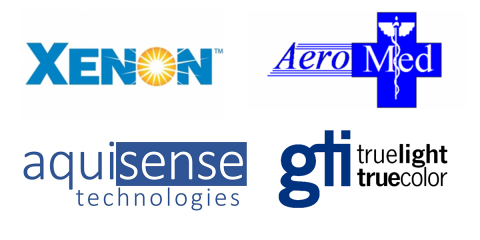 Learn more about our featured Customized Solution Partners

Xenon
Aquisense
Aquisense PearlBeam(TM) system
GTI
AeroMed
Asiga