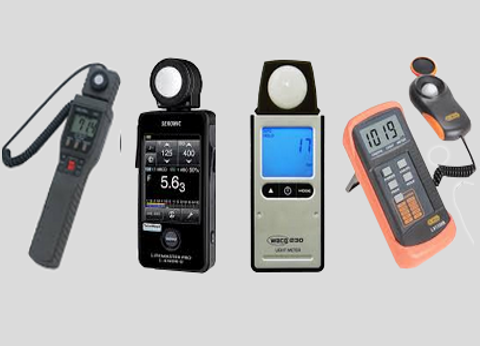 Lux Meter Calibrations

International Light Technologies has been calibrating illuminance meters for over 50 years.  We offer ISO 17025 accredited and N.I.S.T. Traceable light meter calibration. Standard calibration includes lux testing at one intensity and comes with a full calibration report/certificate of calibration.  Our lux calibration capabilities range is .002 to 9,500 lux.  (luminance range is .0004 to 3100 cd/m2).  ILT can calibrate any model lux or foot candle meter that can measure within this range.
Additional lux calibrations include linearity testing, multi-intensity testing at customer specified light levels, spatial response testing and spectral sensitivity testing with a plot of the sensitivity of the sensor and compare it to the CIE photopic and / or scotopic curve (not available for all models).
ILT requires all orders be sent with an Return Materials Authorization (RMA) form prior to sending in your instrumentation.  Price quotes can be obtained by selecting "Yes" on the "Quote Needed Prior to Service" box on the RMA form; by emailing us at [email protected], or by telephone at (978) 818-6180 x118.   Please note that your RMA will act as your purchase order.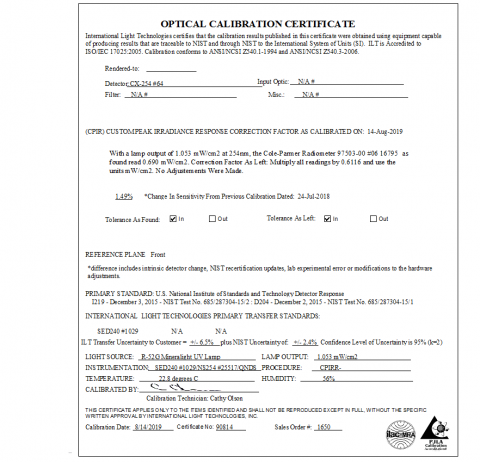 What you will receive with your calibration:
Calibration correction factor with 'as found' and 'as left' results
Calibration certificate - a hard copy of our certificate will be sent with your meter.  Our certificate is ISO17025 accredited and NIST traceable.  (Click the thumbnail to the right to see an example of a calibration certificate)
Reminder when your yearly calibration is due
Below is a list of commonly calibrated models.  Use the drop down menu to jump to a specific meter manufacturer. Click on the meter name to request an RMA.  If  you do not see your manufacturer/meter listed, contact us at [email protected] for verification prior to shipment.
Commonly Calibrated Lux Meter Models
AEMC Instruments
AEMC Instruments CA811
AEMC Instruents CA811
AMPROBE
AMPROBE LM-100
AMPROBE LM-80
ANAHEIM
ANAHEIM H100 METER
ANAHEIM SCIENTIFIC H117
ATP
ATP DT-1308
CEM
CEM DT-1309
CENTER
Center 337 Light Meter
CLARK
CS-800
COOKE
Cooke Cal-Light 400
DELTA OHM
Delta OHM HD 9102.2
Delta OHM LP 471 P-A
Delta OHM HD 9021
Delta OHM LLP 9021 LUM 6
DLM
DLM 1000
DLM 2000
EXTECH
Extech EN300
Extech Foot Candle / LUX Meter
Extech HD450
GE
GE Type 217
GENERAL TOOLS
General DLM1337
General Tools DLM2
General Tools DLM24
GIGAHERTZ-OPTIK
Gigahertz-Optik X1-1
Gigahertz-Optik VL-3701-4
GOSSEN
Gossen Mavlux 5032C
Gossen Mavo-Monitor 7A30550
Gossen Panlux
GREENLEE
Greenlee 93-172
ILT
ILT10
INS
INS DX-100
INS DX-200
ISO TECH
ISO Tech ILM 1335
KONICA MINOLTA
Konica Minolta CL-200
Konica Minolta CL-200A
MAGNAFLUX
Magnaflux 622338
MANNIX
Mannix DLM2000
MINOLTA
Minolta CL-100
OMEGA
Omega HHLM-2
Omega HHLM3
PMEX
PMEX Photometer
QUANTUM
Quantum Photometer
REED
Reed YK-10LX
SPECTRA CANDELA
Spectra Candela II L C-2010EL
SPECTROLINE
Spectroline DIX-555A
SPER
Sper Scientific Light Meter 840020
SYLVANIA
Sylvania DS-2000
Sylvania DS-3050
TES
TES-1330A
TES-1335
TES-1337
TOPCON
Topcon IM-3
UDT
UDT Model 263
VWR
VWR Scientific 21800-014
VWR Scientific 21800-016
VWR Scientific 62344-944
WATT STOPPER
Watt Stopper FX-200
WESTON
Weston Model 614
YOKOGAWA
Yokogawa 51011
Yokogawa 51012
Browse All ILT Calibration Services:
Browse Non-ILT Meter Calibrations: