Irving Gas of Eliot Maine retrofits its pylon sign using ILT's K2 Summit LED Module and Rail System  and saves over 1.5 million watts of electricity a year!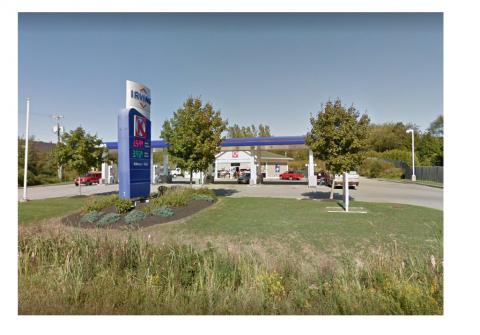 Irving Oil is a well known, regional oil company that owns and operates over 200 gas stations and convenient stores throughout New England and eastern Canada.  When the Irving, Eliot Maine location needed to retrofit its large sign, it selected Neokraft Signs of Lewiston Maine for the job.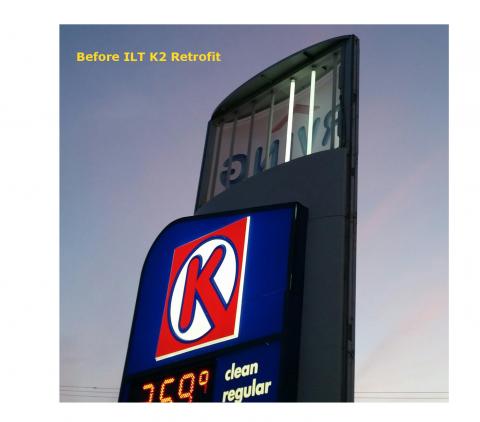 The top of the pylon sign was lit with seven, 5' T12HO flourescent lamps, consuming 85 watts per lamp.  The sign is lit for 12 hours per day, consuming over seven thousand watts per day, and over 2 million watts per year.  With an average kilowatt rate of $0.15, the sign was costing Irving $400 just to light.   Additionally the harsh conditions of the New England outdoors made for increased maintenance costs.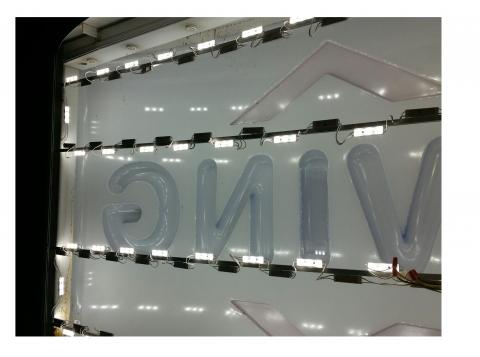 Neokraft selected the ILT K2 Retrofit and Rail system for its performance and ease of installation.  The cabinet was 5' x 7' double-faced, with a depth of 6" on the ends and 15" in the middle. 
The faces were formed polycarbonate.  To achieve the desired illumination, 100 of the K2 Summit modules were affixed to four, 7' rails.  Total power consumption was reduced to just 1,200 watts per day.  This resulted in over 80% reduction in annual energy consumption!  The newly retrofitted sign now costs just sixty-eight bucks per year to light.  That coupled with the more reliable LED system that needs less servicing, is a real bright spot in Irving of Eliot Maine's pocket book!
To read more success stories of customers using ILT's signage products, click here!
---
International Light Technologies has been engineering and manufacturing specialized lighting and light measurement systems for over 50 years.  Our LED Signage Innovations Division develops cutting-edge signage lighting products designed to be energy efficient and long lasting.  In addition to a comprehensive portfolio of lighting products, ILT specializes in developing custom solutions for a variety of lighting applications.  Whether it be consulting or full development, our team of engineers possess the tools and experience to tackle the most complex projects.
If you would like more information on our LED Signage portfolio, visit our Signage section here.  If you have a custom project, or would like more information on what ILT signage products are right for your job, contact us today!