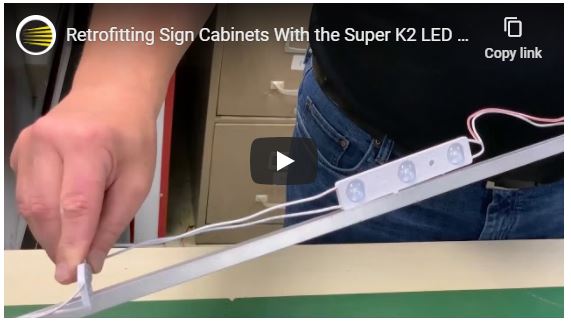 We have a brand new Super K2 LED Sign Retrofit System video demo overview from Joe Reis, Director of LED Signage.

In this video, we offer a walk through of how easy it is to use the Super K2 product and discuss the benefits of retrofitting your sign cabinets.

The Super K2 features:

Proprietary K2 TurnLoc Mounting System
Low power draw - 28 ft of modules per 24V, 100W power supply
180 degree beam angle
Three Nichia LEDs per module
Controlled color consistency - 6500K CCT
...& more!

Watch the video below:

This product can be used for a variety of applications such as:
Double-faced cabinets
Channel letters
Shallow single-faced cabinets
Illuminated awnings
If you need additional assistance or are looking to obtain a free sample, be sure to get in touch with us by e-mail or call 978-818-6180.
---