Due to the obsolescence of the Ohmeda BiliBlanket Light meter, many users of GE bili-blue light sources have reached out to ILT.  The concern we kept hearing was finding a solution to measure their lamps, and also obtain repeatable light intensity measurements that match their procedures based on the Ohmeda BiliBlanket light meter.  This is a critical component for ensuring that all infants are receiving the correct light intensity during phototherapy.  The customers spoke and ILT listened!
In response to the needs of customers ILT has released two light meter options for measuring jaundice treatment systems.

ILT750-BILI454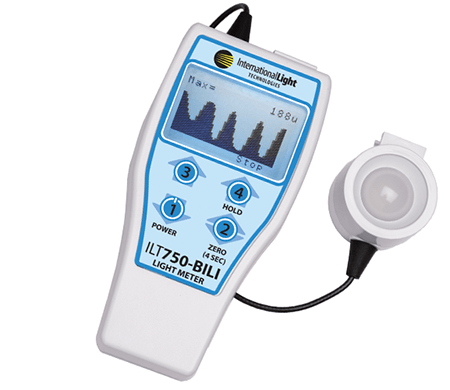 Don't get left in the dark. International Light Technologies has an off the shelf replacement for people using any of the GE phototherapy blue light systems.

The ILT750-Bili454 has been designed and calibrated to match the Ohmeda meter to within a few percent.  The meter can be used not only on the blanket but on all of the GE lighting systems including.
 
GE Giraffe Systems
GE Lullaby Systems
GE BiliSoft Systems
ILT750-BILI
For customers who are not seeking a direct replacement to the Ohmeda Biliblanket meter, we offer our own ILT750-BILI with a new proprietary sensor, filter, and optic design to match the Bilirubin action spectrum, and provide excellent cosine response.

The ILT750 meter will measure blue light sources from a variety of OEMs including:
All GE Systems
Respironics Wallaby
Dreager BiliLux
Natus neoBlue Blanket
Neolight Skylife Neonatal Phototherapy System
NeoMedLight Bili Cocoon
Motif Medical – BiliTouch Phototherapy Blanket
Aeroflow Healthcare BiliTX Phototheraphy System
And many more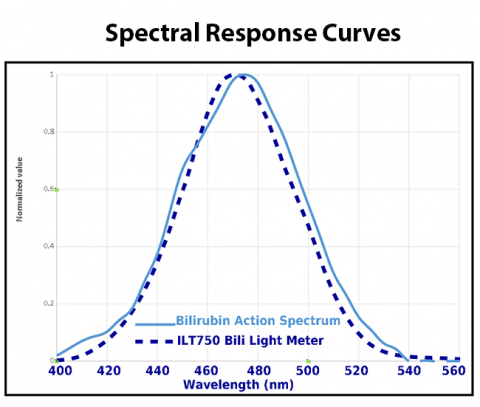 The ILT750 and ILT750-Bili454 make validating the irradiance of your jaundice treatment system truly fast and simple.  With the ILT750 you don't need to manually add up or calculate the average based on 6, 9 or 15 test points.  Simply slide the versatile detector head over the blanket or under the light source, and the meter does the math for you. The ILT750 automatically provides the user an easy to analyze uniformity graph as well as min, max and average calculations.

Inquire about adding the ILT750 bili meter to your portfolio by contacting us today!

To see for yourself how simple the ILT750 is compared to the discontinued Ohmeda, and other similar meters, watch our side-by-side demonstration video below.