ILT has just introduced the next generation of ILT spectroradiometers, the new ILT950UV (range: 200-450 nm) and the improved ILT950 (range: 250-1050 nm).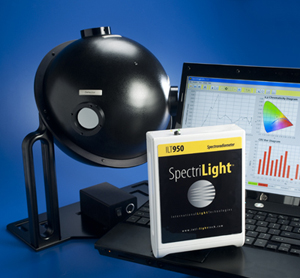 For 2014, the excellent performance of the ILT950 has been improved even further with the addition of a new machined optical bench for reduced stray light and improved thermal stability.
The ILT950 and ILT950UV spectroradiometers also now use the new higher pixel SONY CCD array for improved performance including nearly 50% more sensitivity over the entire spectral region, and higher S/N ratio increased from 200:1 to 300:1 with larger quantum well depth.
These improvements combined with the new features in our powerful SpectriLight III software, including PAR µmol/m²/s, Metamerism, and baseline overlay comparisons, make the ILT950 a top performer in the CCD array spectroradiometer market.
Typical applications for the ILT950 series spectroradiometers include solar simulator characterization, accelerated weathering, photostability, UV curing systems, photobiology, photochemistry, and LED illumination and color analysis.
A NIST-traceable, ISO 17025 accredited calibration is included with each turn-key spectroradiometer system.
More system details are available on the ILT950 / ILT950UV Web page.
(Photo: ILT950, Integrating Sphere and Computer - sphere and computer sold separately)
---

ILT Sales Contact info:
Phone: (978) 818-6180
Email: [email protected]
Contact ILT About the Information in this Blog Post