ILT960UVLS-RAA4 Spectroradiometer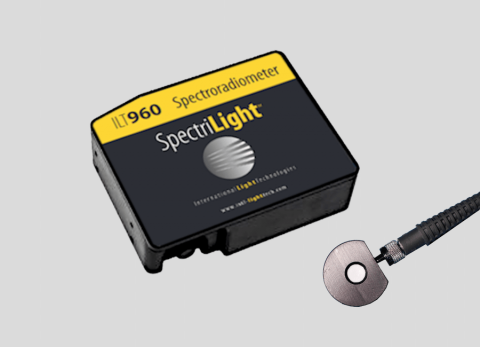 ILT960UVLS-RAA4 Spectroradiometer
Part Number: ILT960UVLS-RAA4
Between now and September 30th, customers can take an additional 15% off their purchase of any IL spectroradiometer using promo code SPECS15%!

Features:
Reduced stray light <.1%
200 - 500 nm sensitivity range
Zeroing filter to block VIS and NIR
Extensive software package included
Broad light level range is adjustable
Linear and repeatable measurements
<=.9nm resolution
Spectrometer for Measuring Clean Room: 200 - 500 nm

The ILT960-UVLS is a Low Stray Light version of the ILT960-UV.   The UVLS Stray light is reduced from <.2% to <.1%.  The UVLS was originally designed for testing light filtration in clean room applications  assuring no UV is emitted in the storage areas where UV light sensitive products are kept or used during manufacturing. The ILT960UVLS-RAA includes ILT's special zeroing filter to reduce stray light and noise, allowing a more accurate measurement of "no light".  
The ILT96UVLS-RAA4 is also an excellent choice for testing pure light in the UV/Far UV such as UVC LED, LP and Amalgam mercury lamps as well as for testing UV sources used for disinfection and UV curing.  All systems come standard with SpectrILight III software, 1 meter long fiber, RAA4 right angle input optic, tripod, hard storage case, and NIST traceable, ISO1025 accredited calibration with certification and data files.

Watch a demo of the ILT960 Clean Room Spectrometer with SpectrILight III software
 
SpectrILight III Software


SpectrILight™ III is a LabView™ based software package for Windows that allows you to acquire spectral and color data. Analysis of the data is now calculated instantly within the same program - no exporting required!
 
SpectrILight™ III includes calculations for metamerism, and 2 and 10 degree observer. The overlay feature allows the user to compare the base reading to current readings. Wavelength range, integration time, scan average and other controls can be easily set through pop up windows, menus and tool bars. Absolute irradiance and chromaticity are calculated instantly.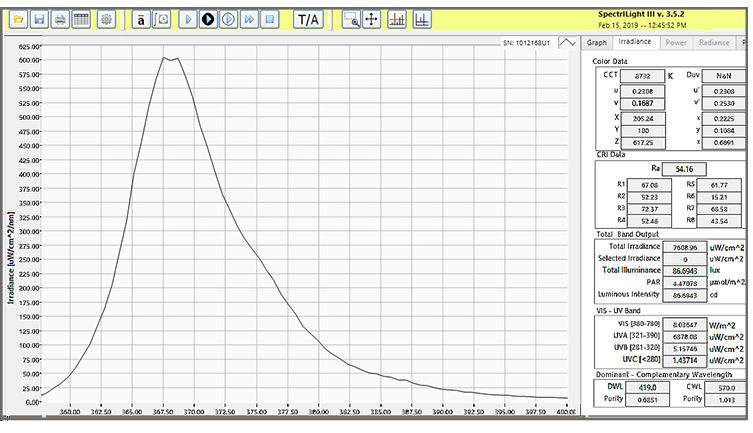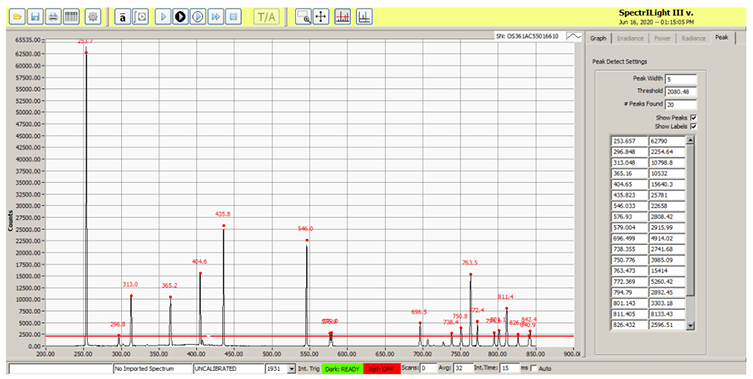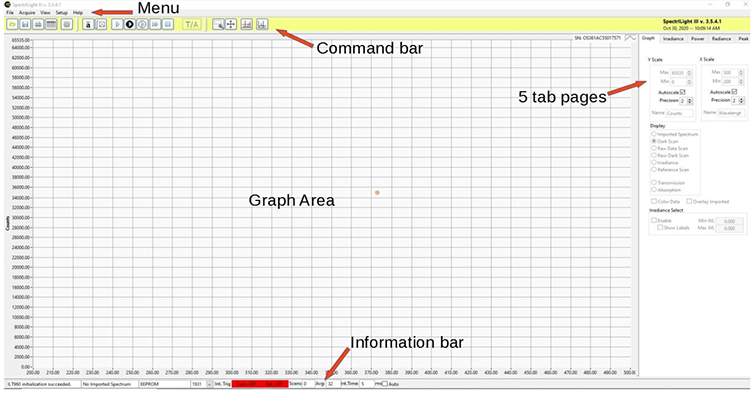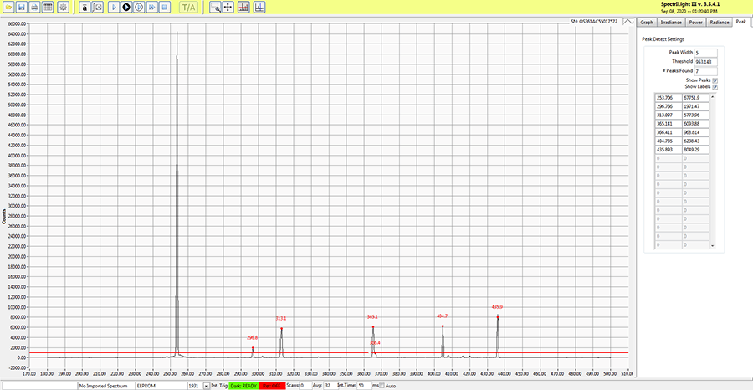 | Specifications | |
| --- | --- |
| | |
| Model # | ILT960UVLS-RAA4 |
| Detector | CMOS Linear Sensor |
| Focal Length | 60 mm |
| Wavelength Range | 181-500 nm |
| Slit | 50 um |
| Resolution | <=.9 nm |
| Optical Design | Symmetrical Czerny-Tuner |
| SNR | 330:01:00 |
| Dynamic Range | 3450 |
| Integration Time | 0.2 ms - 1 min |
| Stray Light | <.1% |
| Wavelength Accuracy | +/- .21 nm |
| Dynamic Dark Correction | Yes |
| Non-Linearity Calibration | Yes |
| Wavelength Calibration | Yes |
| Trigger Compatible | Yes |
| Synchronization Compatible | Yes |
| ADC | 16 Bits, 2.5 MHz |
| Data Transfer Speed | |
| Operating Temp | 0-50 Deg C |
| Interface | USB 2.0 UART |
| Calibration | NIST Traceable/ISO17025 Accredited |
| Dimensions (mm) HxWxL | 35.4 x 86 x 110 |
| Power | 300 mA@5VDC (supply voltage 4.75-5.25) |
| Input Optic | RAA4 right angle adapter/diffuser (.27" dia) with mini integrating sphere .61 dia x .44" tall. |