ILT5000 Research Radiometer Introduction VIDEO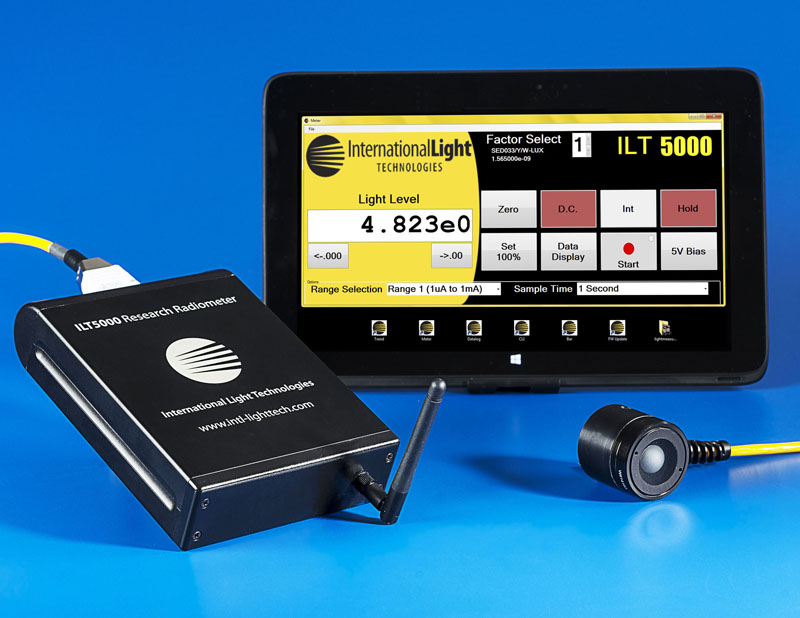 The ILT5000 Research Radiometer has so many new features that we thought the best way to "introduce" all of them was in an introduction video. The video is now available on the ILT5000 Research Radiometer Web Page.
"The ILT1700 for the 21st Century" improving on the industry standard with rapid measurements (up to 100 Hz), a broader dynamic range (100fA to 1mA), extensive supporting software apps, wireless communication, internal data storage, and a 4-20 mA output.
The broad linear dynamic range of the ILT5000 and the BNC input connector allow the meter to also serve as a highly sensitive and accurate picoammeter.
The ILT5000 supports numerous light measurement applications including, but not limited to; Radiometry, Photometry, Research, UVGI- Sterilization, Solar, Photoresist, Optical Radiation Hazard, Phototherapy, Photo-degradation, Plant Growth and more.
System configurations are based on the industry standard ILT1700 Research Radiometer/Photometer. The ILT5000 is backwards compatible with the ILT1700 "D" type sensors, as well as all of ILT's vast supporting filters, input optics, integrating spheres and ISO 17025/NIST traceable calibrations.
View the video by clicking on this link: ILT5000 Research Radiometer Web Page