ILT5000-P Stand-Alone Picoammeter Launched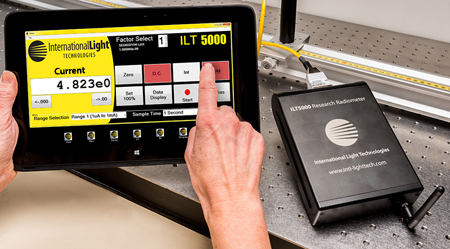 The ILT5000-P Picoammeter brings current measurement capabilities into the 21st century with its broad dynamic range, multi-unit monitoring software and advanced auto-ranging capabilities. The ILT5000-P picoammeter boasts a very broad dynamic range; from 1 mA to 100 fA with 1 fA of resolution.
The built in Accuspan™ control software eliminates harmful /error inducing range changing spikes and samples at a rapid rate of over 50,000 samples per second. The picoammeter silently changes from femtoamps to milliamps with no clicking sounds, no dials and no range buttons to change. Accuspan can be set to automatic, or fixed ranges using the programmable controls in Datalight II.
DataLight II makes viewing and recording the picoammeter readings as easy as the touch of a button on the windows 8" tablet PC.
Click on this link to learn more: ILT5000-P Picoammeter Web Page