Low Cost, Hand-Held, Easy-to-Use Lux and Color Measurement Spectrophotometer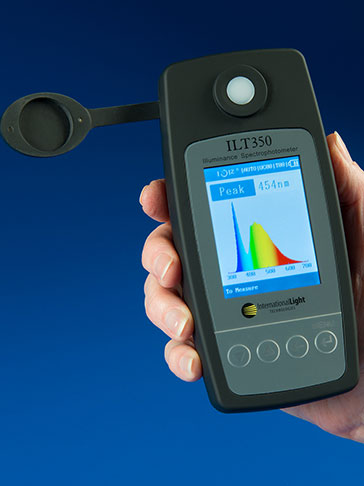 International Light Technologies (ILT), a leading designer and manufacturer of light measurement and detection systems, is pleased to announce the introduction of the all new ILT350 Illuminance Spectrophotometer.
The ILT350 Illuminance Spectrophotometer is a low cost, easy-to-use, hand-held lux and color measurement spectrophotometer with NIST Traceable and ISO 17025 accredited calibration.
The ILT350 is ideal for making sophisticated light measurements in the field.
"As commercial/retail light sources like LEDs become more sophisticated, ILT has seen a need develop for lighting engineers and other lighting professionals to make more sophisticated on-site, in-the-field light measurements", said Jill Fowler, Director of ILT's Systems & Sources product lines. "And that's just what the new hand-held ILT350 provides."
The ILT350 comes with a built in 12 mm diameter cosine correcting receptor and magnetic protective cover.
The ILT350 has three measurement speeds including Fast (0.5 S), Slow (2.5 S) and Auto (0.5 – 27 S) depending on light intensities. Data is provided in 1 nm increments. The spectral bandwidth is approx 2.5 nm (half bandwidth) with +/- 0.3 nm wavelength accuracy. The internal memory can store up to 100 files and export data into Excel/Work formats.
---

ILT Sales Contact info:
Phone: (978) 818-6180
Email: [email protected]
Contact ILT About the Information in this Blog Post