ILT has just introduced a family of low-cost spectroradiometers, the new ILT550 (250-900 nm) and ILT550V (360-850 nm).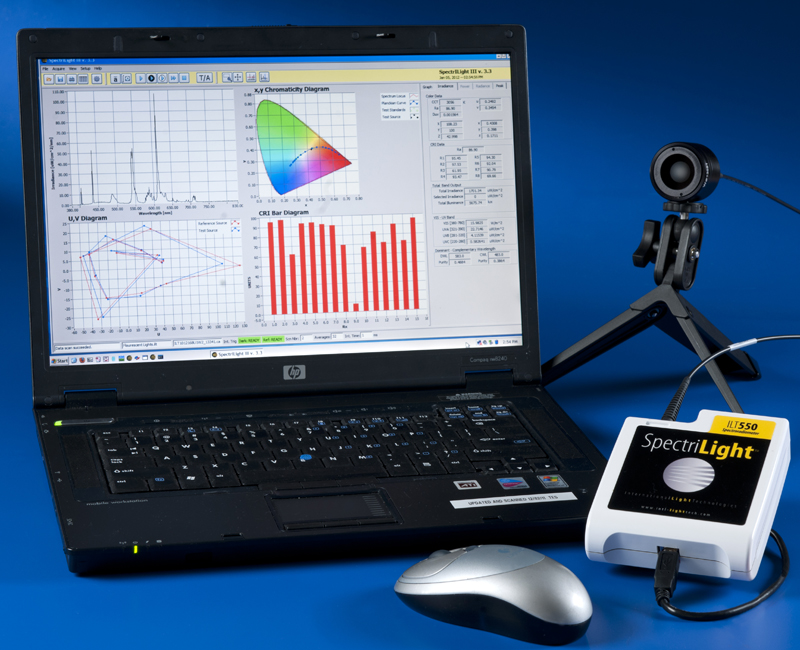 With budget-conscious customers in mind, ILT is happy to announce the introduction of the new ILT550. The ILT550 is nearly half the price of the ILT950, but is still packed with great features and options.
The ILT550 comes standard with an SMA905 receptor allowing it to be used with all of the ILT950 spectroradiometer accessories including the R4 Right angle adapter, Mini and standard diffusers, Fiber optics, 2, 5 and 10-inch integrating spheres.
Standard and optional accessories can be combined to allow measurements for total flux, irradiance, radiance, colorimetry, luminance, illuminance and more.
Typical applications include UV curing systems evaluation, photostability testing, accelerated weathering, photobiology, and photochemistry, and LED illumination and color analysis.
A NIST-traceable, ISO 17025 accredited calibration is included with each turn-key spectroradiometer system.
More system details are available on the ILT550 / ILT550V Web page.
Photo: ILT550, Fiber, Diffuser, Diffuser Stand, PC, Mouse (PC, diffuser stand, mouse sold separately)
---

ILT Sales Contact info:
Phone: (978) 818-6180
Email: [email protected]
Contact ILT About the Information in this Blog Post