New ILT10 and ILT10C Hand-Held Lux / Foot-Candle Light Meters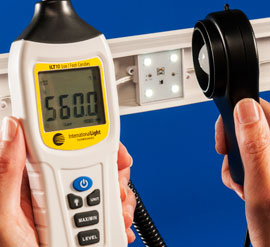 ILT's most economical light measurement system. The ILT10 reads out in either Lux or Foot Candles and is designed for use in a wide variety of applications needing a quick, accurate light measurement.
The ILT10C comes with NIST traceable, ISO 17025 accredited calibration.
Purchase in ILT's online store!
UPDATE: Only the ILT10C is available at this time.
Click on this link to learn more.
---

ILT Sales Contact info:
Phone: (978) 818-6180
Email: [email protected]
Contact ILT About the Information in this Blog Post