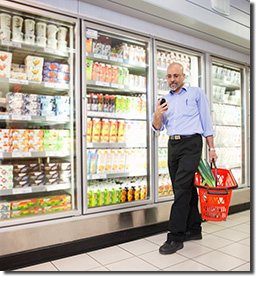 Lime Energy, a national ESCO (Energy Services Company) with over 15,000 energy efficiency projects completed with small & medium sized businesses, produced a very useful series on how to optimize energy efficiency for these businesses, but with one major caveat - One Size Doesn't Fit ALL (small/medium businesses)!
The 8 part series began with an energy savings analysis of small & medium sized grocery and convenience stores.
Because we provide energy-efficient LED-based lighting products to small & medium sized grocery and convenience stores, we thought providing some of the low cost/no cost energy savings tips presented in the Lime Energy analysis and several of the long-term energy efficiency solutions along with a link to the full article (below) would be particularly useful to our blog readers involved in those businesses.
The article opened with some very interesting energy stats about this type of business:
The average grocery store spends $4 per square foot on energy costs per year
Lighting and refrigeration account for almost 80% of the total energy use
A 20% reduction in energy costs equates to a 20% increase in profits!
Low cost/no cost energy savings measures included turning off electrical equipment (lights, computers, cash registers) when not in use, clean and maintain electrical equipment so it operates at close to 100% efficiency and turn down/adjust HVAC temperature settings depending on time of day as well as seasonal changes.
Long term energy efficient solutions included retrofitting T-12 fluorescents with magnetic ballasts to T-8 or T-5 fluorescents with electronic ballasts, retrofit case lighting with LED-based fixtures (ILT examples include CaseLight LED Cooler Lights, Horizontal CaseLight LED Open Case Lights and ShelfLight LED Under-Shelf Lights), and optimize refrigeration units (several suggestions were given on this topic).
All in all, a nice, concise overview of what the management of these businesses should be focusing on to maximize their energy efficiency retrofit ROI!
To read the full article on energy savings tips for small & medium sized grocery & convenience stores, please click on the following link:
One Size Doesn't Fit All: Energy Efficiency for Small Businesses - Grocery and Convenience Stores - Part 1 of an 8 Part Series
---

ILT Sales Contact info:
Phone: (978) 818-6180
Email: [email protected]
Contact ILT About the Information in this Blog Post